Current Affairs for IAS Exams - 17 November 2020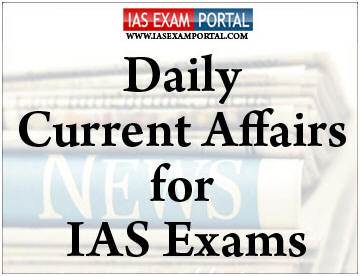 ---
Current Affairs for IAS Exams - 17 November 2020
---
::NATIONAL::
---
Expansion of Dehradun airport
---
Environmental activists and local residents in Uttarakhand are opposing the cutting of trees for a project to expand Dehradun's Jolly Grant airport. Political parties too, have jumped into the controversy.
The Union Ministry of Environment, Forest and Climate Change has asked the state government to explore the possibility of acquiring a different patch of land for the expansion, so that the trees could be spared.
Of the 9,745 trees that are proposed to be cut, 3,405 are khair, 2,444 are sheesham, 1,234 teak, 1,121 kanju, 549 jhingan, and 120 are gulmohar. A government official argued that the majority of these trees do not have very thick trunks.
What is the project to expand the airport?
The Uttarakhand Civil Aviation Development Authority has proposed the expansion of Jolly Grant airport in Dehradun with the aim of upgrading it to meet international standards. 
The project components include development of the airport and the parking area, building a new ATC tower, and more than doubling the length of the runway from the existing 1.7 km to 3.5 km.
It is proposed to take over 87 hectares of forest land in Doiwala village in Dehradun district, and another 17.41 hectares of non-forest land for the project. 
For the runway, the airport area is proposed to be expanded by 885 metres in the direction of Doiwala, and 2,030 metres towards Rishikesh. 
The forest area earmarked for the expansion is in the Thano range, a prominent tourism destination where local people run a number of homestays.
Reason behind the protest:
Social activists and local residents from the Thano forest range and nearby areas of Dehradun, Rishikesh and Haridwar assembled outside the airport and staged a protest against the proposal to cut 9,745 trees in the affected area.
Invoking the famous Chipko movement which began in Uttarakhand in the 1970s, they tied "raksha sutras" around the trees to express their concern for the environment, and to demand the conservation of green cover. 
They trended the agitation and streamed it live on social media to garner mass support.
Birsa Munda Jayanti 
---
Prime Minister Narendra Modi paid tributes to tribal leader Birsa Munda on his birth anniversary on Sunday and said his contribution to the freedom movement and social harmony will always inspire the countrymen.
About:
Birsa Munda (15 November 1875 – 9 June 1900) was an Indian tribal freedom fighter, religious leader, and folk hero who belonged to the Munda tribe. 
He spearheaded a tribal religious millenarian movement that arose in the Bengal Presidency (now Jharkhand) in the late 19th century, during the British Raj, thereby making him an important figure in the history of the Indian independence movement. 
The revolt mainly concentrated in the Munda belt of Khunti, Tamar, Sarwada and Bandgaon.
His portrait hangs in the Indian Parliament Museum. He is the only tribal leader to have been so honored.
CLICK HERE FOR FULL CURRENT AFFAIRS (Only for Course Members)
---
::ECONOMY:: 
---
India opting out of RCEP
---
On Sunday, 15 countries solidified their participation in the Regional Comprehensive Economic Partnership (RCEP). 
Even as India opted to stay out after walking out of discussions last year, the new trading bloc has made it clear that the door will remain open for India to return to the negotiating table.
What is RCEP?
Described as the "largest" regional trading agreement to this day, RCEP was originally being negotiated between 16 countries — ASEAN members and countries with which they have free trade agreements (FTAs), namely Australia, China, Korea, Japan, New Zealand and India.
The purpose of RCEP was to make it easier for products and services of each of these countries to be available across this region. Negotiations to chart out this deal had been on since 2013, and India was expected to be a signatory until its decision last November.
Why did India walk out?
On November 4, 2019, India decided to exit discussions over "significant outstanding issues". 
According to a government official, India had been "consistently" raising "fundamental issues" and concerns throughout the negotiations and was prompted to take this stand as they had not been resolved by the deadline to commit to signing the deal.
Its decision was to safeguard the interests of industries like agriculture and dairy and to give an advantage to the country's services sector.
According to officials, the current structure of RCEP still does not address these issues and concerns.
CLICK HERE FOR FULL CURRENT AFFAIRS (Only for Course Members)
---
---
::INTERNATIONAL::
---
International Day for Tolerance
---
November 16 is celebrated as International Day for Tolerance.
In 1996, the UN General Assembly adopted Resolution 51/95(link is external) proclaiming 16 November as International Day for Tolerance.
"Tolerance is respect, acceptance and appreciation of the rich diversity of our world's cultures, our forms of expression and ways of being human." UNESCO's 1995 Declaration of Principles on Tolerance.
The UNESCO-Madanjeet Singh Prize for the Promotion of Tolerance and Non-Violence rewards significant activities in the scientific, artistic, cultural or communication fields aimed at the promotion of a spirit of tolerance and non-violence. 
The International Day for Tolerance supports the notion that education is a key factor in preventing intolerance across the human race.  
On this day, we are encouraged to educate and learn how to practice solidarity between ethnic, social and cultural groups.
---
::SCIENCE & TECHNOLOGY::
---
Pincer catalytic system
---
A research team of IIT Guwahati has formulated efficient "pincer" catalytic systems that transform biomass wastes into valuable chemicals. 
About:
Tiny amounts of these "pincer catalysts" repeatedly convert large amounts of industrial waste such as glycerol into lactic acid and hydrogen.
Official sources said that such catalysts also efficiently convert bioethanol, a low-energy density fuel, into high-energy density butanol. 
The conversion of valuable intermediates such as glycerol and ethanol, produced during the processing of biomass, into industrially useful chemicals has elicited much interest worldwide.
CLICK HERE FOR FULL CURRENT AFFAIRS (Only for Course Members)
---
Sports
---
Lewis Hamilton wins 7th Formula One championship
---
Lewis Hamilton wins 8th Hungarian GP to equal Schumacher F1 record
Spanish GP: Lewis Hamilton tops final practice ahead of qualifying
Spanish F1 GP: Hamilton takes pole position ahead of Valtteri Bottas.
Formula 1 season to start after 4 months in a different world amid Covid-19
Lewis Hamilton wins Spanish Grand Prix for 88th career victory in F1
 
---
---
---
---