Current Affairs for IAS Exams - 17 April 2021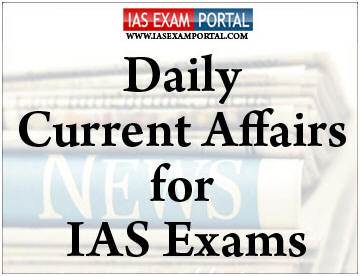 ---
Current Affairs for IAS Exams - 17 April 2021
::NATIONAL::
MANAS App
The Principal Scientific Adviser to the Government of India launched the "MANAS"App to promote mental wellbeing of citizens across age groups.
MANAS stands for Mental Health and Normalcy Augmentation System.
MANAS is a comprehensive, scalable, and national digital wellbeing platform and an app.
It integrates the health and wellness efforts of various government ministries, scientifically validate indigenous tools developed/researched by various national entities.
Aahaar Kranti
Recently, the Union Health Minister launched Aahaar Kranti, a mission dedicated to spread awareness about nutrition.
About:
It is designed to address the peculiar problem of hunger and diseases in abundance, being faced by India and the world.
Studies show that India produces as much as two times the amount of calories it consumes.
However, many in the country are still malnourished.
The root cause of this strange phenomenon is a lack of nutritional awareness.
CLICK HERE FOR FULL CURRENT AFFAIRS (Only for Course Members)
::INTERNATIONAL::
Whitest paint
Engineers from Purdue University in the US have created what they are calling the whitest paint yet.
Buildings coated with this paint may be able to cool them off enough to reduce the need for air conditioning.
About:
The team of researchers at the university created an ultra-white paint in October pushing the limits of how white paint can be.
This older formulation was made of calcium carbonate, while the new one is made up of barium sulphate, which makes it more white.
The newer paint is whiter and keeps the surface areas it is painted on cooler than the formulation before this could. If this new paint was used to cover a roof area of 1,000 square feet, it may be able to get a cooling power of 10 kilowatts.
The team has also claimed that this paint may be the closest equivalent to the blackest black paint called "Vantablack" that is able to absorb up to 99.9 per cent of visible light.
 Climate change rules
New Zealand became the first country to introduce a law that will require financial firms (like Banks, insurers and fund managers) to explain how they would manage climate-related risks and opportunities.
The country wants to be carbon neutral by 2050 and says the financial sector needs to play its part.
This law will bring climate risks and resilience into the heart of financial and business decision-making.
::ECONOMY::
Eat Smart Cities Challenge And Transport 4 All Challenge
Both the programmes are being launched by the Ministry of Housing & Urban Affairs.
About:
EatSmart Cities Challenge aims to motivate Smart Cities to develop a plan that supports a healthy, safe and sustainable food environment.
It is envisioned as a competition among cities to recognize their efforts in adopting and scaling up various initiatives under Eat Right India.
It is open to all Smart Cities, capital cities of States /UTs, and cities with a population of more than 5 lakh.
Transport 4 All Digital Innovation Challenge aims to bring together cities, citizen groups, and start-ups to develop solutions that improve public transport to better serve the needs of all citizens.
It was launched in collaboration with the Institute forTransportation and Development Policy (ITDP).
::SCIENCE AND TECHNOLOGY::
NIXI-IP-INDEX portal
Ministry of Electronics & Information Technology (MeitY) inaugurated three path breaking initiatives for National Internet Exchange of India (NIXI).
NIXI has announced to play a supporting role for the IPv6 awareness and adoption in the country along with DOT &MeitY.
Key highlights:
IPv6 Expert Panel (IP Guru) (https://nixi.in):IP Guru is a group to extend support to all the Indian entities who are finding it technically challenging to migrate and adopt IPv6. IPv6 expert group will help in identifying & hiring agency that will help end customer by providing necessary technical support to adopt IPv6. This panel will guide all such Indian entities and help in increasing the IPv6 adoption. The expert panel group comprises members from government and private organizations.
NIXI Academy (https://training.nixi.in):NIXI Academy is created to educate technical/non-technical people in India to learn and relearn technologies like IPv6 which are normally not taught in Educational Institutes.
NIXI-IP-INDEX (https://ipv6.nixi.in):NIXI has developed an IPv6 index portal for the Internet community. NIXI-IP-INDEX portal will showcase the IPv6 adoption rate in India and across the world.
 About NIXI:
National Internet Exchange of India (NIXI) is a not-for-profit organization (section 8 of the Companies Act 2013) working since 2003 for spreading the internet infrastructure to the citizens of India through the following activities: 
i)  Internet Exchanges through which the internet data is exchanged amongst ISP's, Data Centers and CDNs.
ii) .IN Registry, managing and operation of .IN country code domain and .IN domain for India.
iii) IRINN, managing and operating Internet protocol (IPv4/IPv6).
 CLICK HERE FOR FULL CURRENT AFFAIRS (Only for Course Members)