Current Affairs for IAS Exams - 17 November 2022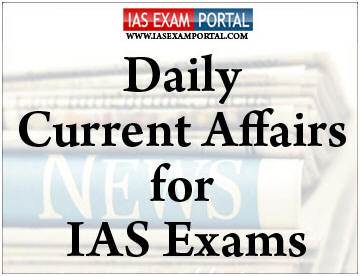 ---
Current Affairs for IAS Exams - 17 November 2022
::NATIONAL::
First Virtual Global Skill Summit
To facilitate overseas mobility of the skilled workforce, the Ministry of External Affairs (MEA), Ministry of Commerce and Industry (MoCI), Ministry of Education (MoE) and Ministry of Skill Development and Entrepreneurship (MSDE) jointly organised the first Virtual Global Skill Summit (VGSS) with the Indian Ambassadors /High Commission representing India Missions from ten nations. 
About:
The summit aimed at institutionalising a robust mechanism for exchange of information on skill requirements of countries and the skill availability in India.
Opportunities for India
Favourable demography: almost 54% of India's population is above 25 yearsold.
Rise of Gig Economy: and demand for flexible work arrangements and focus onskills.
Competitive advantage in the English language, and strong core skills in STEM(Science, technology, engineering, and mathematics).
Rise in ageing population around world will create a greater demand forskilled workforce.
Challenges faced: 
Inadequate infrastructure facilities for skill development,
Lackof focus on non-technical skills, 
Lack of awareness about industry specific job rolesand requirements,
Higher skill gap etc.
Action on Water Adaptation or Resilience
Egypt's COP27 Presidency, in partnership with World Meteorological Organization (WMO), launched AWARe (Action on Water Adaptation and Resilience), an initiative that will champion inclusive cooperation to address water-related challenges and solutions across climate change adaptation.
About:
It will have an Africa-first focus.
It is a collaboration between various stakeholders, including African Union and World Meteorological Organization.
AWARe will address water security as part of climate change adaptation and will focus on threepriorities:
Decrease water losses worldwide and improve water supply.
Promote mutually agreed, cooperative water adaptation action.
Promote cooperation and interlinkages between water and climate action.
::INTERNATIONAL::
Article 4 of the NATO
Poland is expected to submit a request for discussions under NATO's Article 4 after an alleged Russian-made missile hit Polish territory close to the Ukrainian border during the ongoing conflict.
Two people were reported to have been killed in an explosion in a village that is about 3.5 miles from Poland's border. However, according to Andrzej Duda, the president of Poland, the missile launcher's identity was not clear.
Abut NATO:
The North Atlantic Treaty Organisation came into being after World War II as a counter to the Soviet Union's possible expansion attempts in Europe. 
Then-US President Harry S Truman signed the 12-member treaty on April 4, 1949. After the collapse of USSR in 1991, several eastern European nations previously members of the Soviet Union joined NATO.
NATO comprise 30 members.
 Articles 4 and 5 of the NATO
Under Article 4, any member state can convene a meeting of NATO members to "consult" when it feels its independence or security are threatened. It sends a strong political symbol to the greater world that NATO is concerned about a particular situation.
Article 5 is known as the "one-for-all and all-for-one" article. It states that an "armed attack" against one member is an attack against all and sets in motion the possibility of collective self-defense.
In theory, Articles 4 and 5 can only be invoked at the request of a NATO member. However, Article 5 has only been invoked once -- immediately following the September 11, 2001, terrorist attacks against the United States.
Article 5 was not invoked when Russia invaded Ukraine, because Ukraine is not a NATO member. But Poland is a NATO member, so if an investigation found any evidence it was a deliberate attack, it could have invoked Article 5.
Moscow format
India joined the latest meeting of the 'Moscow format consultations on Afghanistan' that was held in the Russian capital. 
About:
The Moscow format — one of the several dialogue platforms on Afghanistan — which began before the Taliban takeover of Kabul.
It consists of Russia, China, Pakistan, Iran, Kazakhstan, Tajikistan, Kyrgyzstan, Uzbekistan, Turkmenistan and India. 
The key objective of the Moscow format of consultations is to facilitate the national reconciliation process in Afghanistan to establish peace.
During the meeting, the participants discussed issues related to Afghanistan, including the current humanitarian situation and the ongoing efforts of various stakeholders to provide assistance, intra-Afghan talks, formation of an inclusive and representative government.
::Economy::
India's exports drop 
India's exports dropped below the crucial $30-billion mark for the first time since March 2021 to hit $29.8 billion. However, India's importsrose 5.7%, to $56.7 billion.
About:
Merchandise exports declined 16.7% on year in October, the first drop in 20 months and the worst slide since May 2020 when a nation-wide lockdown was imposed to contain the Covid outbreak.
Official data released on Tuesday showed that exports dropped below the crucial $30-billion mark for the first time since March 2021 to hit $29.8 billion. Imports, however, rose 5.7%, to $56.7 billion.
Consequently, trade deficit inched up to $26.9 billion in October from $25.7 billion in the previous month; but it still remained lower than July's record level of $30 billion.
The export decline in October was rather broad-based, as 24 of the 30 key segments–including petroleum products, engineering goods, gems and jewellery, textiles and garments, chemicals and pharmaceuticals–witnessed contraction, due to an economic slowdown in key markets that started to weigh down demand.
However, the sustained rise in imports, albeit at a slower pace, suggests domestic consumption still remains stronger than in many parts of the world.
The World Trade Organisation (WTO) recently warned of a darkened 2023 and projected that global trade growth will drop to only 1% next year from 3.5% in 2022.
 
::SCIENCE AND TECHNOLOGY::
Google's 1,000 language AI model
While many other existing AI language models are deployed for business or research, Google's 1,000 languages initiative aims to improve AI language models as a whole for diverse use cases.
About:
Google is developing a model that can support the 1,000 most spoken languages of the world.
The company claimed this model had the "largest language coverage" among existing speech models.
Google's plan is to build one gigantic model for the 1,000 languages so that both widely used and rarer languages can co-exist, interact, and grow together.
Purpose of the new language model:
Google doesn't have a specific use case for the language model.
However, the end goal is to enable Google users to experience better searches, more accurate auto-generated captions, natural online translation, and faster calculations.
The project is under development and researchers are now collecting linguistic data to train the model.
AI language models:
Through AI language models, companies aim to automate manual processes, generate new insights based on existing data, and reduce reliance on human labour in fields like translation, customer service, or computation. For instance, website chatbots etc.