Current Affairs for IAS Exams - 17 September 2022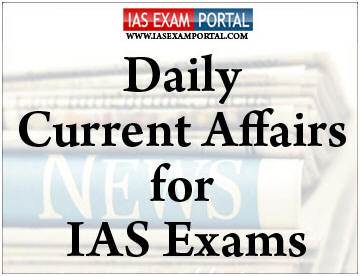 ---
Current Affairs for IAS Exams - 17 September 2022
::NATIONAL::
Cheetahs reintroduction in India
Over 70 years after they went extinct, eight cheetahs landed in India on September 17 from Namibia. 
About:
The big cats were flown in on a modified passenger B-747 Jumbo Jet, which took off from Hosea Kutako International Airport in Windhoek and landed in Madhya Pradesh's Gwalior. 
The cheetahs will be released by Prime Minister Narendra Modi, on the occasion of his birthday, at Kuno National Park.
On board the jet were eight Namibian wild cheetahs, five females and three males.
A plan to reintroduce cheetahs in India that was endorsed in 2009 by then Environment Minister Jairam Ramesh was shot down by the Supreme Court in 2013.
The idea was revived in 2017 by the Narendra Modi government, and the SC cleared the move in 2020 "on an experimental basis".
This is the first time in the world that a large carnivore will be relocated from one continent to another.
India Discrimination Report 2022
Recently, Oxfam India Report stated that discrimination in India causes 100 percent of employment inequality faced by women in rural areas in the labour market and 98 percent in urban areas.
Report's findings are based onGovernment's data on employment andlabour from 2004-05 to 2019-20.
Key findings of the report
Gender discrimination accounts for 98% ofemployment gap between males and females.
93% of gap in earnings of males and femalesis due to discrimination.
Lower wages for salaried women are due todiscrimination (67%) and lack of educationand work experience (33%).
Self-employed SC/STs earn Rs 5,000 lessthan non-SC/STs and discriminationaccounts for 41% of this gap.
Female casual workers earn about Rs 3,000less than their male counterparts.
Key recommendations to be made: 
Incentivise participation of women inworkforce, including enhancement in pay,upskilling, job reservations and easyreturn-to-work options after maternity.
CLICK HERE FOR FULL CURRENT AFFAIRS (Only for Course Members)
::INTERNATIONAL::
World Energy Employment Report 2022
Employment in the energy sector has rebounded back to pre-pandemic levels, according to a recent report. Lay-offs were seen across the board at the onset of the COVID-19 pandemic. 
Report has been prepared by International Energy Agency (IEA) and provides a comprehensive inventory of the global energy workforce.
Key findings:
Energy sector employed over 65 million people in 2019, equivalent to around 2% of global employment.
Clean energy employs over 50% of total energy workers, owing to the substantial growth of new projects coming online.
Over half of energy employment is in the Asia Pacific region.
Construction of new projects, including the manufacture of their components, is the largest driver of energy employment.
Colour Revolutions
Chinese President Xi Jinping September 16 appealed to Russia, India, and other members of the Shanghai Cooperation Organisation (SCO) to cooperate with each other in order to prevent foreign powers from destabilising their countries by inciting "colour revolutions".
About:
Colour revolutions refer to a series of uprisings that first began in former communist nations in Eastern Europe in the early 2000s, but are also used in reference to popular movements in the Middle East and Asia. 
Most have involved large-scale mobilisation on the streets, with demands for free elections or regime change, and calls for removal of authoritarian leaders.
Orange Revolution: It refers to a series of protests that occurred in Ukraine between November 2004 and January 2005. 
CLICK HERE FOR FULL CURRENT AFFAIRS (Only for Course Members)
::ECONOMY::
National Programme on Advanced Chemistry Cell (ACC) Energy Storage
Recently, NITI Aayog presented a report on the current status and future trends in the ACC battery sector.
Key highlights: 
Report highlights that India's $2.5-billion Production-Linked Incentive (PLI) scheme for ACC energy storage is critical for meetingthe projected cumulative battery demand by 2030.
Cumulative Battery demand of 106–260 Giga Watt Hour (GWh) is important to successfully realize country's vision for electricvehicles (EVs) adoption and grid decarbonisation.
Earlier, Government had approved the PLI Scheme 'National Programme on ACC Battery Storage' for achieving manufacturingcapacity of 50 GWh of ACC for enhancing India's Manufacturing Capabilities.
Under this, Manufacturers are expected to commit at least 25% of domestic value addition within two years and a minimum of60% value addition within five years.
ACCs are the new generation technologies that can store electric energy either as electrochemical or as chemical energy andconvert it back to electric energy as and when required.
CLICK HERE FOR FULL CURRENT AFFAIRS (Only for Course Members)
::SCIENCE AND TECHNOLOGY::
INSPIRE Awards
Union Science and Technology Minister Dr Jitendra Singh has presented INSPIRE awards to 60 Start-Ups and financial support to over 53 thousand students.
About:
The award is instituted by the Department of Science and Technology and these innovators will be extended complete incubation support for their entrepreneurship journey.
The scheme touched an unparalleled level of inclusivity by representing ideas and innovations of 702 districts of the country.
CLICK HERE FOR FULL CURRENT AFFAIRS (Only for Course Members)