Current Affairs for IAS Exams - 18 February 2020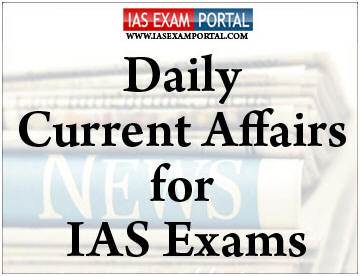 ---
Current Affairs for IAS Exams - 18 February 2020
---
::NATIONAL::
SC orders women army officers eligible for permanent commission
The Supreme Court on Monday dismissed the Union government's submissions that women are physiologically weaker than men as a "sex stereotype" and declared that Short Service Commission (SSC) women officers are eligible for permanent commission and command posts in the Army irrespective of their years of service.

The verdict came on a nearly 10-year-old appeal filed by the government against a March 12, 2010 decision of the Delhi High Court to grant SSC women officers permanent commission. The Supreme Court ordered the government to implement its judgment in three months.

The order castigated the government for submitting a note containing written submissions portraying women as physiologically unfit for answering the "call beyond duty" of the Army.

The note had shown women officers in a poor light, saying isolation and hardships would eat into their resolve and they would have to heed to the call of pregnancy, childbirth and family. The note had mentioned that women ran the risk of capture by enemy and being taken prisoner of war.

Justice Chandrachud, who wrote the judgment, countered that 30% of women officers were deputed in conflict zones. He said the note screamed of the age-old patriarchal notion that domestic obligations rested only with women. The court found the remarks in the note not only constitutionally invalid but also discriminatory, affecting the dignity of women officers.
UT of Ladakh allowed to appoint non-gazetted personnel
Following a shortage of personnel, the Union government has empowered the Union Territory of Ladakh to formulate its own rules to appoint "non-gazetted" officials.

A senior official said the day-to-day work in Ladakh was getting hampered as the process to reallocate government officials had not been completed, and not many officials were willing to move to the Union Territory.

The General Administration Department of Jammu and Kashmir issued an order last year seeking options from government officials "for their further allocation" to the two Union Territories. The employees had to fill a form, comprising 18 columns, which sought information on their "place of birth, home district, marital status and caste". "All employees have submitted their preference," the official said.

The General Administration Department of Jammu and Kashmir issued an order last year seeking options from government officials "for their further allocation" to the two Union Territories. The employees had to fill a form, comprising 18 columns, which sought information on their "place of birth, home district, marital status and caste". "All employees have submitted their preference," the official said.

There are about four lakh State government employees and 66 Indian Administrative Service (IAS) and 68 Indian Police Service (IPS) officers in the erstwhile State.

Under the Jammu and Kashmir Reorganisation Act, 2019, the IAS, the IPS and other central service officers will continue to work in the Union Territories, while new recruits will be allocated the Arunachal Pradesh-Goa-Mizoram and Union Territory cadre.
::ECONOMY::
Finance ministry confident in meeting fiscal deficit target
The fiscal deficit mentioned in the budget proposal 2020-21 was 'absolutely realistic' in terms of the scope of revenue generation, scope of investments and projection for economic growth and consumption, said Finance Minister NirmalaSitharaman.

On inflation, she said the government was hopeful. She cited the case of seasonal, perishable commodities which make up a significant size in the basket; except for seasonal fluctuation, prices of most goods, particularly food products, have been kept well within acceptable norms, she said.

Responding to a query on relief for telecom companies, Ms Sitharaman said the Telecom Ministry would decide on the payment of adjusted gross revenue (AGR) arrears by defaulting telecom firms, as recently directed by the Supreme Court. "The concerned Ministry has been engaging with telecom players since the court's ruling. I will wait to hear the Telecom Ministry's decision."

Speaking at the fifth post-Budget interactive session, she said a lot of preparation and consultation had gone into drafting a pragmatic, forward-looking Budget, which was also designed to ensure a congenial environment for taxpayers.
Moody's cut India's GDP forecast
Moody's has revised its growth forecasts for India downward to 5.4% for 2020 and 5.8% for 2021, from its previous projections of 6.6% and 6.7%, respectively.

It has also revised its global GDP growth forecast down, given the adverse impact of the coronavirus on the world economy.

Moody's also lowered growth projections for Mexico and South Africa, as it has for India, as a reflection of domestic challenges in these countries rather than external factors.

On India, it said that the economic recovery would likely be shallow. "India's economy has decelerated rapidly over the last two years. Improvements in the latest high frequency indicators such as PMI data suggest that the economy may have stabilised," it said.

A key to stronger economic momentum would be the revival of domestic demand, both rural and urban. But equally important is the resumption of credit growth in the economy, Moody's said.

"As data from the RBI shows, credit impulse in the economy has deteriorated throughout the last year as a result of the drying up of lending from non-bank financial institutions as well as from banks. Banks have been both unwilling to lend and to lower lending rates despite successive interest rate cuts by [RBI]," it said.
::INTERNATIONAL::
China holds meeting with ASEAN to discuss on coronavirus situation
China and the Association of Southeast Asian Nations (ASEAN) will hold a special foreign ministers' summit in Laos later this week to discuss the situation arising out of novel coronavirus.

A Chinese Foreign Ministry spokesman said that China and the ASEAN countries have been in close contact ever since the outbreak came to light.

He said the two sides have decided to hold a special foreign ministers' meeting within such a short period of time demonstrates our will and determination to overcome difficulties with concerted efforts.

The COVID-19 was first detected in the Chinese city of Wuhan in late December. It has since spread to over 20 countries, infected tens of thousands of people.
U.S expresses concern over Russian support to Syria
President Donald Trump has called for Russia to end its support for the Syrian regime's "atrocities" as he expressed U.S. concern over violence in the Idlib region, the White House said on Sunday.

Turkey's Foreign Minister also pressed his Russian counterpart over the attacks by Damascus on the last rebel-held bastion in the country.

Backed by Russian air power, Syrian President Bashar al-Assad made fresh gains on Sunday as he intensified his assault on the holdout northwestern province of Idlib.

Turkey has 12 observation posts in Idlib as part of a 2018 deal reached between Ankara and Moscow to prevent a regime offensive, but Syrian regime forces have pressed ahead regardless.

"I stressed that the attacks in Idlib must stop and it was necessary to establish a lasting ceasefire that would not be violated," Turkish Foreign Minister MevlutCavusoglu told journalists at the Munich Security Conference, after he met with Russian Foreign Minister Sergei Lavrov.
::SCIENCE & ETCHNOLOGY::
Indian bird population suffers long term decline
Over a fifth of India's bird diversity, ranging from the Short-toed Snake Eagle to the SirkeerMalkoha, has suffered strong long-term declines over a 25-year period, while more recent annual trends point to a drastic 80% loss among several common birds, a new scientific report jointly released by 10 organisations said on Monday.

The State of India's Birds 2020 (SoIB) assessment raises the alarm that several spectacular birds, many of them endemic to the sub-continent, face a growing threat from loss of habitat due to human activity, widespread presence of toxins, including pesticides; hunting and trapping for the pet trade.

Diminishing population sizes of many birds because of one factor brings them closer to extinction because of the accelerated effects of others, the report warned. For every bird species that was found to be increasing in numbers over the long term, 11 have suffered losses, some catastrophically.

The SoIB was produced using a base of 867 species, and analysed with the help of data uploaded by birdwatchers to the online platform, eBird. Adequate data on how birds fared over a period of over 25 years (long-term trend) are available only for 261 species. Current annual trends are calculated over a five-year period.

Forward-looking actions suggested by the report include an update to the Red List of endangered species published by IUCN using the SoIB, collaborative research by scientists and citizens and urgent emphasis on habitats of species of high concern, notably grasslands, scrublands, wetlands and the Western Ghats.
::SPORTS::
India's Koneru humpy wins Cairns cup chess tournament
World rapid champion Koneru Humpy claimed her second title in the last two months by winning the Cairns Cup Chess Tournament at St Louis in USA.

She drew with compatriot DronavalliHarika in the ninth and final round. Humpy ended with six points ahead of reigning champion ZuWezun who finished with 5.5 points.

With this win, Humpy would be gaining five ELO rating points, the basis for international rankings and moving to no.2 in the world list. Harika finished tied fifth with 4.5 points.