Current Affairs for IAS Exams - 18 March 2020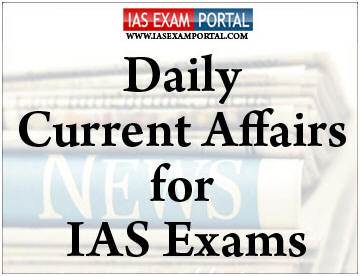 ---
Current Affairs for IAS Exams - 18 March 2020
---
::NATIONAL::
SC clears way for permanent commission for women in Navy
Maintaining that women and men officers should be treated equally, the Supreme Court today cleared permanent commission for women in the Navy and asked the Centre to complete the modalities within three months.
A bench headed by Justice D Y Chandrachud said, there cannot be any excuses for not granting gender equality in the armed forces and a level playing field is needed. It said, denying permanent commission to women officers who have served the nation would result in a serious miscarriage of justice.
The bench, also comprising Justice Ajay Rastogi, rejected the Centre's stand that sea sailing duties cannot be granted to SSC (Short Service Commission) women officers in the Navy as its Russian vessels do not have washrooms for them.
Such arguments, the court said, are contrary to the Centre's policy of 1991 and 1998 which lifted the statutory bar on the induction of women officers in the Navy.
The bench quashed the prospective effect of the policy barring women officers inducted before 2008 from being granted permanent commission in the Navy. It also granted pension benefits to women officers who have retired and were not granted permanent commission.
No meeting of SC/ST panels in majority states for 3 years
The State-level committees of 25 States and Union Territories, meant to monitor the implementation of the Scheduled Castes and Scheduled Tribes (Prevention of Atrocities) Act, 1989, had not met even once in three years — 2016, 2017 and 2018, according to information provided by the Union Social Justice and Empowerment Ministry to Parliament on Tuesday.
Replying to a question by DMK MP................................................
CLICK HERE FOR FULL CURRENT AFFAIRS (Only for Course Members)
::ECONOMY::
Finance ministry moots amendment to competition law for regulating etailers
Competition law for greater regulation of e-commerce platforms and ensure that presence of etailers has no severe impact on local jobs.

Responding to a series of queries on this issue during the Question Hour, Corporate Affairs Minister Nirmala Sitharaman said in Rajya Sabha that the cabinet has already looked into the amendments.
"The Competition Act Regulation Amendments will now bring in greater regulation. The cabinet has looked into it. Thisis one of the ways we are trying to regulate (e-commerce platforms)," she said in the Upper House. The amendments to the law have been proposed as per the recommendation of the Competition Law Reviewing Committee,under the chairmanship of Corporate Affairs Ministry, she said.
On job loss, the Minister said such kind of impacts have been assessed by the committee and "action is being taken through various amendments suggested to the Act so that impact is not as serious."
Prior to setting up of the committee, Sitharaman said anti-trust watchdog Competition Commission of India (CCI) had made efforts to promote self-regulation through advocacy from January this year after looking into a complaint it had received in April last year.
However, a court order from Karnataka stopped the CCI from taking further steps on self-regulation, she said. In its report on the complaint, the CCI had identified several practices which were not true to the ideals of free and fair market practices, she added.
Current month shows record FPI sales amid virus impact
Foreign portfolio investors (FPIs), who have been the prime drivers of every bull run that the Indian capital market has seen till date, have been record sellers during the current month.
Till date in March, FPIs have sold ...........................................
CLICK HERE FOR FULL CURRENT AFFAIRS (Only for Course Members)
::INTERNATIONAL::
India rejects J & K reference in China-Pak joint statement
India has rejected the reference to Jammu and Kashmir in the Joint Statement issued by China and Pakistan after the recent visit of Pakistani President to China.
In response to a query, External Affairs Ministry spokesperson Raveesh Kumar said Jammu and Kashmir is an integral part of India. He said issues related to it are internal matter of India.
The spokesperson said India expects other countries including China not to comment on matters that are internal affairs and also to respect India's sovereignty and territorial integrity.
India strongly objected to and reiterated its concerns to both China and Pakistan on "China Pakistan Economic Corridor", which is in the territory of India that has been illegally occupied by Pakistan since 1947.
The spokesperson said India is opposed to any actions by other countries to change the status quo in Pakistan occupied Jammu and Kashmir. New Delhi called on parties concerned to cease such actions and said such illegal activities will never be accepted by India.
India holds talks with Saudi crown prince
Prime Minister Narendra Modi had a telephonic conversation with the Crown Prince of Saudi Arabia, Mohammed bin Salman. During the conversation, the two leaders discussed the global situation regarding the COVID-19 pandemic.
Mr Modi emphasised the ..............................
CLICK HERE FOR FULL CURRENT AFFAIRS (Only for Course Members)
::SCIENCE & TECHNOLOGY:
ISRO set to launch Chandrayaan-3 by 2021
Chandrayaan-3 will be launched in the first half of 2021, Union Minister Jitendra Singh said, indicating that there could be a slight delay in the launch of the third moon mission.
In written response to a question in Lok Sabha, Minister of State in the Prime Minister's Office Singh said four biological and two physical science experiments related to microgravity will be conducted ................................
CLICK HERE FOR FULL CURRENT AFFAIRS (Only for Course Members)
::SPORTS::
SAI decides to postpone all training camps due to COVID-19
Sports Authority of India, SAI has decided to suspend academic training in National Centre of Excellence and Sports Training Centres till further orders in view of COVID-19.
Sports Minister's Office said, all national camps will be postponed except for those where athletes are being trained for 2020 Tokyo Olympics.