Current Affairs for IAS Exams - 18 may 2019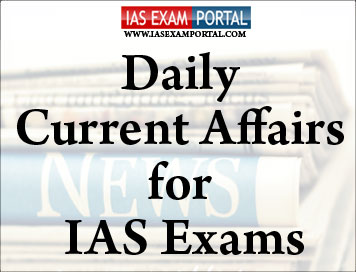 Current Affairs for IAS Exams - 18 May 2019
::NATIONAL::
Centre issue drought advisory to states
Centre has issued a drought advisory to Maharashtra, Gujarat, Karnataka, Andhra Pradesh, Telangana and Tamil Nadu and asked them to use water judiciously as water storage in dams dropping to a critical level.
A member of the Central Water Commission S K Haldar said that the advisory was issued to Tamil Nadu today and similar cautionary letters were sent to other states late last week.
The drought advisory is issued to states when the water level in reservoirs is 20 per cent less than the average of live water storage figures of the past 10 years.
Central Water Commission monitors water storage available in 91 major reservoirs across the country. According to the figures released on Thursday, the total water storage available is 22 per cent of total storage capacity of these reservoirs.
EC takes exception to media reports on poll codes
The Election Commission has taken a serious exception to media reports about its internal functioning with respect to handling the Model Code of Conduct.
The commission described the reports as unsavoury and avoidable controversy. It said this has come at a time when all Chief Electoral Officers throughout the country and senior officers of the Commission have been working their utmost ahead of the last phase of election and counting.
In a statement issued in New Delhi today, the Commission said its three members are not expected to be template or clones of each other. It also recalled that there have been so many times in the past when there has been a vast diversion of views as it can and should be.
The Chief Election Commissioner said that he has never shied away from a public debate whenever required but there is a time for everything.
In its meeting recently, it was unanimously decided that some groups shall be formed to deliberate the issues which arose in the course of the conduct of Lok Sabha Elections this time and the Model Code of Conduct is one of them.
::ECONOMY::
Finance commission advisory council meeting held
The third meeting of the Advisory Council of the 15th Finance Commission was held in New Delhi today.
During the meeting, the Council Members were d by the Commission on the progress made in terms of State Visits by the Commission and consultations with the RBI, bankers and financial institutions.
Besides, issues of Public Sector Borrowing Requirement, issues concerning GST and its implementation, transparency in publishing accounting data related to debt and deficit, interest rates and private investments were also discussed in detail.
According to an official release, views of the members were sought on the possible scenario for macro variables like GDP projections.
Views of the Members were sought on possible scenario for macro variables like GDP projections and economic outlook during the award period of the Commission i.e.2020-21 to 2024-25. The meeting also analysed a presentation made by Dr. Sajjid Z. Chinoy on Public Sector Borrowing Requirement, in today's meeting.
Government's effort to privatise Air India's ground handling arm halted
The government's effort to privatise Air India Air Transport Services Ltd., Air India's ground handling arm, has run into a stone wall, with potential bidders raising concerns over the Airport Authority of India's plan to award ground-handling work at 76 of its airports to vendors. This, according to them, could impact the value of the entity up for sale.
The deadline for bids for 98% stake sale for AIATSL has been extended twice since February 12, when the tender was floated. The original deadline for submission of bids was on February 26, which was first extended to May 26, was pushed further to June 16.
Ground handling agencies such as Bird Group, Celebi Aviation Holding, and Bhadra said that high royalties of up to 226% offered by bidders short-listed by AAI would have to be matched by the new buyer of AIATSL to provide services, which will make the entity unviable.
Uncertainty over Air India's future and whether the new buyer of AIATSL would have assured business from the airline and its subsidiaries as well as grand-father rights at airports enjoyed by it so far, are also among the concerns raised by potential bidders.
The delay in privatising AIATSL is a setback for the government which hopes to use the proceeds from the stake sale of different subsidiaries of Air India to partially pay off its debt of 55,000 crore.
::INTERNATIONAL::
U.S allows missiles sales to South Korea and Japan
United States has approved more than 600 million dollar in sales of air defense missiles to South Korea and Japan as tensions return with North Korea.
The State Department yesterday said it had approved 94 SM-2 missiles used by ships against air threats, along with 12 guidance systems for a total cost of 313.9 million dollar.
It separately gave the green light to sell 160 anti-air AMRAAM missiles and related guidance equipment to Japan for 317 million dollar.
A State Department statement said that the sales will support the US foreign policy and national security objectives by assisting key allies and will not alter the basic military balance in the region.
Taiwan becomes first Asian country to legalise same sex marriages
Taiwan's Parliament legalised same-sex marriage on Friday in a landmark first for Asia as the government survived a last-minute attempt by conservatives to pass watered-down legislation.
Lawmakers comfortably passed a Bill allowing same-sex couples to form "exclusive permanent unions" and another clause that would let them apply for a "marriage registration" with government agencies.
The vote which took place on the International Day Against Homophobia, Transphobia and Biphobia is a major victory for the island's LGBT community and it places the island at the vanguard of Asia's burgeoning gay rights movement.
Thousands of gay rights supporters gathered outside Parliament despite heavy downpours, waving rainbow flags, flashing victory signs and breaking into cheers as the news filtered out.
Two years ago, Taiwan's top court ruled that not allowing same-sex couples to marry violates the Constitution, with judges giving the government until May 24 to make the changes or see marriage equality enacted automatically.
::SCIENCE & TECHNOLOGY::
Doctors warn of fake treatments spreading in social media
Indian oncologists are increasingly battling unscientific miracle treatments for cancer shared widely on social media. On Thursday, Mumbai's Tata Memorial Centre (TMC) issued a rebuttal on a strange cancer remedy attributed to them in a widely circulated WhatsApp message, which stated that hot coconut water can destroy cancer cells of all types.
"There is no data to suggest that hot coconut water can provide cures for any type of cancer. Public are requested not to be misinformed by such false and harmful messages sent on social media," read a statement issued by the TMC's director Dr. Rajendra Badwe.
This is the second time that the Institute has issued an official clarification on a social media message. Last year, a fake health warning on WhatsApp linked breast cancer to wearing a black bra in a message attributed to the TMC. "This is being repeated often. We thought it was necessary for us to clarify," Dr. Badwe told, adding that social media is not a place where medical treatment and solutions should be discussed. "It is not the right forum," he said.
"We see so many patients who give the history of attempting to treat small lesions using cow urine and other such unscientific remedies. By the time they come to us, their cancers are advanced," said Dr. Sourav Datta, of head and neck cancer specialist at Kolkata's Narayana Superspeciality Hospital.
::SPORTS::
South Korea abandons 2023 Asian football stage bid
South Korea has abandoned its bid to stage football's Asian Cup in 2023, leaving the sole other bidders China with a free run to become hosts.
The Korea Football Association (KFA) said in a statement it had pulled out to strategically focus on a joint bid with North Korea to host the Women's World Cup in the same year.
Seoul's Asian Cup withdrawal means that China should on June 4 be confirmed by the Asian Football Confederation as hosts of the nations championship finals for the second time.