Current Affairs for IAS Exams - 18 November 2020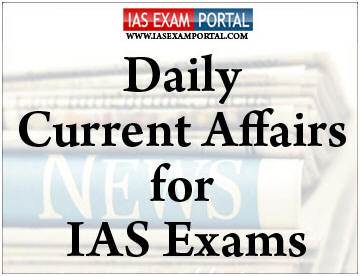 ---
Current Affairs for IAS Exams - 18 November 2020
---
::NATIONAL::
---
Govt considering a code of conduct for TV channels
---
The government is thinking of developing a common code of conduct for TV channels while also considering giving enhanced powers to the Press Council of India (PCI).
Government also asserted that government felt that it should not step into the regulatory domain and self-regulation by those in the profession was the ideal system, although, in the case of so-called over the top (OTT) platforms such as Netflix and Amazon Prime, the government has effectively rejected any effort at self-regulation.
Key findings:
The Press Council oversees the print domain there was no similar system for the electronic media.
There is no system like the Press Council for TV channels so there should be a system of self-regulation. 
An organization has been formed which is headed by Justice Sikri which even gives punishment and asks channels to apologise if required. 
However, many channels are not even members of this system and we can't leave things like that.
The I&B minister said that many people were suggesting a common code of conduct for all TV channels.
Rules for these are yet to be released, though. There have been demands in the past that the Press Council of India be converted into a Media Council with digital and even electronic platforms under its ambit.
For OTT platforms there is neither a platform like the PCI not a self-regulatory mechanism.
In January 2019, the main OTT platforms cam together and signed a self-regulatory code but the government has refused to sign off on this.
In a world first, Indian carbon trader to come out with IPO
---
Indore-based Enking International may become the world's first company that operates in the carbon markets space to go in for an initial public offering (IPO). 
The 12-year-old company operates in the emerging area of trading in carbon offsets. These are market-tradeable instruments (like Renewable Energy Certificates) that are issued to entities whose projects reduce xarbon dioxide emissions.
In 2019, carbon offsets worth $214 billion were traded globally, 34 per cent up from the previous year.
Key highlights:
Trading in carbon offsets is expected to pick up once the rules for carbon markets are framed under Article 6 of the Paris Agreement. 
Carbon trading began under the Kyoto Protocol of 1997 (which came into force in 2005). 
Under this, 'certified emission reductions' or CERs, were issued to entities that put up projects that reduced emissions — such as wind, solar, or energy efficiency. 
These CERs were to be bought by developed countries. It didn't work out well and Indian entities are left holding about 750 million worthless CERs.
Way ahead:
However, today some countries and many companies buy offsets under what are called 'compliance' and 'voluntary' markets, respectively. But the real growth in the market is expected to happen only after the carbon market rules are framed under the Paris Agreement.
CLICK HERE FOR FULL CURRENT AFFAIRS (Only for Course Members)
---
::ECONOMY:: 
---
COFEPOSA
---
Ministry of Finance indicated that issuers and beneficiaries of fake GST invoices can be detained under theCOFEPOSA (Conservation of Foreign Exchange and Prevention of Smuggling Activities Act).
At present, actions are being initiated under the GST law, income tax law and the Prevention of MoneyLaundering Act.
About:
COFEPOSA Act, 1974 provides for preventive detention in certain cases for the purposes of conservation andaugmentation of foreign exchange and prevention of smuggling activities and for matters connected.
COFEPOSA prescribes the detention of persons for a period up to two years, if he/she is allegedly involved in smuggling goods or abetting the smuggling of goods; or engaging in transporting or concealing or keeping smuggled goods or dealing in smuggled goods otherwise; or harbouring persons engaged in smuggling goods or in abetting the smuggling of goods
CLICK HERE FOR FULL CURRENT AFFAIRS (Only for Course Members)
---
---
::INTERNATIONAL::
---
BRICS nations adopt new counter-terrorism strategy to effectively deal with the menace
---
The five-nation grouping BRICS has adopted a new counter-terrorism strategy to effectively deal with terrorism. 
The objective of BRICS counter-terrorism cooperation is 
1.    to complement and strengthen the existing bilateral and 
2.    multilateral ties among the BRICS countries, and 
3.    to make a meaningful contribution to the global efforts of preventing and combating the threat of terrorism.
 
The BRICS countries reaffirmed that terrorism in all its forms and manifestations constitutes one of the most serious threats to international peace and security and that any act of terrorism committed is a crime and has no justification.
The BRICS countries also recognized that acts, methods and practices of terrorism in all its forms and manifestations are activities aimed at the destruction of human rights, fundamental freedoms and democracy, threatening territorial integrity, security of States, and that the international community should take the necessary steps to enhance cooperation to prevent and combat terrorism, including cross-border movement of terrorists.
The BRICS countries aim to strengthen their unity in countering international terrorism and its financing.
---
::SCIENCE & TECHNOLOGY::
---
DRDO surface-to-air missile shoots down aerial target in latest test
---
The Defence Research and Development Organisation's (DRDO) successfully test-fired QRSAM from the Integrated Test Range at Chandipur, off Odisha coast.
About:
Quick Reaction Surface-to-Air Missile (QRSAM) system is a short-range surface-to-air missile system, indigenously designed and developed.
It provides a protective shield to moving armoured columns of the Army from enemy aerial attacks.It has a rangeof 25 to 30 km.
The QRSAM weapon ensemble, which functions on the move, consists of a fully automated command and control system, two radars — Active Array Battery Surveillance Radar, Active Array Battery Multifunction Radar — and one launcher. Both radars have a 360-degree coverage with "search on move" and "track on move" capabilities. 
The system is compact, uses a single stage solid propelled missile and has a mid-course inertial navigation system with two-way data link and terminal active seeker developed indigenously by DRDO.
CLICK HERE FOR FULL CURRENT AFFAIRS (Only for Course Members)
---
Sports
---
Due to Covid 19 Fifa cancels next year's U-17 women's World Cup in India
---
The Women's Under-17 World Cup in India, which was postponed to 2021 due to Covid-19 pandemic, was on Tuesday cancelled by the world governing body Fifa and the country was handed the hosting rights of the 2022 edition.
The decision was taken by the Bureau of the Fifa Council which took stock of the current global Covid-19 pandemic and its continuing impact on football.
The Fifa cancelled both the women's U-17 World Cup and U-20 World Cup which were scheduled to be held in India and Costa Rica respectively but handed both the countries the hosting rights of the 2022 editions.
 
---
---
---
---