Current Affairs for IAS Exams - 18 July 2022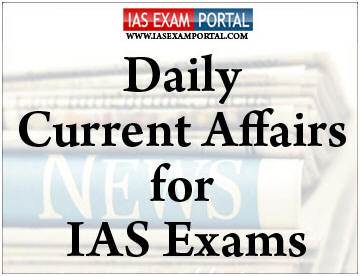 ---
Current Affairs for IAS Exams - 18 July 2022
::NATIONAL::
Pigmented Carotenoids
Women tend to live longer than men, but typically have higher rates of illness.
Key highlights: 
Now, research from University of Georgia (UGA) suggests these higher rates of illness can be improved by a better diet — one that is high in pigmented carotenoids such as yams, kale, spinach, watermelon, bell peppers, tomatoes, oranges and carrots. 
These bright-coloured fruits and vegetables are particularly important in preventing visual and cognitive loss, UGA said in a press release on the study, published in Nutritional Neuroscience. 
Women have, on average, more body fat than men. Body fat serves as a significant sink for many dietary vitamins and minerals, which creates a useful reservoir for women during pregnancy. This availability, however, means less is available for the retina and the brain, putting women at more risk for degenerative problems.
CLICK HERE FOR FULL CURRENT AFFAIRS (Only for Course Members)
Only 50% farmers benefited from farm loan waivers
Only about half of the intended beneficiaries of farm loan waivers announced by nine States since 2014, have actually received debt write-offs, as per a study by State Bank of India's researchers.
About:
As of March 2022, the poorest implementation of farm loan waiver schemes in terms of proportion of eligible farmers who had received the announced benefits, were in Telangana (5%), Madhya Pradesh (12%), Jharkhand (13%), Punjab (24%), Karnataka (38%) and Uttar Pradesh (52%).
By contrast, farm loan waivers implemented by Chhattisgarh in 2018 and Maharashtra in 2020, were received by 100% and 91% of the eligible farmers, respectively. 
A similar waiver announced by Maharashtra in 2017 worth ₹34,000 crore for 67 lakh farmers, has been implemented for 68% of beneficiaries, SBI researchers reckoned.
The SBI study was based on outcomes of ten farm loan write-offs worth about ₹2.53 lakh crore announced by nine States, starting with Andhra Pradesh and Telangana in 2014. 
CLICK HERE FOR FULL CURRENT AFFAIRS (Only for Course Members)
::INTERNATIONAL::
US President on Israel-Palestine issues 
US President Joe Biden acknowledged that an independent state for Palestinians "can seem so far away" as he confronted hopelessness about the stagnant peace process during a visit to the West Bank. 
For the first time US President called for a two-state solution along the 1967 lines with agreed land swaps, but also said the ground was not ripe for restarting Israeli-Palestinian negotiations.
Israel-Palestine Conflict: 
1947: UN adopted Resolution 181 (Partition Plan) to divide theBritish Mandate of Palestine into Arab and Jewish states.
1948: British left and the State of Israel was created, sparking thefirst Arab-Israeli War.
1949: War ended with Israel's victory and Palestine was divided into3 parts: State of Israel, West Bank (of Jordan River), and Gaza Strip.
1967: After Six-Day War, Israel gained territorial control over GazaStrip from Egypt; West Bank and East Jerusalem from Jordan.
CLICK HERE FOR FULL CURRENT AFFAIRS (Only for Course Members)
Expanding the Shanghai Cooperation Organisation
Iran and Belarus are likely to be the two newest additions to the China and Russia-backed Shanghai Cooperation Organisation (SCO) grouping.
About:
The decision to admit Iran was made in last year's Dushanbe summit and Belarus has submitted its application.
At the meet, India also shared the 'Draft Program for Promotion of Industrial Cooperation among Business Worlds of SCOMember States and the Regulations for the Organization and Organizing of Exhibition Programs'.
This is the first expansion of the SCO after India and Pakistan were admitted to the grouping in 2017.
Impact:
An expanded membership will confer greater legitimacy on the SCO and yield security and economic benefits for its members.
Improve the connectivity and integration of the broader region.
The Beijing-headquartered SCO is an eight-member economic and security bloc consisting of China, Russia, Kazakhstan,Kyrgyzstan, Tajikistan, Uzbekistan, India and Pakistan.
CLICK HERE FOR FULL CURRENT AFFAIRS (Only for Course Members)
::ECONOMY::
National e-GovernanceService Delivery Assessment
The Ministry of Home Affairs (MHA) bagged the first spot under the Central ministries' portal in a national e-governance service delivery assessment conducted by the Department of Administrative Reforms and Public Grievances (DARPG).
About:
The Digital Police portal of the National Crime Records Bureau (NCRB) has been placed at number two in the assessment, an official statement by the Home Ministry mentioned.
It is a periodic assessment intended to improve the effectiveness of States/Union Territoriesand the Central Government in delivery of their online services to citizens.
It was conducted by the Department of Administrative Reforms and Public Grievances (DARPG)in association with NASSCOM and KPMG in 2021.
It has four main parameters of assessment namely,
1.    Accessibility, 
2.    Content Availability, 
3.    Ease of Use andInformation Security,
CLICK HERE FOR FULL CURRENT AFFAIRS (Only for Course Members)
::SCIENCE AND TECHNOLOGY::
Department of Consumer Affairs sets up panel on Right to Repair
In a bid to develop an overall framework for the Right to Repair, the Department of Consumer Affairs has set up a committee chaired by Additional Secretary Nidhi Khatri.
About:
The committee includes Anupam Mishra, Joint Secretary DoCA; Justice Paramjeet Singh Dhaliwal; G.S. Bajpai, Chancellor, Rajiv Gandhi National University of Law, Patiala; Ashok Patil, Chair of Consumer Law and Practice; and representatives from stakeholders including ICEA, SIAM, consumer activists and consumer organisations as members.
The key sectors identified for this framework include Farming Equipment, Mobile Phones/ Tablets, Consumer Durables and Automobiles & Automobile Equipment.
The committee also believes that manufacturers encourage a culture of 'planned obsolescence'. "This is a system whereby the design of any gadget is such that it lasts a particular time only and after that particular period it has to be mandatorily replaced.
CLICK HERE FOR FULL CURRENT AFFAIRS (Only for Course Members)