Current Affairs for IAS Exams - 18 June 2022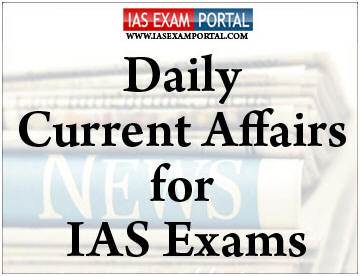 ---
Current Affairs for IAS Exams - 18 June 2022
::NATIONAL::
Phone tapping 
IPS officer Rashmi Shukla, is facing an FIR in Mumbai and is being probed for allegedly tapping the phones of  Rajya Sabha MP Raut and NCP leader Eknath Khadse in 2019, when she was heading the State Intelligence Department in Maharashtra.
What laws govern this?
Phone tapping in India is governed by the The Indian Telegraph Act, 1885.
Section 5(2) says that "on the occurrence of any public emergency, or in the interest of the public safety", phone tapping can be done by the Centre or states if they are satisfied it is necessary in the interest of "public safety", "sovereignty and integrity of India, the security of the State.
There is an exception for the press: "press messages intended to be published in India of correspondents accredited to the Central Government or a State Government shall not be intercepted or detained, unless their transmission has been prohibited under this sub-section".
Who can tap phones?
In the states, police have the powers to tap phones. 
At the Centre, 10 agencies are authorised to do so: Intelligence Bureau, CBI, Enforcement Directorate, Narcotics Control Bureau, Central Board of Direct Taxes, Directorate of Revenue Intelligence, National Investigation Agency, R&AW, Directorate of Signal Intelligence, and the Delhi Police Commissioner.
Tapping by any other agency would be considered illegal.
Who authorises phone tapping?
Rule 419A of the Indian Telegraph (Amendment) Rules, 2007, says phone tapping orders "shall not be issued except by an order made by the Secretary to the Government of India in the Ministry of Home Affairs in
CLICK HERE FOR FULL CURRENT AFFAIRS (Only for Course Members)
Draft Battery Swapping Policy
NITI Aayog Releases Draft Battery Swapping Policy for Stakeholder Comments.
About:
Battery swapping is an alternative that involves exchanging discharged batteries for charged ones. Battery swapping de-links the vehicle and fuel (in this case, the battery) and thereby leads to a reduction in the upfront cost of the vehicles.
Battery swapping is popularly used for smaller vehicles, such as two- and three-wheelers, which have smaller batteries that are easier to swap compared to other automotive segments where the same can be implemented mechanically.
Battery swapping offers three key advantages relative to charging—time-saving, space-efficient, and cost-effective—provided each swappable battery is actively used. Further, Battery swapping provides a level playing field to innovative and sustainable business models, such as 'Battery as a Service'.
Highlights of the policy:
The policy comprises into 2 phases.
1st phase proposes to prioritise setting up battery-swapping networks in metropolitan cities with a population above 40-lakh (per Census 2011).
In 2nd phase, all major cities such as State capitals, UT headquarters and those with a population of over 5 lakh.
Vehicles with swappable batteries will be sold without a battery.
Any individual or entity is free to set up a battery swapping station at any location.
CLICK HERE FOR FULL CURRENT AFFAIRS (Only for Course Members)
::INTERNATIONAL::
Kuril Islands 
Japan describes four islands whose ownership it disputes with Moscow as illegally occupied by Russia in the latest version of a diplomatic Bluebook.
By using stronger language to describe the territorial flap than other recent versions and underscoring the chilled relations between the two sides amid the Russian invasion of Ukraine.
About:
The Diplomatic Bluebook of Japan is an annual report on Japan's foreign policy and international diplomacy published by the Ministry of Foreign Affairs in Japan.
It has been published every year since its first issue in September 1957.
Japan have called these islands - the Northern Territories - while Russia calls them the southern Kurils.
Japan claims the Iturup, Kunashir, Shikotan and Habomai islands in Kuril Island chain.
Location: 
Chain of volcanic island archipelago stretches north across the Pacific Ocean from the Japan's Hokkaido to the southernmost tip of Russia's Kamchatka Peninsula.
It separates the Sea of Okhotsk from the Pacific Ocean.
Other features:
Vegetation: Ranges from tundra on the northern islands to dense forest on the larger southern islands.
CLICK HERE FOR FULL CURRENT AFFAIRS (Only for Course Members)
Maldives President bans 'India Out' campaign
This step was taken to protect long-standing bilateral relations between Maldives and India and protect Maldives's national and regional security.
'India Out' campaign was regarded as an organised campaign that aims to disrupt relations between the two countries by inciting unrest.
One of the reasons for this was cooperation between the two sides in 2021 to develop a harbour on the UthuruThilafalhu (UTF) atoll for the Maldivian coast Guard as it was rumoured that there were Indian military personnel stationed there.
Why India - Maldives relationship is important for both?
Why Maldives is strategically important for India?
Maldives proximity to the west coast of India,
It's situated at the hub of commercial sea lanes running through Indian Ocean
Both countries has signed a security cooperation pact with a credit line from India for capacity building in the maritime domain.
Maldives is part of the Colombo Security Conclave (India initiated) which envisages peaceful cooperation in Indian Ocean along with Sri Lanka and Mauritius.
India is constructing High Impact Community Development Project (HICDP) in various atolls of Maldives.
CLICK HERE FOR FULL CURRENT AFFAIRS (Only for Course Members)
::ECONOMY::
Fincluvation
India Post Payments Bank (IPPB), a 100% government owned entity under Department of Posts (DoP) announced the launch of Fincluvation.
About:
It is a joint initiative to collaborate with Fintech Startup community to co-create and innovate solutions for financial inclusion.
Fincluvation will be a permanent platform of IPPB to co-create inclusive financial solutions with participating start-ups. 
Startups are encouraged to develop solutions aligned with any of the following tracks:
1.    Creditization - Develop Innovative & Inclusive credit products aligned with the use cases of target customers and take them to their doorsteps through Postal network.
2.    Digitization - Bring convenience through convergence of traditional services with Digital Payment Technologies such as making the traditional Money Order service as Interoperable Banking service.
3.    Any Market-led solutions that can help solve any other problem relevant to IPPB and/or DoP in serving the target customers.
CLICK HERE FOR FULL CURRENT AFFAIRS (Only for Course Members)
::SCIENCE AND TECHNOLOGY::
Genetically modified mosquitoes
The preliminary results of an open-air study of genetically modified mosquitoes in the United States have raised hopes of controlling disease-carrying mosquitoes. 
Key highlights: 
The study conducted by a UK-based biotech firm, Oxitec, was done to reduce the population of wild Aedes aegypti mosquitoes that is a vector for viruses like chikungunya, and dengue, zika, and yellow fever. 
For this experiment, the scientists engineered a gene that will kill the female offspring.
It was done to reduce the population of wild Aedes aegypti mosquitoes that is a vector for viruses like chikungunya, and dengue, zika, and yellow fever.
CLICK HERE FOR FULL CURRENT AFFAIRS (Only for Course Members)