Current Affairs for IAS Exams - 18 November 2022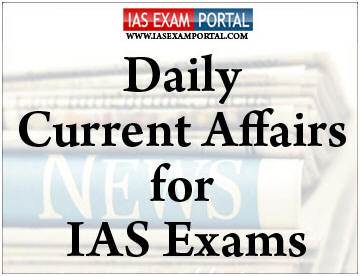 ---
Current Affairs for IAS Exams - 18 November 2022
::NATIONAL::
Uniformity in charging port
A Central Inter-Ministerial Task Force constituted to examine the issue of uniformity in charging ports of electronic devices decided to form a sub-group to examine the feasibility of uniform charging port for wearables.
About:
During the meeting, a broad consensus emerged among stakeholders on adoption of USB Type – C as a charging port for electronic devices such as smartphones, tablets, laptops etc. 
Further, it was deliberated that a different charging port may be adopted for feature phones.
Need for Uniformity
Consumers will not require to buy a new charger, thus reducing e-waste in India (as of 2021, 5 million tonnes of e-waste generatedin India).
It will be a step towards LiFE (Lifestyle for Environment) that nurtures a global network of individuals, i.e., 'Pro-Planet People' (P3).
Ease out the technological 'lock-in' effect, whereby a consumer becomesdependent on a single manufacturer.
Challenges: 
May limit the features of a device such as videos etc, 
Damage thedevice due to variations in electricity supply requirements, etc.
Narco Test
A court in Saket, New Delhi, has allowed Delhi Police to conduct a narco test on Aaftab Poonawalla, in the Shraddha Walkar killing case. 
About:
The term narco analysis is derived from the Greek word narko (meaning anaesthesia or Torpor) and is used to describe a diagnostic and psychotherapeutic technique that uses psychotropic drugs, particularly barbiturates.
In a 'narco' or narcoanalysis test, a drug called sodium pentothal is injected into the body of the accused, which transports them to a hypnotic or sedated state, in which their imagination is neutralised.
In this hypnotic state, the accused is understood as being incapable of lying, and is expected to divulge information that is true.
Sodium pentothal or sodium thiopental:
Sodium pentothal or sodium thiopental is a fast-acting, short duration anaesthetic, which is used in larger doses to sedate patients during surgery.
It belongs to the barbiturate class of drugs that act on the central nervous system as depressants.
Because the drug is believed to weaken the subject's resolve to lie, it is sometimes referred to as a "truth serum", and is said to have been used by intelligence operatives during World War II.
::INTERNATIONAL::
Rhino Horns
A global threat assessment report presented at a convention of the conservation agencies, the seizure of rhino horns by weight has increased after 2017 despite a reduction in poaching.
About:
A comprehensive analysis titled 'Executive Summary of the Rhino Horn Trafficking as a Form of Transnational Organised Crime (2012-2021): 2022 Global Threat Assessment', was presented at the meeting of the Conference of Parties organised by the Convention on International Trade in Endangered Species of Wild Fauna and Flora (CITES). The 12-day meeting will end on November 25.
Supported by the World Wide Fund for Nature, the Wildlife Justice Commission (WJC) prepared the document on the rhino horn trafficking during the decade from January 1, 2012, to December 31, 2021.
The threat assessment was compiled from the analysis of 674 rhino horn seizure incidents that had occurred globally during this decade, in addition to seven years of criminal intelligence and findings from the WJC investigations into the rhino horn trafficking, conducted since 2015.
The report said six countries and territories have dominated the rhino horn trafficking routes from the source to the destination locations although more than 50 countries and territories were implicated in the transnational crime. 
These countries were South Africa, Mozambique, Malaysia, Hong Kong Special Administrative Region, Vietnam, and China.
The investigation has also led to the "prolific" Vietnamese and Chinese criminal networks driving the trafficking of the horns throughout the supply chain.
India Australia Cyber Policy Dialogue
India and Australia convened their fifth bilateral Cyber Policy Dialogue in New Delhi. 
About:
The Cyber Policy Dialogue was held under the auspices of the India-Australia Framework Arrangement on Cyber and Cyber-Enabled Critical Technology Cooperation and Plan of Action 2020-2025 for a comprehensive and deeper cyber cooperation. 
Cyber Policy Dialogue provides a bilateral platform to discuss a range of high-profile issues of mutual interest. 
Discussions at this Dialogue included strategic priorities, cyber threat assessment, next generation telecommunications (including 5G technology) capacity building and cooperation in the Indo-Pacific region, and the latest developments in cyber at the United Nations.
Australia and India agreed to explore opportunities for further collaboration with the private sector and academia. 
Both countries will jointly conduct a Cyber Bootcamp, as well as Cyber and Tech Policy Exchanges, in collaboration with Indo-Pacific partners.
::Economy::
International Tourism Mart
The three-day long International Tourism Mart (ITM) will begin in Mizoram on 18th November 2022. 
About:
The 10th edition of the International Tourism Mart, jointly organized by the Ministry of Tourism and the state tourism department. 
The event is aimed at highlighting the tourism potential of the North-Eastern region in the domestic and international markets. 
Also, there will be business-to-business sessions and panel discussions between buyers, sellers, government agencies and other stakeholders. 
International Tourism Mart (ITM):
The International Tourism Mart (ITM) is an annual event organised in the North Eastern region with the objective of highlighting the tourism potential of the region in the domestic and international markets.
It brings together the tourism business fraternity and entrepreneurs from the 8 North Eastern States.
The event has been planned to facilitate interaction between buyers, sellers, media, Government agencies and other stakeholders.
The ITMs are organised in the 8 North Eastern States on rotation basis.
::SCIENCE AND TECHNOLOGY::
Artemis-1 mission
Artemis I will be the first integrated test of NASA's deep space exploration systems: the Orion spacecraft and Space Launch System(SLS) rocket.
It is the first in a series of increasingly complex missions that will enable human xploration to the Moon and Mars.
Objective of Artemis 1
Demonstrate Orion's heat shield can withstand the high speed and high heat conditions when returning through Earth'satmosphere.
Study the radiation environment of deep space that is present for missions to the Moon and beyond.
Retrieving Orion after splashdown will provide information to engineers for future missions.
Accomplish flight test objectives like certifying Orion's optical navigation system, deploying CubeSats (small satellites), etc.