Current Affairs for IAS Exams - 18 October 2022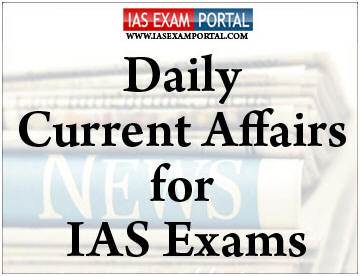 ---
Current Affairs for IAS Exams - 18 October 2022
::NATIONAL::
Green Crackers
Only green crackers will be sold on Diwali in Delhi, according to Supreme Court (SC) orders.
About:
Green crackers are low-emission crackers that are free of harmful chemicals such as sulfur, nitrates, arsenic, Magnesium, sodium, lead and barium that reduce emissions by up to 30%. 
They emit sounds in the range of 100 to 130 decibels.
They are equipped with a green logo and a QR code (Quick Response) to distinguish them from conventionalbangers to distinguish. 
The crackers developed by the Council of Scientific and Industrial Research (CSIR) falls under three categories:
1.    SWAS:SWAS is safe water releaser, which suppresses the dust released by releasing water vapour in the air. It does not comprise potassium nitrate and sulphur and the particulate dust released will reduce approximately by 30 per cent.
2.    STAR:STAR is the safe thermite cracker, which does not comprise potassium nitrate and sulphur, emits reduced particulate matter disposal and reduced sound intensity. 
CLICK HERE FOR FULL CURRENT AFFAIRS (Only for Course Members)
No govt jobs, benefits for family with over four children
Manipur Cabinet gave its nod to the establishment of Manipur State Population Commission as an ordinance, which will bring in the four-child norm as eligibility for families to avail benefits of government schemes, including jobs.
About:
Aiming apparently at population control, decision was taken along withestablishing the Manipur State Population Commission.
Several other states such as Rajasthan, Madhya Pradesh, Gujarat etc havesimilar laws aimed at controlling population.
At present, India hosts around 18% of worlds population with only 2.45% ofthe global surface area and in 2023 will overtake China to become worlds mostpopulous nation.
Arguments in favour of a population control policy
Put pressure on food, clothing& housing.
Aggravates unemployment &disguised unemploymentproblem.
Leads to eco-degradation.
Put pressure on infrastructure.
Arguments in favour of a populationcontrol policy
Reduction in working-agepopulation.
Already dipping Total FertilityRate (TFR).
CLICK HERE FOR FULL CURRENT AFFAIRS (Only for Course Members)
::INTERNATIONAL::
Global Hunger Index 2022
India ranked 107 out of 121 countries in the Global Hunger Index 2022 with its child wasting rate at 19.3 per cent, being the highest in the world. 
About:
The Global Hunger Index (GHI) is a tool for comprehensively measuring and tracking hunger at global, regional, and national levels.
GHI is published by Concern Worldwide (internationalhumanitarian organization) and Welthungerhilfe (private aidorganisation in Germany).
Key global findings:
Global progress against hunger has largely stagnated and islikely to worsen due to overlapping global crises—conflict,climate change, and economic fallout of COVID-19pandemic.
Africa South of Sahara and South Asia have highest hungerlevels and are most vulnerable to future shocks and crises.
As many as 828 million people were undernourished in2021.
Findings for India:
With a score of 29.1, the level of hunger in India has been labelled "serious".
In Asia, Afghanistan with a rank of 109 is the only country behind India. Neighbouring countries - Pakistan (99), Bangladesh (84), Nepal (81) and Sri Lanka (64) have all fared better than India.
CLICK HERE FOR FULL CURRENT AFFAIRS (Only for Course Members)
Second United Nations World Geospatial Information Congress
The Second United Nations World Geospatial Information Congress (UNWGIC 2022) began in Hyderabad recently. 
About:
The five-day conference is being hosted by the Department of Science & Technology, Ministry of Science and Technology and convened by the United Nations Committee of Experts on Global Geospatial Information Management.
About:
With the theme of Geo-Enabling the Global Village: No one should be left behind, the Second UNWGIC 2022 will reflect on the importance of integrated geospatial information infrastructure and knowledge services to support the implementation and monitoring of sustainable development goals. 
It will also mirror the well-being of society, address environmental and climate challenges, embrace digital transformation and technological development, and catalyze a vibrant economy.
Geospatial Technology:
Geospatial Technology is an emerging field ofstudy that includes Geographic Information System (GIS), Remote Sensing (RS), and GlobalPositioning System (GPS).
CLICK HERE FOR FULL CURRENT AFFAIRS (Only for Course Members)
::Economy::
One Nation, One Fertilizer
Prime Minister of India recently launched Pradhan Mantri Bharatiya Jan UrvarakPariyojana, also known as One Nation One Fertiliser during the two-day event PM Kisan Samman Sammelan 2022. He also launched Indian Edge, an e-magazine on fertilisers.
About:
All subsidised soil nutrients - urea, di-ammonium phosphate (DAP), Muriate of Potash (MoP), and NPK - will be marketed under the single brand Bharat across the nation.
With the launch of this scheme, India will have a common bag design across the country like Bharat urea, Bharat DAP, Bharat MOP, Bharat NPK, and so on.
The rationale is that since fertilizers of a particular category must meet the nutrient-content specifications of the Fertilizer Control Order (FCO), there is no product differentiation among different brands for each type of fertilizer. For example, all DAP fertilizer brands must have 18% nitrogen and 46% phosphorus.
The One Nation One Fertiliser scheme will also prevent the criss-cross movement of fertilisers and reduce high freight subsidies.
PM- Kisan Samruddhi Kendras (PM-KSK):
The Union government also intends to convert more than 3.3 lakh fertiliser retail shops in the country into PM- Kisan SamruddhiKendras (PM-KSK) in a phased manner.
The PM-KSK will supply agri-inputs like seeds, fertilisers, and farm implements. It will also provide testing facilities for soil, seeds and fertilisers.
CLICK HERE FOR FULL CURRENT AFFAIRS (Only for Course Members)
::SCIENCE AND TECHNOLOGY::
Radiocarbon Dating
Recently, plea seeking radiocarbon dating (also referred as Carbon dating) in Gyanvapi Mosquecase was dismissed.
About:
Carbon-dating is to establish the age of organic materials, things that were once living.
Living things have carbon in them in various forms.
It is based on the fact that Carbon-14 (C-14), an isotope of carbon, is radioactive, and decays at awell-known rate, known as half-life (about 5,730 years).
It provides objective age estimates by measuring amount of C-14 present in the sample andcomparing this against an internationally used reference standard.
CLICK HERE FOR FULL CURRENT AFFAIRS (Only for Course Members)