Current Affairs for IAS Exams - 19 January 2020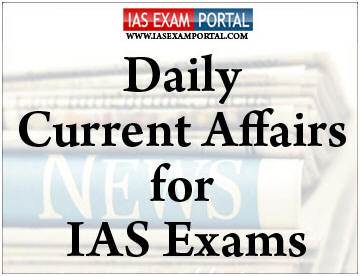 ---
Current Affairs for IAS Exams - 19 January 2020
---
::NATIONAL::
President launches polio immunisation programme for 2020
National Immunization Day is being observed today. President Ram NathKovind launched the Pulse Polio Programme for this year by administering Polio drops to children below five years at RashtrapatiBhavan yesterday.

Under this programme, over 17 crore children of less than five years of age across the country will be administered polio drops. Polio booths have been set up across all states which will remain open from 9 AM to 4 PM today.

The programme is a part of the immunization drive of the Central Government to sustain polio eradication from the country.

Polio is a very infectious disease, also known as poliomyelitis or infantile paralysis caused by the poliovirus which leads to muscle weakness and inability to move among people. It spreads easily from person to person. Sometimes it's very dangerous and can lead to permanent disabilities and even death.

Vellore, (Tamil Nadu) became the first Indian town to become 100% polio-free through the pulse strategy, and the rest of India adopted the strategy in 1995. On March 27, 2014, India was declared as polio-free along with countries of South-East Asian Region of WHO.
Legal experts claim states cannot prevent implementation of CAA
Congress leader and former Minister of Law and Justice KapilSibal today said that there is no way a state can deny implementation of the Citizenship Amendment Act when it has already been passed by the Parliament and doing so would be unconstitutional. He was speaking at the Kerala Literature Festival in Kozhikode.

He further said that the states can oppose CAA, can pass a resolution in the Assembly and ask the Central Government to withdraw it, but saying that it won't implement the act is going to be problematic and going to create more difficulties.

Meanwhile, Mr Sibal said that Kerala Governor is also bound by the Constitution while responding in connection to the Kerala Governor's criticism of the State Government's action to move to Supreme Court challenging CAA without informing him.

Referring to the anti-CAA campaign, he opined that the young people's fight is not part of any political agenda, but rather due to the lack of future, they see for themselves.
::ECONOMY::
Government set to release advisory on GM crops
The Centre is preparing an advisory to states and Union Territories to guard against "suspected illegal cultivation of Genetically Modified Crops", days after NCP president SharadPawar made a renewed pitch for GM crops. Farmer groups in Maharashtra and Telangana face legal issues too over alleged sowing of 'illegal GM crops'.

Several cases of cultivation of illegal GM crops have been reported from across states in the last few months, prompting the Centre to step in

A draft advisory has already been shared with GEAC which is studying it closely to ensure effectiveness on ground, a source told ET. The advisory/protocol will be in line with the provisions under the "Rules for the Manufacture/Use/Import/Export and Storage of Hazardous Microorganisms, Genetically Engineered Organisms or Cells, 1989" under the Environment (Protection) Act, 1986.

The idea is to prepare an action plan once it is established that GM crops are grown illegally. The advisory will detail steps taken to sanitise the site of cultivation to ensure that there are no biosafety implications of the illegal cultivation. It will also clearly specify on how to dispose such GM seeds and produce.

Currently, the only GM crop the government permits for cultivation is Bt Cotton. GM Brinjal was close to getting approval for cultivation in 2009-10, but environment minister Jairam Ramesh did not give the final nod.

Though legally non-permissible, reports have surfaced over the last several months of cultivation of genetically modified Brinjal, Soyabean and varieties of cotton.
World Bank approves loan for Assam's inland water transport development
The World Bank has approved a loan of Rs 630 crore to Assam Inland Water Transport (AIWT) for modernisation of the state's passenger ferry services on Brahmaputra and other rivers.

Under the Assam Inland Water Transport Project (AIWTP), the infrastructure of passenger ferry services will be improved and the capacity of institutions running the inland water transport will be strengthened. Better-designed terminals and energy-efficient vessels will make the ferry services more sustainable with least disruption to nature.

Assam's ferry services are integral to the lives of the people living both in the Brahmaputra Valley and Barak Valley. With better navigation aid, appropriate safety gear and suitable marine engines, the ferry services are expected to get more reliable and safer.

The project will also improve the infrastructure of ferry services and focus on safety of women passengers. The terminals will have better access, lighting and signages, while the new vessels will be equipped with individual seats and washroom facility.

A strengthened regulatory regime will ensure reduced overloading, adherence to time schedule and better crew standards.
::INTERNATIONAL::
WEF study finds world economies to face huge risks from biodiversity loss and climate change
A new World Economic Forum report has warned of huge risks to the economy from the biodiversity loss and climate change as businesses are more than dependent on nature.

Releasing the Nature Risk Rising Report ahead of its 50th Annual Meeting, the World Economic Forum said about 25 per cent of earth's assessed plant and animal species are threatened by human actions, with a million species facing extinction.

Expressing apprehension, the report said, over half the world's total GDP is moderately or highly dependent on nature and its services and, as a result, exposed to risks from nature loss.

The report said that China, the European Union and the US have the highest absolute economic value in nature-dependent industries.

Pollination, water quality and disease control are three examples of the services that an ecosystem can provide. Construction, agriculture & food and beverages are the three largest industries that depend most on nature. As nature loses its capacity to provide such services, these industries could be significantly disrupted.

This World Economic Forum report, produced in collaboration with a British study team, found that many industries have significant "hidden dependencies" on nature in their supply chain and may be more at risk of disruption than expected.
Myanmar and Chine signs 33 bilateral deals
Myanmar and China signed 33 bilateral deals including agreements, MoUs, exchange letters and protocols on the concluding day of the two day visit by the Chinese President Xi Jinping to Myanmar. A large number of these deals relate to the implementation of the China Myanmar Economic Corridor (CMEC) under the Belt and Road Initiative (BRI) launched by China.

The two countries signed a concession agreement and shareholders' agreement for the Kyaukphyu Special Economic Zone (SEZ) deep seaport project. The port will link the land locked Yunnan province of China directly to the Indian Ocean allowing China to bypass the strait of Malacca through which it imports a sizeable amount of oil and gas.

Myanmar and China also signed 13 more agreements to strengthen collaboration in the infrastructure sector including roads, rail connectivity and power interconnection projects.

The two sides did not address a controversial $3.6 billion Beijing-backed Myitsone dam, where work has been stalled since 2011 due to local protests and cost considerations.

President Xi also met leaders from ethnic areas of Myanmar where civil conflict is going on and China supported infrastructure projects are underway.

The visit of Chinese President Xi Jinping was also marked by the fact that no major new major projects were agreed upon between the two countries. Analysts point out that Myanmar remains skeptical and cautious of Chinese investments specially ahead of elections later this year.
::SCIENCE & TECHNOLOGY::
Russia to deliver S-400 air defence systems by 2025
Russia said it has started production of S-400 long-range surface-to-air missile systems for India, and all five units will be delivered by 2025.

Russian Deputy Chief of Mission Roman Babushkin also said that a contract will be finalised shortly for joint production of Kamov lightweight multi-role military helicopters for India.

He was addressing a joint press conference with Russian Ambassador Nikolai Kudashev in New Delhi yesterday. Babushkin said that the Indian Armed forces will receive the first batch of 5,000 Kalashnikov rifles this year as well. These will be produced in India under a joint venture.

Asserting that the S-400 air defence missile systems are among best in the world, the diplomat said they will significantly bolster India's air defence mechanism.In October 2018, India signed a USD 5 billion deal to buy the air defence missile systems.
::SPORTS::
VineshPhogat wins gold at Roman series
A dominant VineshPhogat won her first gold medal of the 2020 season at the Rome Ranking Series event after teen sensation Anshu Malik settled for a silver in 57kg competition, in Rome last night.

Vinesh downed two tough Chinese rivals on her way to the 53kg gold medal bout in which she overpowered Ecuador's Luisa Elizabeth Valverde 4-0. She won by technical superiority against KhrystynaBereza (10-0) and LannuanLuo (15-5) before getting the better of Qianyu Pang (4-2).