Current Affairs for IAS Exams - 19 February 2020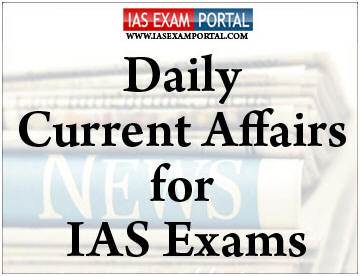 ---
Current Affairs for IAS Exams - 19 February 2020
---
::NATIONAL::
Panchayatbypolls in Jammu & Kashmir put off
The by-elections to over 12,000 vacant panchayat seats in Jammu and Kashmir have been deferred for three weeks, following "credible inputs from the law enforcement agencies".Thebypolls were to be held from March 5 to 20 in eight phases, based on party lines.
U.S. President Donald Trump is expected to visit India for two days next week.The model code of conduct had come into force with the announcement of the by-elections last week.
The panchayat elections were held in the erstwhile State of Jammu and Kashmir in 2018, when 27,281 panches and sarpanches were elected.
On Tuesday, Chief Electoral Officer (CEO) Shailendra Kumar held a meeting with all political parties, amid criticism that political leaders remained in detention, and they were not allowed to conduct political activities. "We held a meeting of all the parties to hear their concerns. They raised some grievances," he said.
Mr. Kumar issued a notification later in the day. It said the Home Department has "advised the Election Authority to consider deferring of the conduct of polls based on credible inputs from the law enforcement agencies".
SC expresses concern over deforestation in West Bengal
Deforestation is so rapid that before anyone knows everything will be lost, Chief Justice of India Sharad A. Bobde said on Tuesday, voicing concern over the loss of green cover.
A three-judge Bench, led by the the Chief Justice Bobde, was hearing a petition challenging the cutting of heritage trees in West Bengal to create space for an overbridge in an accident-prone area of a highway.
Advocate PrashantBhushan, for the petitioner, agreed that in another 50 years, the effects of climate change might take a turn for the worse.The court said the green cover must be preserved.
"People are not willing to explore alternatives. There could be a way to create a path without cutting trees, though it might be a little more expensive," Chief Justice Bobde said with the reference to the over-bridge project.
The Bench even considered taking on board economists and environmentalists to estimate the value of a tree, factoring in the value of the quantum of oxygen it emits in its lifetime.
"When you cut a heritage tree, imagine the value of the oxygen the tree produced all these years. Compare it with how much you would have to pay for the equivalent amount of oxygen if you have to buy it from somewhere else," Chief Justice Bobde had observed at an earlier hearing.
::ECONOMY::
Finance ministry to discuss on raw material supply disruption form China
Finance Minister NirmalaSitharaman is to hold a meeting of Secretaries today to discuss disruption in supply of raw materials from China after outbreak of Novel Coronavirus. Yesterday, the Finance Minister held a meeting with Industry and other bodies to assess the impact of Novel Corona virus outbreak and any disruptions posed by it to India's trade.
Talking to reporters after the meeting in New Delhi, the Minister said, representatives from pharma, textiles, chemicals, auto, paints and telecom sectors shared their views with regard to impact of the virus. She said during the meeting, chemicals, pharma and solar equipment makers were very vocal about disruption in supply of raw materials from China.
The Finance Minister said, after the Secretary level meeting a discussion will be held with PMO and some response will be announced at the earliest. Ms Sitharaman also said that there is no concern about price rise so far following the outbreak of Corona virus. She added that it is too early to talk about impact of the virus outbreak on Make in India initiative.
The meeting was attended by senior officials from Union Ministries and Departments including Customs and representatives from various sectors. Business leaders from FICCI, CII, ASSOCHAM also attended it.
Foodgrain production set to touch record high
Total foodgrain production is projected to scale an all-time high of almost 292 million tonnes in 2019-20, propelled by record production of both rice and wheat, according to the Agriculture Ministry's second advance estimates released on Tuesday.
Production of several crops, including rice and major pulses, was lower than targeted in the kharif or the monsoon season. However, the abundance of late monsoon rains resulted in cumulative rainfall that was 10% higher than the long-period average for the season.
This helped farmers rake in rabi or winter harvests that were larger-than-expected in almost all crops.
Thus, the estimate for total foodgrain output of 291.95 million tonnes is more than six million tonnes higher than the 285.21 million tonnes produced in 2018-19.
Despite the government's drive to encourage millets and nutri-cereals, production failed to match targets this year, with the estimate pegged at 45.24 million tonnes.
Pulses production was also estimated to come in lower-than targeted 23 million tonnes, although it was still higher than the previous year's harvest. Most pulses are dry land crops, grown on land without irrigation and the delay in monsoons in many areas hit kharif harvests although rabi production improved.
::INTERNATIONAL::
India set to retrieve stolen idols from U.K
The Idol Wing CID police has furnished documents through the Indian High Commission, London, to the Ashmolean Museum, in Oxford, U.K., requesting the restitution of a 16th century bronze idol of ThirumangaiAzhwar. The idol reportedly went missing from a temple near Kumbakonam half a century ago.
In November 2019, an independent scholar brought new research to attention, relating to the provenance of an Indian 16th century bronze of Saint TirumangaiAzhwar, which was acquired by the Ashmolean Museum from Sotheby's in 1967.
Research in the photo archives of the IFP-EFEO (InstitutFrançais de Pondicherryand the EcoleFrançaised'Extrême-Orient) appears to show the same idol in the Soundarrajaperumal temple near Kumbakonam in Tamil Nadu in 1957.
"Although there is currently no claim against the object, the museum officially brought the matter to the attention of the Indian High Commission in December last year requesting any further information (including possible police records) that would aid us in establishing the work's provenance and noting that we were open to holding further discussions around the possible repatriation of the sculpture," said a statement from the museum.
The museum acquired the statue in good faith in 1967, it said.According to the Sotheby's catalogue, the bronze was sold from the collection of collector Dr. J.R. Belmont (1886-1981).
Rahul Nangare, First Secretary, High Commission of India, London, told The Hindu: "We thank the University of Oxford and Ashmolean for taking proactive step in this matter and hope that other museums and galleries would follow your example and take a similar proactive approach in dealing with suspected stolen idols."
Bangladesh to sign Free Trade Agreement with Nepal
Bangladesh and Nepal have agreed to sign a Free Trade Agreement to enhance trade between the two countries. Announcing this after meeting the visiting Foreign Minister of Nepal Pradeep Kumar Gyawali on Monday, Commerce Minister of Bangladesh TipuMunshi said that a committee will be formed to work out the modalities of the agreement.
Bangladesh has also agreed to allow Nepal to use it Saidpur airport located in its northernmost district of Nilphamari close to Nepal.
Earlier, the Foreign Minister of Bangladesh Dr. A.K. Abdul Momen had a meeting with his Nepalese counter part. Both the ministers discussed ways to enhance trade, investment and connectivity including use of seaports of Bangladesh.
Bangladesh exports commodities worth $38 million to Nepal and imports goods worth around 18 million dollars.
Talking to media persons The Nepal Foreign Minister expressed the hope that Nepal will be able to provide 500 MW of hydroelectric power to Bangladesh once the Indian Company GMR completes its project in Nepal.
Foreign Minister of Nepal Pradeep Kumar Gyawali arrived in Dhaka on Monday on a three day long official visit to Bangladesh.
::SCIENCE & TECHNOLOGY::
UN CMS COP13 to discuss insect population decline
The United Nations Conference of Parties to the Convention on Migratory Species (CMS COP-13) is to discuss the effects of insects decline on migratoryspecies for the first time.
According to Convention on Migratory Species, around half of the insect species are declining. Also,the third phase which is insect extinction is to begin. The IPBES (Intergovernmental Platform on Biodiversity and Ecosystem Services) says that at the current rate, 40% of the world insect species will be extinct in next few decades.
The insects play vital role in the functioning of ecosystems, especially for the insectivorous (the species that feed on insects) migratory species. It mainly includes bats and birds.
The draft resolution has been presented by the European Union for the discussion at CMS COP 13.This will help to understand insects die off and its effects on migratory species. The EUROBATS agreement is one such agreement that focuses on insect decline.
However, it focuses on Conservation of Bats Population and indirectly adopts resolution towards insect conservation to save bats. CMS COP 13 will be the first convention to focus on insects on a larger scale.
::SPORTS::
NADA bans AmitDahiya for 4 years
National Anti Doping Agency (NADA) has banned javelin thrower AmitDahiya for four years for evading sample collection and trying to cheat officials during the 2nd National Javelin Throw Open Championship 2019 held at SAI Centre in Sonipat.
NADA had issued the charge of notice to Dahiya on July 16 for violating rule 2.3 of the NADA. The doping agency presented the case to the Anti-Doping Disciplinary Panel (ADDP) on January 9 where the athlete's justification was found to be unsatisfactory.
NADA said the ADDP has now passed an order to suspend him for four years from the date of his provisional suspension.