Current Affairs for IAS Exams - 19 February 2021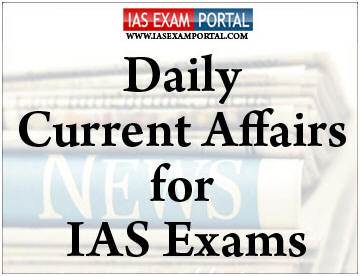 ---
Current Affairs for IAS Exams - 19 February 2021
::NATIONAL::
Gucchi Mushroom
Recently, a geographical indication (GI) tag has been sought for Gucchi (Morel).
It is one of the costliest mushrooms (priced at over ₹20,000 a kg) in the world growing in Jammu and Kashmir's Doda district.
It grows wild and is collected manually by local farmers and tribals.
It is said to have medicinal and anti-inflammatory properties and is found in the temperate forests of the Doda district.
They are also considered a rich source of protein, carbohydrates and Vitamin B.
Other J&K's GI tags are Kashmir Paper Mache, Kashmir Walnut Wood Carving, Khatamband, Kashmiri Hand Knotted Carpet, Kashmir Saffron, Kani Shawl etc.
DICCI plans business facilitation centres in all States
The Dalit Chamber of Commerce and Industry (DICCI) is planning to set up business facilitation centres in all State headquarters.
According to DICCI, at present the industry body has seven business facilitation centres. 
DICCI has 30 chapters all over the country including Jammu and Kashmir and North East with 10,000 member entrepreneurs.
With a tag line of 'Be Job Givers', DICCI wants to motivate SC, ST youth to enter the business and industry sector as entrepreneurs and carve their own niche.
CLICK HERE FOR FULL CURRENT AFFAIRS (Only for Course Members)
::INTERNATIONAL::
U.K. invites PM Modi for G7 summit
The United Kingdom has invited Prime Minister Narendra Modi to attend the G7 summit that is scheduled to be held in June. 
Apart from India, Australia and South Korea are also invited to participate in the proceedings of the summit as guest countries.
About:
Group of Seven (G-7) is an intergovernmental organisation that was formed in 1975 by the top economies of the time as an informal forum to discuss pressing world issues such as global economic governance, international security, and energy policy.
G-7 countries consist of U.S., U.K., France, Germany, Italy, Canada, and Japan.
G-7 was formerly referred to asG-8 until Russia was suspended from the group in 2014 after illegally annexing Crimea.
International Migration 2020 Highlights 
The Population Division of the UN Department of Economic and Social Affairs has launched a new report International Migration 2020 Highlights.
It presenting the main results from the 2020 revision of estimates of the international migrant stock.
Key highlights:
Globally, 54 per cent of the 111 Governments that responded to a recent survey reported having policies to facilitate orderly, safe, regular and responsible migration.
In 2020, international migrants comprised nearly 15 per cent of the total population in high-income countries, compared to less than 2 per cent in middle- and low-income countries.
73 per cent of international migrants worldwide were between the ages of 20 and 64 years, compared to 57 per cent for the total population in 2020. International migrants thus often make up a larger proportion of working-age persons compared to the national population.
India topped the list of countries with the largest diasporas in 2020, with 18 million persons from India living outside of their country of birth. Other countries with a large transnational community included Mexico and the Russian Federation (11 million each), China (10 million) and Syria (8 million).
::ECONOMY::
Bank Investment Company
The RBI raising concerns over the issuance of zero-coupon bonds for recapitalisation of public sector banks (PSBs).
The Finance Ministry is examining other avenues for affordable capital infusion, including setting up of a Bank Investment Company (BIC).
To setting up a BIC as a holding company or a core investment company was suggested by the P.J. Nayak Committee in its report on 'Governance of Boards of Banks in India'.
The report recommended transferring shares of the government in the banks to the BIC which would become the parent holding company of all these banks; as a result of this, all the PSBs would become 'limited' banks.
::SCIENCE AND TECHNOLOGY::
Heat-tolerant wheat varieties resulting in improved grain yield
Recently, INSPIRE Faculty fellow's engineering is exploring to produce heat-tolerant wheat varieties resulting in improved grain yield.
Innovation in Science Pursuit for Inspired Research (INSPIRE) is an innovative programme sponsored and managed by the Department of Science & Technology for attraction of talent to Science.
It aims to communicate to the youth creative pursuit of science attract talent to the study of science at an early age etc.
INSPIRE has three components:
Scheme for Early Attraction of Talent (SEATS).
Scholarship for Higher Education (SHE).
Assured Opportunity for Research Careers (AORC).
CLICK HERE FOR FULL CURRENT AFFAIRS (Only for Course Members)