Current Affairs for IAS Exams - 19 May 2017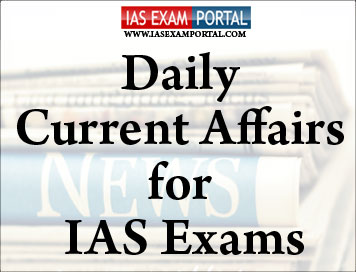 Current Affairs for IAS Exams - 19 May 2017
:: National ::
Kulbhushan Jadhav's execution stayed by International court of Justice
ICJ stayed the execution of former Indian naval officer Kulbhushan Jadhav, in a move swiftly welcomed by the government but dismissed by Pakistan as a "basic ruling" that said nothing about the merits or maintainability of the case.

"We will leave no stone unturned to save #Kulbhushan Jadhav," tweeted Minister of External Affairs Sushma Swaraj, who hailed the MEA's "tireless efforts," on the case.

The ICJ, popularly known as the 'world court', ordered Pakistan to "take all measures at its disposal" to prevent the execution of Mr. Jadhav, pending its final judgment.

ICJ ruling made a legal milestone in the Indian government's efforts to save Mr. Jadhav from execution. The decision was adopted unanimously.

The court accepted India's argument that the failure by Pakistan to provide required consular notification and access fell under the scope of Article 1 of the Optional Protocol of the Vienna Convention of Human Rights.
GST council agreed on the fitment of almost all commodities
The Goods and Services (GST) Council agreed on the fitment of almost all commodities in the various tax slabs under the new indirect regime to be rolled out on July 1.

Milk, cereals (unpackaged and unbranded), and jaggery will be exempt from any GST, while sugar, tea, coffee (except instant), and edible oil will be taxed at 5%.

Common use items such as soap, toothpaste, and hair oil, which currently attract a tax rate of 22-24%, will be taxed at 18%. Coal, which is currently taxed at 11.7%, will attract a GST rate of 5%.

Consumer durables will come under the 28% tax bracket, down from the current 30-32% rate. Capital goods and industrial intermediaries will be taxed at 18%.

Small petrol and diesel cars will be taxed at 28% with small petrol cars attracting a cess of 1% and small diesel cars 3%. Luxury cars will attract a 15% cess in addition to 28% GST. 350 cc bikes will attract a cess of 3%.

However, there would be no additional tax incidence on these goods from their current rate of taxation.

Stressing that no commodity would witness an increase in taxation, Mr. Jaitley said this was an important step towards rollout of GST from July 1.

The six categories to be discussed include bidis/cigarettes, footwear, gold, and agriculture implements. Tax rates on services will also be part of the agenda.

Mr. Jaitley said that despite the reduction in tax of some commodities, efficiency in administration will help curb evasion and increase tax buoyancy, leading to improved revenue collection.

Oover 1,200 items to be considered under GST, 7% have been put under the exempt list.
India's first uterine transplant on a woman
A team of 12 doctors at the city's Galaxy Care Laparoscopy Institute (GCLI) began the highly complex and delicate procedure of India's first uterine transplant on a woman from Solapur district.

However, the operation, in which the uterus was retrieved from the donor and transplanted into the recipient around 9 a.m., stretched well beyond its projected eight-hour duration.

The surgeons are retrieving the uterus using a laparoscopic technique.

The woman suffers from congenital absence of uterus since birth and is to be fitted with her mother's womb to enable her to conceive normally.

Still in its nascent, experimental stage, only a handful of these operations have met with success in other countries, primarily in Sweden.

The operations are meant to help women who want to conceive but cannot because they were born without a uterus, suffered damage to it or had to have it removed.

The 20-odd uterine transplant operations round the world have often been frustrated by organ rejection (in which the patient's immune system attacks the organ; an infection of the organ; or problems with the organ's blood supply.)

Some experts have expressed concern about the operations, terming them an invasive surgical procedure fraught with risks manifested in adverse side effects of the anti-rejection drugs, including cancer and increased risk of opportunistic infection.
:: International ::
China reinvoked doctrine of Panchsheel to remove India's concern
China re-invoked the doctrine of Panchsheel — or the five principles of peaceful co-existence — as the template for addressing India's concerns over the China Pakistan Economic Corridor (CPEC) and the Belt and Road Initiative.

India had decided to skip the summit hosted by China on grounds that the economic corridor infringed New Delhi's sovereignty as it passed through Pakistan-occupied Kashmir.

Ms. Hua stressed that "we would like to follow the five principles of coexistence in developing friendly relations with other countries, including our efforts in promoting regional connectivity".

Ms. Hua reiterated that the CPEC did not contradict the "five principles" as China has not changed its original position on the territorial status of Kashmir.

Regarding the status of Kashmir, she reiterated that "as we said before, it is an issue between India and Pakistan and the Belt and Road Initiative will not change China's position on the Kashmir issue".

In his keynote address at the summit, President Xi highlighted that China "will enhance friendship and cooperation with all countries in the world on the Belt and Road Initiative.

Panchsheel lists mutual respect for each other's territorial integrity and sovereignty, mutual non-aggression, non-interference in each other's internal affairs, equality and mutual benefit and peaceful co-existence, as the touchstones for international conduct.
:: Business and Economy ::
India has extended credit totalling $7.6 billion to African nations
India has extended credit totalling $7.6 billion to African nations and aims to use the upcoming annual meeting of the African Development Bank in Gujarat this month to strengthen its trade ties with the continent.

As on March 31, 2017, India has extended 152 lines of credit to 44 African nations amounting to $7.6 billion, Economic Affairs Secretary Shaktikanta Das said. The meeting will take place on May 22-26 in Gandhinagar, Gujarat.

Prime Minister Narendra Modi, who will inaugurate the meeting, had in the India-Africa Summit committed a $10 billion line of credit to African nations.

The African Development Bank (AfDB) has 81 member countries, 57 of which are from Africa. India is among the other 24 non-regional members.

Indian companies have invested $72 billion in African nations as of 2014-15, Mr. Das added, saying that this made up 20% of the total investment in those countries.
Free scanner tool to detect and remove WannaCry and other ransomware files (Register and Login to read Full News)