Current Affairs for IAS Exams - 19 may 2019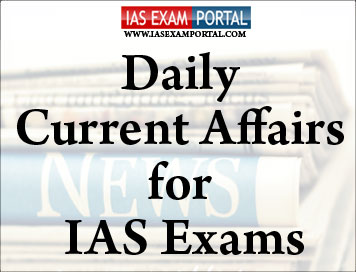 Current Affairs for IAS Exams - 19 May 2019
::NATIONAL::
Election commissioner recuses himself from poll meetings
 Election Commissioner Ashok Lavasa has purportedly recused himself from meetings on issues concerning the model code of conduct, pending his demand for including dissenting opinions in the final orders.
 In a letter to Chief Election Commissioner Sunil Arora, Mr. Lavasa is learnt to have said that his various notes on the need for transparency in the recording and disclosure of all decisions, including the minority view, had gone unheeded, "forcing me to withdraw from participating in the deliberations on the complaints".
 In a statement, the CEC said: "There has been an unsavoury and avoidable controversy reported in sections of the media today about the internal functioning of the Election Commission of India (ECI) in respect of handling the model code of conduct. This has come at a time when all the chief electoral officers throughout the country and their teams are geared up for seventh and last phase of polling.
 Mr. Arora said the eloquence of silence was always difficult but far more desirable, for seeing the election process through instead of creating ill-timed controversies. He indicated that the issues raised by Mr. Lavasa would be examined by a group within the ECI.
 Former ECI legal adviser S.K. Mendiratta, who worked with the poll body for about 53 years, told that in case of a difference of opinion on matters regarding MCC, the dissent note was recorded in the files and only the majority view was communicated to the parties concerned through an order.
 The dissenting ruling is made part of the order only in quasi-judicial matters like the disputes related to the Representation of the People Act and election symbols.
Health ministry confirms no shortage of polio vaccines in country
 There is no shortage of polio vaccine for routine immunisation, "with the Health Ministry ensuring that we keep a shock-absorber buffer stock for three-four months," said a senior health official speaking to The Hindu on Saturday.

 The statement comes after reports of anticipated shortage following the detection of contamination, by the Central Drugs Laboratory (CDL) in Kasauli, in 16 batches of polio vaccine manufactured by Bharat Immunological and Biologicals Corporation Limited (Bibcol).

 In April, 30,000 vials were found to be substandard after they failed sterility tests. "The vaccine was to be used for the government's polio eradication programme and given to children under the age of five years," according to a health expert.

 Dr. Pradeep Haldar, Deputy Commissioner, Immunisation, Ministry of Health and Family Welfare, said: "Quality is of prime importance and there is no question of releasing any contaminated vaccine."

 "However, there is also a buffer [stock] that we keep for all vaccines, which allows us to negotiate with any form of shortage, whether caused by late delivery or contamination, etc."

 "If this contamination has happened, it will not have any adverse reaction on the routine immunisation supply chain," he added.
::ECONOMY::
RBI uses divergence in bad loan recognition against PSB's
 At least three public sector banks that have reported earnings for the January-March quarter have mentioned 'divergence' in bad loan recognition and have made provisions for such loans.
 Divergence takes place when the Reserve Bank of India (RBI) finds that a lender has under-reported (or not reported at all) bad loans in a particular year and hence asks the lender to make disclosures if under-reporting is more than 10% of bad loans or the provisioning.
 Higher provisioning for divergence was one of the reasons for them to report losses for the quarter. Interestingly, divergence was identified not because these banks hadn't classified the loan as non-performing assets (NPA) but because they were late in classifying them.
 Since the date of classification as NPA had been pushed back, the banks had to make higher provisioning due to the ageing factor. In the first stage of NPA, which is the 'sub-standard' category, 15-20% provision is required and for next category, which is 'doubtful', a 40% provision is required.
 Some bankers said the identification was pushed back by two years in some cases. Since banks had to increase their provisioning, this resulted in higher provision coverage ratios (PCR)
Experts suggests tariff war between U.S and China might be beneficial for India
 The rise in trade tension between the U.S. and China could lead the latter to divert its exports to emerging markets (EMs), including India, according to Indian Ratings and Research (Ind-Ra).
 In the past, China has shown such a tendency and dumped its products at predatory rates in many markets, including India. This could potentially disrupt the demand-supply dynamics in the Indian markets, especially for products such as electronic goods, iron and steel and organic chemicals.
 A fall in Chinese exports to the U.S. could potentially put downward pressure on the Chinese yuan (RMB). A likely devaluation in the RMB could stimulate a competitive depreciation in the Indian rupee, failing which the competitiveness of Indian exports could be affected, Ind-Ra said in a statement.
 Chinese exports accounted about 18% of total U.S. imports in 2018, representing 2.34% of the U.S. GDP. Lower imports or a rise in the cost of imported goods could stimulate inflationary pressures in the U.S.
::INTERNATIONAL::
Bahrain asks citizens to leave Iran,Iraq amid tensions
 The Kingdom of Bahrain on Saturday asked its citizens in Iraq and Iran to return 'immediately' for their safety, State News Agency BNA said.
 Bahrain, a US ally also issued travel advisory against travelling to Iraq and Iran amidst simmering tension with Iran.
 The Bahrain foreign ministry cited, "unstable regional circumstances, dangerous developments and potential threats," according to BNA (Bahrain News Agency).
 On Wednesday, the US had ordered for its 'non-emergency staff members ' of its Embassy and Consulate to leave Iraq due to the perceived threats from neighbouring Iran.
 Meanwhile Saudi Arabia has called the leaders of the Gulf Co-operation Council (GCC) member states as well as the heads of state of Arab League to convene two emergency summits in Makkah on the 30th of this month.
 The Saudi Press Agency said, the emergency meetings called by Saudi King Salman bin Abdulaziz Al Saud to look into the recent acts of sabotage against commercial vessels off the UAE waters and the terror attacks on two Saudi pumping stations, and their consequences on the region.
Australian PM wins federal elections
 In Australia, Prime Minister Scott Morrison's Liberal-National Coalition won the federal elections.
 Prime Minister Morrison has declared victory after his coalition defied opinion polls and secured a surprise win over the opposition Labor Party.
 Opposition Labor Party leader Bill Shorten has announced that he is resigning after accepting defeat.
 The final result of the elections is yet to be announced, however, with more than 70 percent of votes counted the Coalition is ahead in 74 seats in its quest for a 76-seat majority, with Labor on just 66 seats.
 The polling held yesterday for all 151 seats in the House of Representatives. Australia has mandatory voting for people aged 18 and over.
 While Australian opposition leader Bill Shorten has conceded defeat after his Labour party suffered a shock defeat in national polls today saying he would resign as party leader.
::SCIENCE & TECHNOLOGY::
Scientists develop wearable super capacitor
 Researchers at the Indian Institute of Technology (IIT) Bombay have fabricated a wearable supercapacitor that can store and deliver large amount of electrical energy, exceeding other similar devices.
 The wearable energy storage device can be stitched on to any fabric and can deliver power ranging from microwatt to milliwatt. The energy stored in the device can power GPS location-based transmitters or a 1.8 volt LED.
 The electrode of the supercapacitor was fabricated by uniformly coating cotton yarn with carbon nanotubes (CNTs). The coating is done by dipping the yarn into carbon nanotube ink, where the CNTs are dispersed in water using a surfactant (detergent).
 The coating converts the electrical insulating yarn into a metallic conductor thereby behaving like an electrode. "The yarns coated with carbon nanotubes exhibited a finite electrical conductivity," says Prof. Subramaniam.
 The laminated supercapacitor demonstrated unchanged performance even when subjected to extreme and harsh mechanical testing — striking repeatedly with a hammer, complete flexing, bending and rolling, and washing in a laundry machine in the presence of hot water, detergents and high spinning action.
::SPORTS::
Djokovic to meet Nadal in Italian open finals
 In Tennis, world number one Novak Djokovic of Serbia will take on second-placed Spaniard Rafael Nadal in the title clash of the Italian Open at Rome today.
 While defending champion Nadal reached his 50th Masters 1000 final with a win over Stefanos Tsitsipas of Greece, Djokovic entered the summit clash by beating Argentine Diego Schwartzman.
 Djokovic won the last of his four Italian Open titles in 2015, while Nadal is bidding for a ninth trophy at Rome.