Current Affairs for IAS Exams - 19 July 2021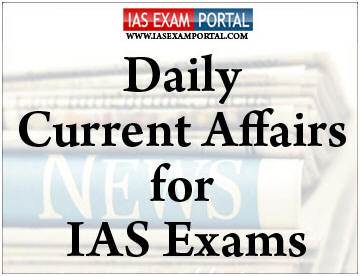 ---
Current Affairs for IAS Exams - 19 July 2021
::NATIONAL::
School Innovation Ambassador Training Program
Ministry of Education has launched the 'School Innovation Ambassador Training Program' for 50,000 school teachers.
This is a collaborative effort by the Ministry of Education's Innovation Cell, Ministry of Tribal Affairs, CBSE and AICTE.
The program has been designed by the Innovation Cell of the Ministry of Education and AICTE for school Teachers based on its "Innovation Ambassador Training Program for Higher Educational Institution's faculty members". The training will be delivered in online mode only.
It williams to nurture lakhs of students with innovation capabilities, develop a culture of innovation and lay the foundation of a new and vibrant India.
UMANG App
Ministry of Electronics and Information Technology (MeitY) has enabled map services in UMANG App through Memorandum of Understanding with MapmyIndia.
About:
It will be able to find government facilities nearest to their location, such as mandis, blood banks and much more, at the click of a button.
The UMANG mobile app launched in 2017.
It is a Government of India single, unified, secure, multi-channel, multi-service mobile app, providing access to high impact services of various organizations.
UMANG brings major government services on a single mobile app on mobile phones of citizens.
CLICK HERE FOR FULL CURRENT AFFAIRS (Only for Course Members)
::INTERNATIONAL::
World leaders pledge to focus on global vaccination efforts
Leaders of theAsia-Pacific trade groupAPEC pledged to work to expand sharing and manufacturing ofCOVID-19 vaccines to fight the global pandemic.
About APEC:
The Asia-PacificEconomic Cooperation (APEC) is a regional economic forum established in 1989to leverage the growing interdependence of the Asia-Pacific.
APEC has 21 members excluding India.
Key objectives:
trade and investment liberalisation and facilitation – at the border, across the border and behind the border
reduced costs of cross-border trade to assist businesses
economic and technical cooperation
exchanges of best practice information on trade and investment
simplified regulatory and administrative processes
improved institutional capacity to implement and take advantage of the benefits of trade and investment reform.
supporting services integration
working towards a Free Trade Area of the Asia-Pacific
delivering strong advocacy for global value chains and open markets.
US India Business Council(USIBC)
Finance Minister addresses US India Business Council (USIBC)Roundtable on 'Maximizing India's Sustainable and InclusiveGrowth as a Global Destination for U.S. Investment'.
About:
The USIBC was formed in 1975 as a business advocacy organization to enlighten and encourage the private sectors of both India and US to enhance investment flows.
It connects the two largest democracies in the world and inspires sustainable solutions to business challenges - both local and global.
The broad messages conveyed to the investors were:
Strong, calibrated relief and reforms during COVID leading to sharp decline in new COVID infection with ramping up of the vaccination programme.
Continued macro-economic stability and resilience in economic recovery in the recent months.
Strengths/advantages of India as an investment destination
Vision to make India 'Atma Nirbhar'
Steps taken towards Infrastructure led economic growth
Creating multi-sectoral opportunities for investors.
Strong track record of the Nation towards reform implementation in the last 6 years
::ECONOMY::
Registration Process for Vintage Motor Vehicles formalized
The Ministry of Road Transport and Highways has amended CMVR 1989, formalising the registration process of vintage motor vehicles. This is aimed at preserving and promoting the heritage of old vehicles in India.
Salient features:
All 2/4 wheelers, 50+ years old, maintained in their original form and which have not undergone any substantial overhaul, shall be defined as Vintage Motor Vehicles.
Application for registration/re-registration shall be made as per Form 20 and shall be accompanied by an insurance policy, fee, bill of Entry in case of imported vehicles, and old RC in case of an already registered vehicle in India.
The State Registering Authority shall issue a certificate of registration as per Form 23A, within 60 days.
Vehicles already registered can retain their original Registration Mark.  However, for fresh registration, registration mark will be assigned as "XX VA YY*", where VA stands for vintage, XX stands for State Code, YY will be a two-letter series and "8" is a number from 0001 to 9999 allotted by the State Registering Authority.
Fees for a new registration – Rs. 20,000 and subsequent re-registration – Rs. 5,000.
Vintage motor vehicles shall not be driven on roads for regular/commercial purposes.
::SCIENCE AND TECHNOLOGY::
NBDriver
Researchers at IIT Madras have developed an AI tool called NBDriver (neighbourhood driver) for use in analysing cancer-causing mutations in cells.
About:
By looking at the neighbourhood, or context, of a mutation in the genome, it can look at harmful "driver" mutations and distinguish them from neutral "passenger" mutations.
This technique of looking at the genomic neighbourhood to make out the nature of the mutation is a novel and largely unexplored one.
The nature of the mutation depends on the neighbourhood, and how this tool may be used to draw the line between driver and passenger mutations.
The major challenges faced by cancer researchers involves the differentiation between the relatively small number of "driver" mutations that enable the cancer cells to grow and the large number of "passenger" mutations that do not have any effect on the progression of the disease.
Statistical modelling:
The method of distinguishing between driver and passenger mutations solely by looking at the neighbourhood is novel. 
Accuracy of tool:
The researchers studied a dataset containing 5,265 mutations to derive the model.
It had an overall accuracy of 89% and ranked second out of 11 prediction algorithms.
 CLICK HERE FOR FULL CURRENT AFFAIRS (Only for Course Members)