Current Affairs for IAS Exams - 19 April 2021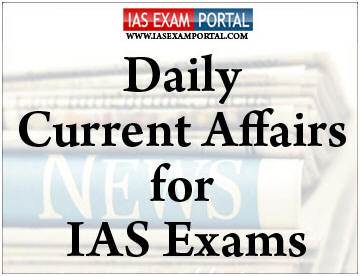 ---
Current Affairs for IAS Exams - 19 April 2021
::NATIONAL::
India Energy Dashboards 2.0
It is an endeavour to provide single-window access to the energy data for the country.
Energy data provided by Central Electricity Authority, Coal Controller's Organisation, and Ministry of Petroleum and Natural Gas is compiled in the Dashboards.
NITI Aayog launched the Version 1.0 in May 2017.
It enables easy downloading of data into convenient spreadsheet formats in a cleaner, more intuitive way.
Ministry of Tourism signs MOUs with Online Travel Companies
The primary objective is to provide extensive visibility to accommodation units which have self-certified themselves on SAATHI (System for Assessment, Awareness & Training for the Hospitality Industry).
SAATHI was started by Ministry of Tourism and Quality Council of India to help hotel industry in preparedness to continue operations safely and mitigate risks arising out of the COVID pandemic.
It encourages units to register on NIDHI (National Integrated Database of Hospitality Industry). NIDHI is an initiative towards Atma Nirbhar Bharat to use technology to empower businesses.
CLICK HERE FOR FULL CURRENT AFFAIRS (Only for Course Members)
::INTERNATIONAL::
 Fukushima nuclear plant
China has asked Japan to take back its "wrong decision" to release more than 1 million tonnes of treated water from the Fukushima nuclear plant into the ocean.
About:
The Fukushima Daiichi Nuclear Power Plant is a disabled nuclear power plant located on a 3.5-square-kilometre site in the towns of Ōkuma and Futaba in Fukushima Prefecture, Japan.
The plant suffered major damage from the magnitude 9.0 earthquake and tsunami that hit Japan on March 11, 2011.
The chain of events caused radiation leaks and permanently damaged several reactors, making them impossible to restart. By political decision, the remaining reactors were not restarted.
In April 2021, the Japanese government approved the dumping of radioactive water of this power plant into the Pacific Ocean over the course of 30 years.
Hot Springs and Gogra Post
During the 11th round of discussions between the senior military commanders of India and China on April 9, to resolve the over 11-month long standoff in eastern Ladakh, China had refused to vacate two of the four original friction points.
About:
At two friction points, Patrolling Point 15 (PP15) in Hot Springs, and PP17A near Gogra Post, China still has a platoon-level strength each, along with vehicles.
Along the Line of Actual Control (LAC) between India in China, Indian Army has been given certain locations that its troops have to access to patrol the area under its control. These points are known as patrolling points, or PPs, and are decided by the China Study Group (CSG).
PP15 and PP17A are two of the 65 patrolling points in Ladakh along the LAC.
PP15 is located in an area known as the Hot Springs, while PP17A is near an area called the Gogra post.
Both of these are close to the Chang Chenmo river in the Galwan sub-sector of the LAC in eastern Ladakh. While Hot Springs is just north of the Chang Chenmo river, Gogra Post is east of the point where the river takes a hairpin bend coming southeast from Galwan Valley and turning southwest.
The area is north of the Karakoram Range of mountains, which lies north of the Pangong Tso lake, and south east of Galwan Valley.
::ECONOMY::
Emergency Credit Line Guarantee Scheme
The Finance Ministry has expanded the scope of government-guaranteed credit facility to healthcare and stressed sector companies that have loan dues for up to 60 days.
ECLGS provides 100% guarantee coverage by National Credit Guarantee Trustee Company (NCGTC) to Member Lending Institutions (MLIs) on Guaranteed Emergency Credit Line (GECL) of up to Rs. 3 lakh crore to eligible MSMEs.
All Scheduled Commercial Banks (SCBs) are eligible as MLIs.
::SCIENCE AND TECHNOLOGY::
SpaceX Crew 2
US space agency NASA is set to launch SpaceX Crew-2 with four astronauts on board to the International Space Station (ISS) next week.
The mission is the 2nd of 6 crewed missions that NASA and SpaceX will operate as part of NASA's Commercial Crew Program (CCP).
Crew-1 successfully docked into the ISS in November, last year.
The CCP is a project in which NASA is working with private entities to build rockets and spacecraft.
Its Objective is to make access to space cost effective.
 CLICK HERE FOR FULL CURRENT AFFAIRS (Only for Course Members)