Current Affairs for IAS Exams -19 January 2023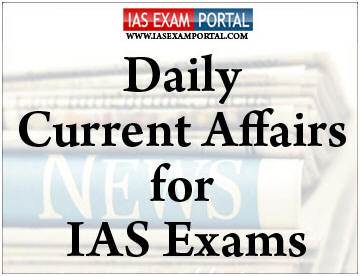 ---
Current Affairs for IAS Exams - 19 January 2023
::NATIONAL::
Constitution Bench questions utility of an advanced medical directive in India
A Constitution Bench questioned the utility of executing an advanced medical directive in India when a person is anyway free to refuse invasive treatment and accept death.
A five-judge Bench led by Justice K.M. Joseph also queried when such an directive should be implemented. 
Key highlights:
Hearing the petition seeking modification of its guidelines for Living Will, laiddown in Common Cause v Union of India (2018), SC stated:
Advance Medical Directive (AMD) can be applied only in narrow area where patients become so terminally illthat they are not in a position to say that treatment must stop.
AMD or Living Will is a legal document that specifies type of medical care thatan individual does or does not want in the event they are unable tocommunicate their wishes.
Guidelines lack utility as in India a person is anyway free to refuse invasivetreatment and accept death.
Legislature is much more endowed with skills and sources of knowledge toenact a relevant law.
In 2018, SC upheld legality of passive euthanasia and laid down procedure forliving wills in India.Euthanasia is practice of ending life of a patient to limit the patient's suffering.
Etalin hydropower project
The Forest Advisory Committee (FAC) has asked the Arunachal Pradesh government to file a fresh proposal for forest diversion and the construction of the Etalin hydroelectric project (EHEP).
About:
Due to non-compliance to conditions stipulated by the FAC and the overwhelming pushback against the project in the region.
The FAC made the recommendations for which the top agenda was the deliberation and discussion of the diversion of 1165.66 hectares of forest land for construction of the 3,097 MW power plant in Dibang Valley District.
About Etalin Hydroelectric Project (EHEP):
It is a 3,097 MW hydropower project planned in the Dibang Valley of Arunachal Pradesh.
It is one of the largest hydropower projects proposed in the country in terms of installed capacity.
EHEP is proposed to be developed as a combination of two run-of-the-river schemes.
The project involves the construction of concrete gravity dams on the Tangon and Dririverswhich are tributaries of Dibang river.
The project area falls under the "richest bio-geographical province of the Himalayan zone" and "one of the mega biodiversity hotspots of the world".
The project area is dominated by indigenous population belonging to Idu-Mishmi tribes.
 Idu-Mishmi Tribe: 
They are the lone inhabitant tribe of Dibang Valley district, Arunachal Pradesh.
The Idu-Mishmi is a major sub-tribe of the Mishmi group.
They are of mongoloid race and have a distinctive dialect of Tibeto-Burman language.
::INTERNATIONAL::
Backing Sri Lanka, India sends financing assurances to IMF
India sent financing assurances to the International Monetary Fund (IMF), becoming the first of Sri Lanka's creditors to officially back the crisis-hit island nation's debt restructuring programme.
Key highlights:
The financing assurances from creditors is critical for Sri Lanka to get the $2.9billion loan from IMF to put its economy on track.
It is facing multiple challenges such as shortage of dollars, runaway inflation and a steep recession.
India, Japan, and China are Sri Lanka's three largest bilateral lenders.
IMF was established (in 1944) to provide emergency financing to countries hit by crises and help them to stabilize their economies.
Unlike development banks, IMF does not lend for specific projects. It also provides precautionary financing to help prevent crises.
Crises can occur due to domestic or/and external factors and can take many different forms such as Balance of Payment issue,illiquid or insolvent financial institutions, excessive deficits and debt etc.
Lending instruments of IMF include:
General Resources Account on non-concessional terms (market-based interest rates).
Concessional financial support (currently at zero interest rates) through Poverty Reduction and Growth Trust, which is bettertailored to needs of low-income countries.
Resilience and Sustainability Trust to help low-income and vulnerable middle-income countries.
World Economic Forum mooted for Artificial Intelligence can help Fight Wildfires
The average annual global cost of wildfires is around USD 50 billion, the World Economic Forum as it pitched for use of artificial intelligence in fighting them and containing carbon emissions caused by such tragedies.
Key highlights:
Launched in January 2022, FireAId project(using AI system) aims to allow betterprediction of wildfires and more efficient useof resources during firefighting operations.
FireAId predictions reduced both responsetime and risk to firefighters.
AI was used to develop a digital twin for firemanagement, which helped firefighters in testing hypotheses of intervention measuresand observing their outcomes in simulations.
A digital twin is a virtual representation ofan object or system, is updated fromreal-time data, and uses simulation,machine learning and reasoning to helpdecision-making.
Role of AI and machine learning in combating wild fires:
Refinements in AI, real-time maps forwildfire prediction and risk mapping.
Sensors with inbuilt AI can collect acousticinformation or operate as smoke detectorsfor alerting authorities.
Digital simulations can better plan efficientresponses based on predicted outcomes.
UAVs can provide live images and helpfirefighters plan their response.
::Economy::
Application Supported by Blocked Amount system
The Securities and Exchange Board of India (Sebi) gave details of a proposed framework for shifting to a new payments system for secondary market trades. 
The move is primarily aimed at safeguarding investors from potential misuse of their funds by brokers.
Application Supported by Blocked Amount:
The mechanism has been developed by SEBI to apply for IPOs, Rights and Debts Issues, FPS and more.
It entails that the amount to be paid for subscribing to the shares does not get debited from the investor's account until the shares have been allotted by the company.
Investors can apply for ASBA and have the bank block out the application money until the shares get allotted to the investor.
This system will provide the authorization of the investor to subscribe only when the application is selected for the issue.
This blocking is carried out by Self-Certified Syndicate Banks (SCSB).
Upon the approval of the issue to the investor, the funds are paid accordingly.
::SCIENCE AND TECHNOLOGY::
Giant Metrewave Radio Telescope helps detect atomic hydrogen from far-away galaxy
Astronomers from McGill University (Canada) and Indian Institute of Science(IISc), Bengaluru used data from GMRT to detect a radio signal originating fromatomic hydrogen in an extremely distant galaxy at redshift z=1.29.
Key highlights:
Redshift represents signal's wavelength change depending on the object'slocation and movement.
A greater value of z indicates a farther object.
Atomic hydrogen is the basic fuel required for star formation in a galaxy.
When hot ionised gas from surrounding medium of a galaxy falls ontouniverse, gas cools and forms atomic hydrogen.
This then becomes molecular hydrogen and eventually leads to formation ofstars.
Detection was made possible by gravitational lensing phenomenon.
About GMRT:
It is an instrument for studying astrophysical phenomena, ranging fromnearby Solar system to edge of observable Universe, at low radiofrequencies.
It is operated by National Centre of Radio Astrophysics (NCRA), which is partof Tata Institute of Fundamental Research.