Current Affairs for IAS Exams - 19 November 2022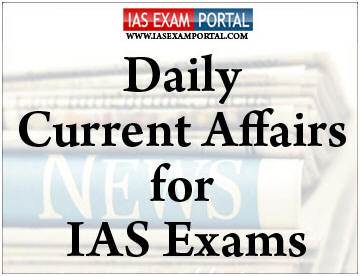 ---
Current Affairs for IAS Exams - 19 November 2022
::NATIONAL::
Baliyatra
In his address to the Indian diaspora in Bali on the sidelines of the G20 summit, Prime Minister Narendra Modi mentioned the annual Baliyatra on the banks of the Mahanadi in Cuttack, which celebrates the ancient trade relations between India and Indonesia.
About:
Baliyatra is organised every year to commemorate maritime and cultural linksbetween ancient Kalinga (today's Odisha) and Bali (Indonesia) and other Southand Southeast Asian regions like Java, Sumatra, Borneo, Burma (Myanmar) andCeylon (Sri Lanka).
It is celebrated on the banks of river Mahanadi and begins on Kartik Purnima(full moon day in October-November).
The festival is similar to the 'MasakapanKeTukad' festival of Bali.
About maritime history of Kalinga Empire
Kalidasa in Raghuvamsa referred to the King of Kalinga as 'The Lord of theSea' (Mahodadhipati) highlighting their dominance over sea routes.
Due to its geographical location, Kalinga saw growth of ports as early as 4thand 5th century BC.
Madhya Pradesh notifies PESA Rules on the occasion of Janjatiya Gaurav Divas
Panchayats (Extension to Scheduled Areas) Act (PESA Act) gives special power to gram sabhas in scheduled areas.
Key highlights:
Parliament, in terms of Article 243M(4)(b) of the Constitution, has enacted PESA Act, 1996 to extend Part IX of the Constitution,relating to Panchayats, to the Fifth Schedule areas.
All the states with scheduled areas within their geographical boundaries were mandated to amend their existing Panchayati Rajacts incorporating provisions of PESA within a year.
Presently, 10 States viz. Andhra Pradesh, Chhattisgarh, Gujarat, Himachal Pradesh, Jharkhand, Madhya Pradesh, Maharashtra,Odisha, Rajasthan and Telangana, have Fifth Schedule Areas in their respective States.
Out of the ten PESA States, only eight States (exceptJharkhand and Odisha) have framed and notifiedtheir State PESA Rules under their respective StatePanchayati Raj Acts.
Significance of PESA rules
Safeguard tribal culture and rights
Building trust towards integration with mainstream
Reducing grievance of tribal people
Empowering gram sabhas in approvingdevelopment plans
Protect Ecosystem
::INTERNATIONAL::
Carbon Border Tax
The BASIC group, comprising India, China, Brazil and South Africa, said in a joint statement dated November 15, "Unilateral measures and discriminatory practices, such as carbon border taxes, that could result in market distortion and aggravate the trust deficit amongst Parties, must be avoided. 
About:
The carbon border tax involves imposing an import duty on a product manufactured in a country with more lax climate rules than the one buying it.
EU claim the tax will benefit the environment and provide a level playing field to companies, those opposing it call the tax unfair and protectionist. 
They say it puts the burden of climate compliance on developing countries, when historically, they have done much less to pollute the environment and yet are often more vulnerable to effects of climate change.
The Carbon Border Adjustment Mechanism is a plan from the European Union (EU) to tax carbon-intensive products, such as iron and steel, cement, fertiliser, aluminium and electricity generation, from 2026.
Some developed nations, in efforts to cut emissions, impose high costs on carbon-intensive businesses in their own countries. Businesses can potentially sidestep this simply by moving production to a country with less stringent rules, a practice called carbon leakage.
Green Maritime Sector
India and Norway join hands for developing green maritime sector.
About Green shipping
Concerned about reduction in use of resources and energy to transport people and goods byship.
It aims to preserve global environment from GHGs and environmental pollutants generated byships.
Global initiatives: International Maritime Organization (IMO)'s 2030 Decarbonization strategyand 2050 Green House Gases (GHG) strategy.
Initiatives taken by India: Maritime India Vision 2030 provides for:
Increasing share of renewable energy at major ports to around 60 per cent by 2030;
Adopting multi-clean fuel for vehicles within port ecosystem etc.
::Economy::
FTX
Crypto exchange FTX filed for Chapter 11 bankruptcy protection in the United States on Friday following its precipitous collapse, saying it could owe money to more than 1 million creditors. 
About:
FTX is short for "Futures Exchange".
FTX is one of the biggest exchanges where trading those digital assets took place, and was touted by regulators and market watchers as one of the most transparent crypto operations.
A crypto exchange is in the business of helping customers buy and sell cryptocurrencies.
Cryptocurrencies:
A cryptocurrency is a digital or virtual currency that is secured by cryptography, which makes it nearly impossible to counterfeit or double-spend.
Many cryptocurrencies are decentralized networks based on blockchain technology - a distributed ledger enforced by a disparate network of computers.
A distributed ledger is a database that is consensually shared and synchronized across multiple sites, institutions, or geographies, accessible by multiple people.
It allows transactions to have public "witnesses".
::SCIENCE AND TECHNOLOGY::
Hwasong-17
North Korea said it test fired its massive new Hwasong-17 intercontinental ballistic missile (ICBM), in what analysts said may be the first successful launch of the system after doubts were raised about earlier claims.
How big is North Korea's Hwasong-17 'monster missile'?
The Hwasong-17 is nuclear-armed North Korea's biggest missile yet, and is the largest road-mobile, liquid-fuelled ICBM in the world.
Its diameter is estimated to be between 2.4 and 2.5 metres, and its total mass, when fully fuelled, is likely somewhere between 80,000 and 110,000 kg, according to 38 North, a U.S.-based programme that monitors North Korea.
Unlike North Korea's earlier ICBMs, the Hwasong-17 is launched directly from a transporter, erector, launcher (TEL) vehicle with 11 axles, photos by state media showed.
How far can it fly?
The missile launched on Friday flew nearly 1,000 km (621 miles) for about 69 minutes and reached a maximum altitude of 6,041 km, state news agency KCNA reported on Saturday.
Japanese Defence Minister Yasukazu Hamada said the weapon could travel as far as 15,000 km (9,320 miles), enough to reach the continental United States.