Current Affairs for IAS Exams - 19 October 2022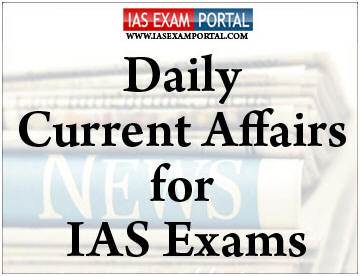 ---
Current Affairs for IAS Exams - 19 October 2022
::NATIONAL::
Soil Carbon Stability
A study carried out by researchers at the Centre for Ecological Sciences (CES) and the Divecha Centre for Climate Change (DCCC), IISc, has revealed that grazing animals hold the key to long-term soil carbon stability.
About:
The 16-year-long study carried out by CES and DCCC researchers states that large mammalian herbivores like the Yak and Ibex play a crucial role in stabilising the pool of soil carbon in grazing ecosystems such as the Spiti region in the Himalayas.
Experimental removal of grazing by herbivores from such ecosystems was found to increase the fluctuations in the level of soil carbon, which can have unintended negative consequences for the global carbon cycle, the study revealed.
According to the study soil contains more carbon than all plants and the atmosphere combined, it is important to ensure its persistence. 
When plants and animals die, dead organic matter remains in the soil for a long duration before microbes break it down and release carbon into the atmosphere as carbon dioxide.
CLICK HERE FOR FULL CURRENT AFFAIRS (Only for Course Members)
Council of Scientific andIndustrial Research
Prime Minister chaired the meeting of the CSIR Society.
Key highlights: 
It comprises eminent scientists, industrialists, and senior officials of scientific ministries.
It meets annually to review CSIR activities and deliberate on its future programmes.
PM is the President of CSIR Society.
About CSIR: 
CSIR is an autonomous body constituted under administrative supervision of Ministry of Scienceand Technology.
It was established in the year 1942.
CLICK HERE FOR FULL CURRENT AFFAIRS (Only for Course Members)
::INTERNATIONAL::
Defence Industry Joint Working Group
Defence industry organisations from India and the U.K. have decided to create a new Defence Industry Joint Working Group (JWG) for more effective cooperation.
About:
The inaugural meeting of the JWG was held on the sidelines of DefExpo 2022 in Gandhinagar recently.
The JWG is part of an ongoing initiative between the two countries to strengthen the defence and security partnership through industrial collaboration. The U.K. recently issued its first Open General Export License (OGEL) in the Indo-Pacific region to India, shortening delivery times for defence procurement.
DefExpo-2022 has representation from 20 U.K. defence companies. The U.K. industry is already integrating Indian defence suppliers into their global supply chain, manufacturing defence equipment not just for India but for the world.
The Royal Air Force (RAF) recently conducted a subject matter expertise exchange with Defence Research and Development Organisation (DRDO) during the visit of Eurofighter Typhoon, Voyager and A-400 in New Delhi and also held joint-flying exercises with the Indian Air Force (IAF).
Global Multi dimensional Poverty Index 2022
According to the Global Multidimensional Poverty Index 2022, number of poor people in India fell by about 415 million between 2005-06 and 2019-21.
About:
About 41.5 crore people exited poverty in India during the 15-year period between 2005-06 and 2019-21, out of which two-third exited in the first 10 years, and one-third in the next five years.
The incidence of poverty fell from 55.1% in 2005-06 to 16.4% in 2019-21 in the country.
The deprivations in all 10 MPI indicators saw significant reductions as a result of which the MPI value and incidence of poverty more than halved.
Improvement in MPI for India has significantly contributed to the decline in poverty in South Asia.
It is for the first time that it is not the region with the highest number of poor people, at 38.5 crore, compared with 57.9 crore in Sub-Saharan Africa.
The report doesn't fully assess the effects of the COVID-19 pandemic on poverty in India as 71% of the data from the National Family Health Survey-5 (2019-2021) relied upon for MPI were collected before the pandemic.
Bihar is the poorest State in 2015-2016, saw the fastest reduction in MPI value in absolute terms. The incidence of poverty there fell from 77.4% in 2005-2006 to to 34.7% in 2019-2021.
Global Multi dimensional Poverty Index:
The report produced by the United Nations Development Programme (UNDP) and the Oxford Poverty and Human Development Initiative (OPHI).
It was first launched in 2010.
CLICK HERE FOR FULL CURRENT AFFAIRS (Only for Course Members)
::Economy::
First  Aluminium Freight Rake
India's first indigenously manufactured aluminium Freight Rake was inaugurated.
About:
Hindalco has launched India's first all-aluminium freight rail rakes, a bid to help fast-track the country's ambitious plan to modernise freight transportation and enable significant carbon savings for Indian Railways.
The aluminium-made rakes are 180 tonnes lighter than existing steel rakes; they can carry 5-10 per cent more load and consume less energy.
Advantages:
180 tonnes lighter than steel rakes, resulting in increased speed and lower power consumption.
15 to 20% shift to aluminium wagons has the potential to reduce 25 Lakh tonnes of CO2.
It is corrosion-resistant and 100% recyclable.
CLICK HERE FOR FULL CURRENT AFFAIRS (Only for Course Members)
Nihonshu
The Embassy of Japan, New Delhi, has filed an application seeking Geographical Indication (GI) tag for nihonshu/Japanese sake.
About:
This is the first time a product from Japan has filed for a tag at the Geographical Indication Registry in Chennai.
In Japan, nihonshu is regarded as a special and valuable beverage made from fermenting rice.
People traditionally drink nihonshu on special occasions, such as festivals, weddings or funerals, but it is also consumed on a daily basis. Thus, it is an integral part of the lifestyle and culture in Japan.
The sake market (almost all are nihonshu) is the second largest brewed liquor (such as beer) market in Japan.
For making nihonshu three main raw materials – rice, koji-kin (a type of fungal spore) and water – are required.
CLICK HERE FOR FULL CURRENT AFFAIRS (Only for Course Members)
::SCIENCE AND TECHNOLOGY::
Mock meat
Recently, demand for mock meat has seen a surge in India.
About:
Mock meat is a term used for alternative meat options.
It is composed of plant-based proteins processed to have a meat-like feel, texture, and taste.
It uses wheat gluten, soya protein or vegetable substitutes like jackfruit.
It is different from lab-grown meat, which is cultured meat cultivated using animal cells collectedfrom animals.
CLICK HERE FOR FULL CURRENT AFFAIRS (Only for Course Members)