Current Affairs for IAS Exams - 19 September 2022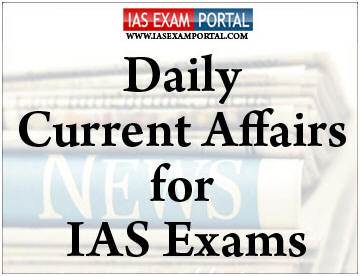 ---
Current Affairs for IAS Exams - 19 September 2022
::NATIONAL::
Localization of Sustainable Development Goals
The Ministry of Panchayati Raj (MoPR), Government of India and the Institute of Rural Management Anand (IRMA), Gujarat signed a Memorandum of Understanding (MoU) at the IRMA Campus in Anand, Gujarat. 
About:
SDGs localisation is translating the 2030 Agenda for Sustainable Development into local actions and impacts that contribute to global achievement of SDGs.
Localisation also relates both to how local and sub-national governments can support the achievement of the SDGs through bottom up action.
Localization of Sustainable Development Goals (LSDG) becomes significant for India as about 65% of India's population lives in rural areas.
Key highlights:
MoPR has been taking action in respect of those identified SDGs through GPDP involving participatory planning by converging various schemes to achieve the respective SDGs.
The objective of GPDP process is to fulfil the Constitutional mandate of Gram Panchayats i.e., to achieve economic development and secure social justice at the grassroots level.
This has also been necessitated in the context of larger devolution of funds under the Finance Commission to Gram Panchayats.
For attainment of SDGs in rural areas, PRIs need to identify with themes of localization of SDGs.
District Disability Rehabilitation centres
District Disability Rehabilitation centres (DDRC) spread across the country are providing effective rehabilitation services to the persons with disabilities for last two decades. 
About:
These centres are run jointly by District Management Team headed by DM/Collector and a reputed NGO (Usually Indian Red Cross Society). 
CLICK HERE FOR FULL CURRENT AFFAIRS (Only for Course Members)
::INTERNATIONAL::
10th East Asia Summit 
Minister of State for Commerce and Industry Anupriya Patel attended the 10th East Asia Summit Economic Ministers' Meeting in Siem Reap City, Cambodia.
About:
The meeting saw representation from all 10 ASEAN countries as well as 8 partner countries viz. Australia, China, India, Japan, New Zealand, Republic of Korea, Russian Federation and the USA.
The Ministers exchanged views on global and regional economic developments including the outcomes of the 12th WTO Ministerial Conference, post-pandemic economic recovery efforts, and measures adopted to mitigate the impact of global supply chain disruptions and strong inflation pressure.
They also reaffirmed their commitment to recover and build greater economic resilience in the region by facilitating trade, investment, and secure and resilient supply chains; 
undertaking supportive fiscal policy measures to encourage economic growth; 
and ensuring that strong macroeconomic fundamentals are in place to retain sustainable growth in the region.
India-Sri Lanka Relations 
India has emerged as the largest bilateral lender for Sri Lanka, overtaking China. 
About:
India has provided a total of 968 million US dollars in loans to the island nation in four months of 2022. In the past five years from 2017-2021, China has been the largest bilateral lender to Sri Lanka.
Asian Development Bank (ADB) has been the largest multilateral lender in the past five years and disbursed funds amounting to 610 million dollars in 2021. 
India had provided nearly 4 billion dollars in food and financial assistance to Sri Lanka. India handed over 21,000 tonnes of fertilizer to crisis-ridden Sri Lanka.
India has been at forefront of extending economic assistance to Sri Lanka as per their requirements and is one of the countries that have provided the maximum amount of assistance in time of need. 
CLICK HERE FOR FULL CURRENT AFFAIRS (Only for Course Members)
::ECONOMY::
Ethereum
Ethereum, the world's second most valuable cryptocurrency, has completed a significant software overhaul which promises to ramp up security of the cryptocurrency while claiming to cut down on its carbon footprint, nearly entirely.
About:
The revamp, known as 'The Merge,' will cast aside the need for crypto miners and gigantic mining farms, who had previously driven the blockchain under a mechanism called 'proof-of-work' (PoW).
Instead, it has now shifted to a 'proof-of-stake' (PoS) mechanism that assigns 'validators' randomly to approve transactions and earn a small reward.
The move to PoS will reduce ethereum's energy consumption by nearly 99.95 per cent.
What has exactly changed?
Ethereum is still a decentralised platform, but under the new concept, it would not need miners and mining farms to authenticate transactions anymore.
Instead, a validator will be randomly assigned using an algorithm from a pool of people who 'stake' their coins, which essentially means pledging at least 32 Ethereum tokens on the network.
CLICK HERE FOR FULL CURRENT AFFAIRS (Only for Course Members)
::SCIENCE AND TECHNOLOGY::
International Treaty on Plant Genetic Resources for Food and Agriculture
India is going to host 9th session of the Governing Body of the International Treaty on Plant Genetic Resources for Food and Agriculture from 19th to 24th of this month.
About:
The Treaty is a legally binding comprehensive agreement adopted in November 2001 at Rome during the 31st session of Food and Agriculture Organization of the United Nations, which entered into force in June 2004.
During the event an extensive deliberation on how to preserve, conserve and maintain the germplasm, biodiversity, and food and agriculture will be held. Deliberation will also be held on how to exchange and share the tolerant germplasm through a multilateral system.
CLICK HERE FOR FULL CURRENT AFFAIRS (Only for Course Members)
::SPORTS::
Roger Federer
Roger Federer, one of the greatest tennis player of all time, has decided to bid farewell to professional tennis after the conclusion of the Laver Cup 2022 next week.
About:
Roger Federer is a Swiss professional tennis player.
He was ranked world No. 1 by the Association of Tennis Professionals (ATP) for 310 weeks, including a record 237 consecutive weeks.
He has won 103 ATP singles titles, the second most of all time, including 20 Grand Slam singles titles, a record eight men's singles Wimbledon titles, an Open Era record-tying five men's singles US Open titles, and a record six year-end championships.
Federer has played in an era where he dominated men's tennis along with Rafael Nadal and Novak Djokovic as the Big Three, collectively considered by some to be the three most successful male tennis players of all time.
Vinesh Phogat
VineshPhogat has become the first Indian woman wrestler to win two medals at the World Championships after clinching a bronze in 53-kilogram category in Belgrade, Serbia.
About:
The Commonwealth Games 2022 gold medalist defeated reigning European champion Emma Malmgren of Sweden.
This is her second bronze medal at the Championships. She had previously earned a podium position in the 2019 edition of the tournament at Nur-Sultan, Kazakhstan.
CLICK HERE FOR FULL CURRENT AFFAIRS (Only for Course Members)