Current Affairs for IAS Exams - 20 February 2021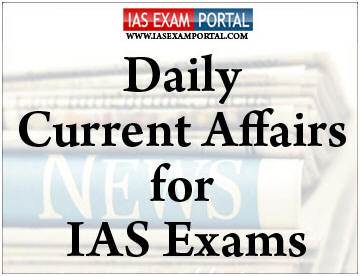 ---
Current Affairs for IAS Exams - 20 February 2021
::NATIONAL::
Delegation of Financial Powers to ArmedForces
The Union Cabinet approved enhanced delegation of financial powers for capital procurement to senior officers below the rank of Vice-Chief of armed forces.
Cabinet, under Other Capital Procurement Procedure of Defence Acquisition Procedure-2020, approved enhanced delegation of Financial Powers under Capital Procurement (up to Rs 100 crore) to levels belowVice-Chief of Armed Forces.
This is the first time that financial powers in Armed Forces are delegated below vice-chief level.
The steps are in line Government's vision of 'Atmanirbhar Bharat' and 'Make in India' for a robust defence industrial ecosystem.
Sub Mission on Plant Protection and Plant Quarantine
Sub Mission on Plant Protection and Plant Quarantine (SMPPQ)is a sub-scheme under Green Revolution (Krishonnati Yojana) of the Ministry of Agriculture and Farmers Welfare.
Under SMPQ regulatory, monitoring, surveillance and capacity building functions are performed for minimizing loss to quality and yield of agricultural crops from the ravages of insect pests, diseases, weeds etc.
Various Components include:
Strengthening and Modernization of Pest Management Approach in India (SMPMA) including LocustControl and Research.
Strengthening and Modernization of Plant Quarantine Facilities in India (SMPQF).
National Institute of Plant Health Management (NIPHM)
CLICK HERE FOR FULL CURRENT AFFAIRS (Only for Course Members)
::INTERNATIONAL::
United Nations CapitalDevelopment Fund
Indian-origin Preeti Sinha has been appointed as Executive Secretary of United Nations Capital Development Fund(UNCDF).
UNCDF provides public and private finance work for the poor in the world's 46 least developed countries(LDCs).
It was established by the UN General Assembly in 1966.
Its mandate is to "assist developing countries in development of their economies by supplementing existing sources of capital assistance by means of grants and loans".
Mandate was modified in 1973 to serve first and foremost but not exclusively the LDCs.
INS Pralaya
Indian Naval Ship Pralaya arrived at Abu Dhabi, UAE to participate in the NAVDEX 21 (Naval Defence Exhibition) and IDEX 21 (International Defence Exhibition), scheduled from 20 to 25 February 2021.
About:
INS Pralaya, the second ship of the indigenously built Prabal Class Missile Vessels, was commissioned in the Indian Navy on 18 December 2002.
The 56 m long ship, displacing about 560 T is capable of speeds in excess of 35 knots and is fitted with an impressive array of weapons and sensors. 
These include a 76.2 mm medium range gun, 30 mm close range guns, chaff launchers and long range surface to surface missiles. 
The ship, built indigenously at Goa Shipyard Limited, bears testimony to capabilities of the Indian ship building industry and is a versatile platform capable of performing a wide variety of surface warfare missions.
::ECONOMY::
Draft blue economy policy
The Ministry of Earth Sciences invites suggestions on Draft blue economy policy.
It is aimed at significantly enhancing contribution of the blue economy to India's GDP in the next five years.
It is also improving lives of coastal communities, preserving India's marine biodiversity and maintaining the security of our marine areas and resources.
Proper measurement:
The draft policy called for a framework for proper measurement of blue economy activities and their contributions to the national income, scientific assessment and planning of ocean resources and their sustainable use, investment and human resource development to harness the potential of marine resources, ensuring welfare,safety and livelihood of fishermen.
It stressing that the fisheries sector registered the highest growth with the agriculture and allied sector, the policy suggested an ecosystem approach for fisheries management which includes promotion of aquaculture, cage culture, seaweed and algae harvesting as well as sustainable marine capture.
To harness the potential of marine biotechnology, particularly in non-food sector of fishery resources, it suggested setting up a national level institute for marine biotechnology. 
It also called for a national mission for placer (an accumulation of valuable minerals formed by gravity separation) to explore workable deposits and to evolve a roadmap for their extraction. 
It said India should take lead in exploring cobalt-rich Sea Mount Ferro Manganese Crust in the Indian Ocean.
::SCIENCE AND TECHNOLOGY::
Swati Mohan
Indian-American scientist, Swati Mohan, who led the guidance, navigation, and control operations of the Mars 2020 mission.
She also confirmed that the rover had survived a particularly tricky plunge through the Martian atmosphere.
She was born in Northern Virginia and Washington DC metro area in USA.
She completed her bachelor's degree from Cornell University in Mechanical & Aerospace Engineering, and her M.S. and Ph.D from Massachusetts Institute of Technology (MIT) in Aeronautics/Astronautics.
CLICK HERE FOR FULL CURRENT AFFAIRS (Only for Course Members)
::SPORTS::
Australian Open 2021
Japan's Naomi Osaka dismissed Jennifer Brady in straight sets to win the Australian Open in dominant style for her fourth Grand Slam title on Saturday.
Osaka edged a tight first set but controlled the second to win 6-4, 6-3 in 77 minutes in front of thousands of fans at Rod Laver Arena.
Third seed Osaka preserves her 100 percent record in Grand Slam finals after winning the 2018 and 2020 US Opens and the 2019 title in Melbourne.