Current Affairs for IAS Exams - 20 March 2020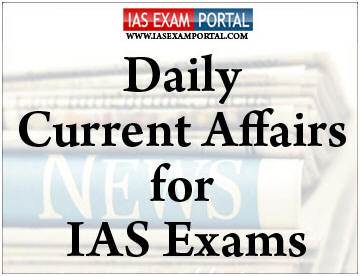 ---
Current Affairs for IAS Exams - 20 March 2020
---
::NATIONAL::
PM calls for Janata curfew in the wake of COVID-19
Prime Minister Narendra Modi has announced Janata Curfew on Sunday(22nd March) in the wake of COVID 19 outbreak. It will be self-imposed and self-regulated and will be effective from 7 in the morning till 9 in the evening. He said, no one should step out of their homes during this period except those people in essential services.
The Prime Minister was addressing the nation last evening in light of the coronavirus outbreak. He also urged countrymen to thank people like doctors, medical personnel and cleaning staff for their service on Sunday at 5 PM. Mr Modi requested all people to step out of house in the coming few weeks only if extremely necessary, and work from home as much as possible. He also urged senior citizens above the age of 65 years to stay at home in the coming days.
The Prime Minister said government is taking all necessary steps to ensure supply of essential commodities. He appealed to the people not to go for panic buying. The Prime Minister also appealed to the business community to take care of the economic needs of their employees by not deducting their salary if they are not able to come to work.
Prime Minister also said government has decided to constitute a Task Force under the Chairmanship of Finance Minister which will interact with all the stakeholders.
Mr Modi pointed out that for a developing country like India with a huge population, coronavirus will not be easy to dealt with. He said resolve and restraint are a must in order to contain the outbreak.
Centre plans to set up road side amenities under NHAI
Government is planning to start roadside amenities like shopping centre, petrol pumps, toilets under the National Highway Authority of India.
Replying to a question in the Lok Sabha ...................................................
CLICK HERE FOR FULL CURRENT AFFAIRS (Only for Course Members)
::ECONOMY::
SEBI grants temporary relaxation of disclosure norms to firms
The Securities and Exchange Board of India (SEBI) has granted temporary relaxation to companies from certain disclosure requirements on account of the ongoing COVID-19 pandemic.
In a release issued on Thursday, the capital markets regulator said that companies would get relaxation ranging from three weeks to 45 days for certain disclosure obligations like filing quarterly and annual results, corporate governance reports and shareholding patterns among other things.
"Developments arising due to the spread of the virus have warranted the need for temporary relaxations in compliance requirements for listed entities," the release said.
As per the release, companies have been given a one-month relaxation for filing quarterly corporate governance report. Further, a relaxation of one month to 45 days has been given for filing quarterly and annual financial results.
Incidentally, this is the second time the watchdog has issued a statement amid the virus concerns in the market that has led to the benchmarks registering their biggest single day losses.
On March 13, SEBI had said that it was closely monitoring the developments in the Indian stock market and, along with the stock exchanges, was prepared to act suitably if required.
Centre eases import restriction for chemicals, aviation gasoline
The government has removed import restrictions on certain chemicals including zinc dross, light, heavy and full range naphtha.
The Directorate General of Foreign ......................................................
CLICK HERE FOR FULL CURRENT AFFAIRS (Only for Course Members)
::INTERNATIONAL::
India criticises Pakistan for raising Kashmir issue in SAARC video conference
India has criticised Pakistan for raising Kashmir during the SAARC video-conference earlier this week.
Briefing media in New Delhi, External Affairs Ministry spokesperson Raveesh Kumar said it was not a political platform, but a humanitarian one and Islamabad misused it. He also said the emergency SAARC fund proposed by Prime Minister Narendra Modi during the video conference to combat coronavirus was operationalised and India has received requests from member countries for assistance.
External Affairs Ministry also said it is being planned to evacuate the next batch of Indians from Italy over the coming weekend. Additional Secretary in the MEA, Dammu Ravi said India has evacuated 590 people from Iran where the situation is very severe.
The Indians infected with coronavirus in Iran have been segregated and taken care of, very well. Mr Ravi expressed belief that they will recover and be brought to India.
He also said the ministry was strengthening its COVID-19 control room. Right now, 25-30 people are working in the control room in shifts. The control room gets about 400 e-mails and 1,000 calls in a day.
Srilanka postpones parliamentary elections amid COVID-19
Sri Lanka's general elections, which was scheduled to be held on April 25, have been postponed in the wake of the COVID-19 outbreak.
It was not possible to hold polls ...............................................
CLICK HERE FOR FULL CURRENT AFFAIRS (Only for Course Members)
::SCIENCE & TECHNOLOGY::
ISRO develops new messaging system for fisheries department
On March 17, 2020, the Department of Space reported at the Parliament that ISRO has designed NAVIC messaging system and receiver. The system is currently used by the Indian National Centre for Ocean Information system (INCOIS).
The system is used to broadcast emergency warning messages in cases such as tsunami, cyclone, high waves. The technology has been transferred by ISRO to 5 industries in India.
One of them is the fisheries industry. ISRO has so far distributed 250 units of these systems to the coastal fishermen in the states of Tamil Nadu and Kerala.
The NAVIC is Navigation in Indian Constellation. It is an Indian Regional Navigation Satellite System (IRNSS),developed by ISRO. There are 8 satellites in the constellation. The main objective of NAVIC is to provide continuous surveillance of the Indian sub-continent.
The systems will be carried by the fishermen. The device offers potential fishing zone advisories. This will help fishermen to stay within international boundaries. The system also gives warning about Oceanic wave forecasts and high wave alerts.
::SPORTS::
Government plans to take Kabbadi to Olympics
Union Sports Minister, Kiren Rijiju has said that the government will make efforts to take indigenous sport kabaddi to the Olympics. He was responding to supplementaries during the Question Hour in Lok Sabha yesterday.
The Minister revealed that a total of 2,880 athletes have been selected under Khelo India scheme for further training to excel in various national and international competitions.
He said identified promising sports persons and teams are provided support of modern sports science and exposure abroad under experts of respective disciplines.
The Minister added that the promotion of sports, including identification of young talent and its nurturing is the responsibility of the state governments as sports is a state subject.