Current Affairs for IAS Exams - 20 July 2021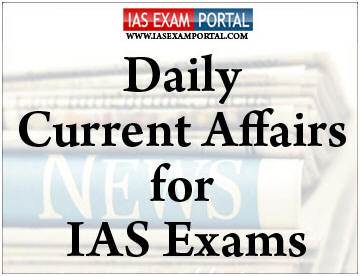 ---
Current Affairs for IAS Exams - 20 July 2021
::NATIONAL::
Midday meals leave a long-lasting impact
The study was conducted by experts at the International Food Policy Research Institute.
It has attempted a first-of-its-kind inter-generational analysis of the impacts of a mass feeding programme.
About:
Midday meal scheme was related with 13-32% of India's improvement in height-for-age z-scores (HAZ) between 2006 and 2016.
The linkages between midday meals and lower stunting in the next generation were stronger in lower socio-economic strata and likely work through women's education, fertility, and use of health services.Stunting is when a child has a low height for their age.
Midday meal scheme:
It was launched in 1995. The objective is to provide children in government schools with a free cooked meal with a minimum energy content of 450 kcal.
By 2011, with an expansion in budget, and state implementation following a Supreme Court order, coverage had grown to 46%.
Centre yet to appoint director of inquiry to probe Lokpal's complaints: CVC
According to an RTI reply, the Centre is yet to appoint a director of inquiry for conducting preliminary inquiry into graft complaints sent by the anti-corruption ombudsman.
About:
The Lokpal, the apex body to inquire and investigate graft complaints against public functionaries, came into being with the appointment of its chairperson and members in March 2019.
According to the Lokpal and Lokayuktas Act, 2013, there shall be a director of inquiry, not below the rank of joint secretary to the government of India, who shall be appointed by the central government for conducting preliminary inquiries referred to the Central Vigilance Commission (CVC) by the Lokpal.
Although Director of Inquiry has not been appointed by Govt. of India, cases are being received in the Commission for conducting preliminary inquiries.
Forty-one cases have been received for preliminary inquiry as of March 2021.
Out of these, reports in 36 cases have been sent to the Lokpal of India, the commission said in its reply dated July 5.
The CVC was asked to provide details of the director of inquiry and cases referred to it by the Lokpal for conducting preliminary inquiries, among others.
CLICK HERE FOR FULL CURRENT AFFAIRS (Only for Course Members)
::INTERNATIONAL::
Internet via balloon
Florida's Republican governor, Ron DeSantis, called this week on the administration of President Joe Biden to greenlight a plan to transmit the Internet to people in Cuba via high-altitude balloons when their government has blocked access.
Can Internet be delivered by balloon?
For years, Alphabet — the parent company of Google — worked to perfect an Internet-balloon division service called Loon. It shut down that project in January, saying it wasn't commercially viable.
Prior to the shutdown, Loon balloons had been providing service in mountainous areas in Kenya through a partnership with a local telecom, Telkom Kenya.
The service also helped provide wireless communications in Puerto Rico in the aftermath of Hurricane Maria, which destroyed the island's mobile network. Loon partnered with AT&T to make service available.
How does that work?
The Loon balloons were effectively cell towers the size of a tennis court. They floated 60,000 to 75,000 feet (18,000- 23,000 meters), above the Earth, well above commercial jetliner routes.
Made of the commonplace plastic polyethylene, the balloons used solar panels for electricity and could deliver service to smartphones in partnership with a local telecom.
 Pegasus's spyware
It has been reported that a spyware tool called Pegasus, developed by an Israeli firm, the NSOGroup, was used to spy on journalists and human rights activists in India.
The NSO Group is a Tel Aviv-based cyber-security company that specialises in "surveillance technology".
Pegasus delivers "a chain of zero-day exploits to penetrate security features on the phone/other devices.
A "zero-day exploit" is a completely unknown vulnerability and there is no patch or fix available for it.
::ECONOMY::
National Logistics Excellence Awards
The government announced the launch of the National Logistics Excellence Awards.
It will highlight best practices including consolidation, process standardisation, technological upgrade, digital transformations and sustainable practices in the logistics sector.
Comprehensive logistics costs amount to almost 14 per cent of India's gross domestic product.
::SCIENCE AND TECHNOLOGY::
Doppler Radar
Recently, the Indian Meteorological Organisation's (IMD) only DR in Mumbai, which surveys weather patterns and forecasts, had stopped working.
Working procedure:
Observing the time required for the beam tobe transmitted and returned to the radar allows weather forecasting departments to see raindrops in the atmosphere, and measure their distance from the radar.
Doppler radar is special as it can provide information on both the position of targets as well as their movement.
This makes it possible to tell whether the precipitation is moving toward or away from the radar.
 CLICK HERE FOR FULL CURRENT AFFAIRS (Only for Course Members)