Current Affairs for IAS Exams - 20 November 2020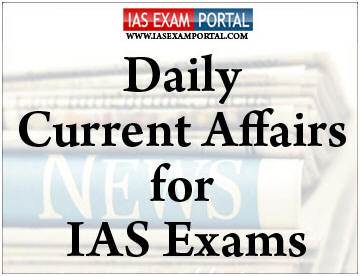 ---
Current Affairs for IAS Exams - 20 November 2020
---
::NATIONAL::
---
Finance panel for public-private partnerships to ramp up health infrastructure
---
The Fifteenth Finance Commission has mooted a greater role for public-private partnerships to ramp up the health infrastructure and scale up public spending on health from 0.95% of GDP to 2.5% by 2024.
The Commission has recommended steps to fix the skewed availability of healthcare across India as poorer States have the worst facilities. 
Key highlights:
Panel have recommended substantial improvements in the working conditions for doctors in government hospitals, many of whom are hired on a contract basis by States, and the creation of an Indian Medical Service cadre as envisaged in the Civil Services Act of 1951.
The total spending of around 0.95% of GDP is not adequate both in relation to our peer groups, and in relation to the commitments under the National Healthy Policy of 2017. 
There is no doubt that public spending, both by the Centre and the States, need to go up very significantly. 
And the endeavour must be to raise public spending from 0.95% of GDP to 2.5% of GDP by 2024.
To achieve better healthcare parameters, public-private partnerships must be considered "in a holistic way" instead of the current situation where the government only turns to the private sector in times of emergency.
Vatayan Lifetime Achievement Award
---
Union Education Minister Shri Ramesh Pokhriyal 'Nishank' will be conferred with the Vatayan Lifetime Achievement Award at a virtual ceremony on 21st November, 2020.
This award will be another in the list of many other national and international awards and honours conferred to the Minister for writing, poetry and other literary works. 
Shri Pokhriyal has earlier received several awards in the field of literature and administration including Sahitya Bharati Award by the then Prime Minister Shri Atal Bihari Vajpayee, Sahitya Gaurav Samman by Former President Dr. A.P.J. Abdul Kalam etc.
Shri Pokhriyal has an honorary doctoral degree, D.Litt in the field of literature by Graphic Era, Deemed to be University, Uttarakhand.
Additional judges elevatedto permanent judges
---
Recently, President, in exercise of his powers under Article 217, appointed the additional judges as permanentjudges in the Allahabad High Court.
Article 217 deals with appointment and conditions of the office of a Judge of a High Court.
An additional judge is usually elevated as a permanent judge after two years based on performance.
Additional judges are appointed in case of temporary increase in business of High Court for maximum of 2 years.
CLICK HERE FOR FULL CURRENT AFFAIRS (Only for Course Members)
---
::ECONOMY:: 
---
RBI sets up innovation hub for financial sector
---
The Reserve Bank of India (RBI) has set up an Innovation Hub for the financial sector and appointed Senapathy (Kris) Gopalakrishnan, co-founder and former co-chairman of Infosys, as the chairperson of the governing council for the entity.
The central bank had said in its August monetary policy that it was going to set up a Reserve Bank Innovation Hub (RBIH) to promote innovation across the financial sector by leveraging on technology and creating an environment which would facilitate and foster innovation.
The aim of the RBIH is to create an eco-system that would "focus on promoting access to financial services and products. This will also promote financial inclusion."
RBIH will collaborate with financial sector institutions, technology industry and academic institutions and coordinate efforts for exchange of ideas and development of prototypes related to financial innovations.
It would develop internal infrastructure to promote fintech research and facilitate engagement with innovators and start-ups.
CLICK HERE FOR FULL CURRENT AFFAIRS (Only for Course Members)
---
---
::INTERNATIONAL::
---
Reciprocal Access Agreement
---
Reciprocal Access Agreement was recently signed between Australia and Japan in a bid to counter China's growing influencein South China Sea and over Pacific island nations.
It is a legal framework to allow their troops to visit each other's countries and conduct training and jointoperations.It will enhance inter-operability and cooperation.
It is similar to a Status of Forces Agreement (SOFA) between US-Japan.
SOFAs are for a single host nation and foreign forces stationed in or transiting the host country, whereas RAAoffers reciprocity in deal.
---
::SCIENCE & TECHNOLOGY::
---
PARAM-Siddhi
---
India's latest and fastest supercomputer, PARAM-Siddhi AI, has been ranked 63rd in the Top500 list of most powerful supercomputers in the world. 
The supercomputer was established earlier this year, under the National Supercomputer Mission (NSM) and is going to be installed in the Centre for Development of Advanced Computing's (C-DAC) unit. 
The Top500 project tracks the most powerful supercomputers in the world, and is published twice a year.
PARAM-Siddhi is the second Indian supercomputer to be entered in the top 100 on the Top500 list. 
Besides this, Pratyush, a supercomputer used for weather forecasting at the Indian Institute of Tropical Meteorology, ranked 78th on the November edition of the list. 
It was ranked 66th in the June rankings announced by the project.
CLICK HERE FOR FULL CURRENT AFFAIRS (Only for Course Members)
---
Sports
---
Indian Super League 2020-21
---
Indian Super League season (ISL) 2020-21 will kick-start from today when Kerala Blaster will lock horns with ATK Mohun Bagan. 
Due to the disruptions caused by the Covid-19 pandemic, this year's edition will be played entirely in Goa inside a bio-bubble without spectators
12 training pitches have been allotted to the teams. No spectator will be allowed inside the stadium.
All the matches will be telecast live on Star Sports Network and Asianet Plus. The matches will also be available online on Disney+Hotstar VIP and JIO TV.
The fixtures for the first 11 rounds have been declared. The remaining 55 matches will be declared in December after clarity on calendar dates of Asian Football Confederation. The dates for semi-final and the final are yet to be finalised.
---
---
---
---
---