Current Affairs for IAS Exams - 20 July 2022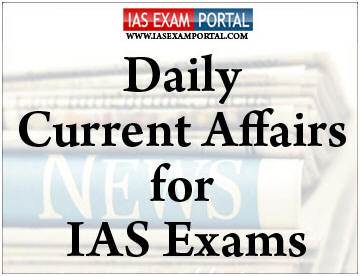 ---
Current Affairs for IAS Exams - 20 July 2022
::NATIONAL::
National Culture Fund
Since inception, NCF has completed 52 projects with various donors.
Government of India has set up National Culture Fund (NCF) as a Trust on 28th November, 1996 under the Charitable Endowment Act, 1890.
About:
NCF is managed by a (Governing) Council and an Executive Committee. 
A donor/sponsor while making contributions to the NCF may indicate a project along with any specific location/aspect and also an agency for execution of the project. 
Besides, the interests accrued from the Primary and Secondary Corpus is also utilized for activities associated with the field of culture. 
Key objectives: 
The aim of National Culture Fund (NCF) is to establish and nurture partnerships in the field of Culture and Heritage with private and public sectors, government, non-government agencies, private institutions and foundations etc.
The major objectives of NCF is to administer and apply the Fund for conservation, maintenance, promotion, protection, preservation and up gradation of monuments protected or otherwise; 
for the training and development of a cadre of specialists and cultural administrators, for innovations and 
CLICK HERE FOR FULL CURRENT AFFAIRS (Only for Course Members)
UNESCO's King Hamad Bin Isa Al-Khalifa Prize
Use of ICT under a comprehensive initiative called PM eVIDYAby the Department of School education, Ministry of Education, particularly during the COVID-19 pandemic wins UNESCO's recognition.
Central Institute of Educational Technology (CIET), a constituent unit of National Council of Educational Research and Training (NCERT) under Department of School Education and Literacy (DOSEL), Ministry of Education (MoE), Government of India has been awarded with the UNESCO's King Hamad Bin Isa Al-Khalifa Prize for the Use of ICT in Education for the year 2021.
About Award
This award 'recognizes innovative approaches in leveraging new technologies to expand educational and lifelong learning opportunities for all, in line with the 2030 Agenda for Sustainable Development and its Goal 4 on Education.
Established in 2005 with the support of the Kingdom of Bahrain, the Prize rewards individuals and organizations that are implementing outstanding projects and promoting the creative use of technologies to enhance learning, teaching and overall educational performance in the digital age.
An international Jury selects two best projects annually.
CLICK HERE FOR FULL CURRENT AFFAIRS (Only for Course Members)
::INTERNATIONAL::
Indian Diaspora 
A total of 1,63,370 Indians relinquished Indian Citizenship in 2021 and received citizenship from other countries, a trend noted highest since 2019.
About:
The number of Indians who relinquished Indian Citizenship in 2019 and 2020 are 1,44,017; 85,256 respectively. A maximum of 78,284 Indians relinquished Indian Citizenship and received citizenship of the USA followed by 23,533 who took citizenship in Australia; 21,597 in Canada; and 14,637 in the UK in 2021.
Union Minister of State for Home Nityanand Rai on Tuesday shared the data with the Lok Sabha that mentions 'the number of Indians who relinquished Indian Citizenship in 2019, 2020, 2021 are 1,44,017; 85,256; and 1,63,370 respectively'.
Asked about the reasons given by these persons for renouncing Indian citizenship, Rai said 'individuals renounced Indian citizenship for reasons personal to them'.
CLICK HERE FOR FULL CURRENT AFFAIRS (Only for Course Members)
MoU between India and United Arab Emirates
The Union Cabinet chaired by the Prime Minister, Shri Narendra Modi, has approved the proposal for signing abilateral Memorandum of Understanding (MoU) between India and the United Arab Emirates (UAE) on Cooperationin the field of Industries and Advanced Technologies.
About MoU:
India and the UAE have signed a bilateral 'Comprehensive Economic Partnership Agreement' (CEPA).
This agreement has potential to increase trade between India and the UAE from US$ 60 billion (Rs.4.57 lakhcrore) to US$ 100 billion (Rs.7.63 lakh crore) in the next five years.
The MoU aims at strengthening and developing industries in both nations through investments, technologytransfer and the deployment of key technologies in industries. 
This is likely to generate employment acrossthe economy.
The MoU will increase cooperation in –
Strengthening the Supply Chain Resilience of Industries
Renewable & Energy Efficiency
Health and life sciences
Space Systems
Artificial Intelligence
CLICK HERE FOR FULL CURRENT AFFAIRS (Only for Course Members)
::ECONOMY::
Work from Home Rule 
The Department of Commerce has notified a new Rule - Work from Home in Special Economic Zones Rules, 2006 across all Special Economic Zones.
About:
The notification was issued on demand from the industry for making a provision for a country-wide uniform Work From Home policy across all Special Economic Zones.
As per the new notification, Work from Home may be extended to maximum 50 percent of total employees including contractual employees of the unit.
There is flexibility granted to Development Commissioner of Special Economic Zones to approve a higher number of employees for any bona-fide reason to be recorded in writing. Work From Home is now allowed for a maximum period of one year.
CLICK HERE FOR FULL CURRENT AFFAIRS (Only for Course Members)
::SCIENCE AND TECHNOLOGY::
Paralitherizinosaurus japonicus
Researchers from Japan's Hokkaido University and the Southern Methodist University in the US have confirmedfinding the fossil of a new dinosaur species that roamed around Asia from the early to the late Cretaceous periodapproximately 145 million to 66 million years ago.
About:
Belonging to the group Therizinosaurs, the newly found fossilised claw has been associated with the speciesnamed Paralitherizinosaurus japonicus.
The Therizinosaurs were first discovered in Asia as the fossil records in countries such as China and Mongoliaare rich in their fossils. Fragments of their remains have also been reported from Japan.
One of the most intriguing features of the dinosaur was its vicious claws which had knives for fingers.
Therizinosaurs were a large group of dinosaurs that had hollow bones and three-toed limbs and wereprimarily herbivores.
CLICK HERE FOR FULL CURRENT AFFAIRS (Only for Course Members)