Current Affairs for IAS Exams - 20 October 2022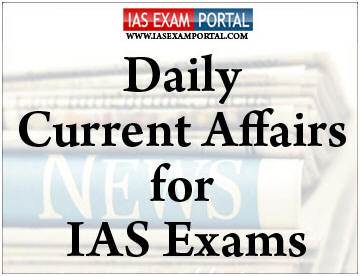 ---
Current Affairs for IAS Exams - 20 October 2022
::NATIONAL::
People's Plan Campaign–2022
Ministry of  Panchayati Raj is organising a two-day National Training Workshop on People's Plan Campaign–2022 in New Delhi.
About:
The guidelines for revamped People's Plan Campaign–2022 and Handbook on revamped Gram Panchayat Development Plan (GPDP) Portal were also launched during the Workshop.
Technical Session–I focused on Convergence of Schemes and Programmes with Panchayat Development Plan for preparation of holistic rural development plan whereas Technical Session–II was dedicated to the Evidence based Planning and Monitoring of People's Plan Campaign–2022. 
Technical Session–I saw following presentations:
Analytical Presentation on People's Plan Campaign by Smt Rekha Yadav, Joint Secretary, Ministry of Panchayati Raj
Access to quality and inclusive education of children through integration of school development plan into GPDP.
Integration of Village Poverty Reduction Plan into GPDP - Shri Charanjit Singh, Additional Secretary, Ministry of Rural Development
Ensuring access to Clean Water and Sanitation in rural areas through transforming to water sufficient village and clean and green village.
Ensuring Women Friendly Village and Child Friendly Village through addressing the needs of the women & children in Mahila Sabha & Balika Sabha.
CLICK HERE FOR FULL CURRENT AFFAIRS (Only for Course Members)
Illegal mining in Aravallis Region 
A report of a joint committee, formed on orders of the National Green Tribunal to ascertain the extent of illegal mining at 16 locations in Aravalli region has found instances of mining activity at several locations in the region despite prohibitory orders.
About the Aravalli
It is an almost 700km-long mountain rangethat starts from Gujarat, travels throughRajasthan and Haryana before finishing atRaisina hill, Delhi.
They have been denuded over the past fourdecades owing to mining, deforestation andover-exploitation of its fragile and ancientwater channels.
Significance of Aravallis:
Aquifer recharge: Several water streams originate from Aravalli.
Also, with their natural cracks and fissures, they function as NCR's mostcritical water recharge zone.
Climate:
During monsoons, the mountain range guides the attenuated monsoonclouds eastwards, thus helping nurture the sub-Himalayan rivers andfeeding the north Indian plains.
CLICK HERE FOR FULL CURRENT AFFAIRS (Only for Course Members)
::INTERNATIONAL::
Booker Prize 2022
Sri Lankan author ShehanKarunatilaka has been named the winner of the 2022 Booker Prize for his second novel 'The Seven Moons of Maali Almeida', described by judges as a whodunnit and a race against time, full of ghosts, gags, and deep humanity.
Karunatilaka, 47, became only the second Sri Lankan born to win the prestigious £50,000 literary prize at a ceremony in London on Monday night, after Michael Ondaatje who won for 'The English Patient' in 1992.
About:
The Booker Prize for Fiction, formerly known as the Booker–McConnell Prize and the Man Booker Prize, is a literary prize.
It was established to promote the finest in fiction by rewarding the best novel of the year written in English.
The Booker Prize awards any novel originally written in English and published in the UK and Ireland in the year of the prize, regardless of the nationality of their author.
The novel must be an original work in English (not a translation)
It must be published by a registered UK or Irish imprint; self-published novels are not eligible.
The winner receives £50,000 as well as the £2,500 awarded to each of the shortlisted authors. In this case, thanks to the award being shared, the prize money would be split between the two winners.
World BankDevelopment Committee Meeting 
FM participated in a discussion on paper titled "Learning Losses: What to do about the Heavy Cost of COVID on Children, Youth, andFuture Productivity".
About:
Learning losses due to school closures are one of the biggest global threats to long-term recovery from Covid-19.
According to UNICEF such learning loss could cost this generation of students close to $17 trillion in lifetime earnings.
In India, according to 2021 National Achievement Survey average performance of students had dropped to 9% as compared 2017.
Key initiatives taken by India to overcome learning losses
India undertook National Foundation Learning Study (based on Global proficiency Framework) for grade III students.
Teach at the Right Level where children are divided into instructional groups based on learning needs.
CLICK HERE FOR FULL CURRENT AFFAIRS (Only for Course Members)
::Economy::
Forward Premium
As RBI spreads out Fx interventions, forward premium hits 11-year lows.
About:
Forward premium rate represents the interest rate differential between the Indian and US bonds.
It is a situation in which the forward or expected future price for a currency is greater thanthe spot price (current price).
It can be used as an indicator while trading in the forex markets.
CLICK HERE FOR FULL CURRENT AFFAIRS (Only for Course Members)
::SCIENCE AND TECHNOLOGY::
Web 3.0
According to NASSCOM's latest report, India is home to 11% of the global Web3.0 talent and employs nearly 75,000 blockchain professionals.
About:
The study titled "The India Web3 Start-up Landscape, An Emerging Technology Leadership Frontier," was aimed at promoting a broader understanding of the diverse possibilities with Web3 and the landscape of Web3 start-ups in the country.
According to the study, in the last two years, Indian Web3 start-ups have grown to a 450-plus community with four unicorns.
Between 2021-2022 alone, India registered more than 170 new Web3 start-ups, yielding over 50% CAGR growth since 2015.
While global response to Web3 was still shaping up, India's growing economy, demographic dividend, and exponential adoption of emerging technologies across sectors, positioned the country to become one of the highest growth markets for Web3 globally.
Web 3.0:
Web 3.0 or Web3 is the third generation of the World Wide Web. 
It is an evolving term that refers to a "read-write-execute" web – with decentralization as its bedrock.
It speaks about a digital world, built leveraging the blockchain technology, where people are able to interact with each other without the need of an intermediary.
CLICK HERE FOR FULL CURRENT AFFAIRS (Only for Course Members)