Current Affairs for IAS Exams - 20 September 2021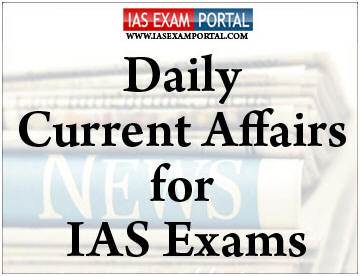 ---
Current Affairs for IAS Exams - 20 September 2021
::NATIONAL::
Guidance Note for Urban Riverfront Planning and Development
National Mission for Clean Ganga (NMCG)launches Guidance Note for Urban Riverfront Planning and Development.
About:
This guideline will help city planners across the Ganga River Basin, and the countryat large, understand how to integrate urban river fronts into a Master Plan.
NMCG has also been working with different stakeholders to make riversensitive urban master plans.
Earlier the NMCG published an Urban River Management Plan (URMP) for Ganga river.
The need of URMP has been underscored by the fact that any improvement in theriver's condition cannot be achieved without first addressing the issues inurban areas which includes.
CLICK HERE FOR FULL CURRENT AFFAIRS (Only for Course Members)
Key objectives:
Appraisal tool to support decision making on urban riverfront development based on environmental and social indicators
Informs project proponent, decision makers and other stakeholders about environmentally sensitive, climate adaptive and socially inclusive riverfront developments
Guidance to various service providers on design and planning and implementation of ecological URFD.
MusQan initiative
The Ministry of Health and Family Welfare launched MusQan.
About:
It aims to ensure provision of quality child-friendly services in public health facilities to reducepreventable newborn and child morbidity and mortality.
It targets children below 12 years of age. It is a new quality improvement initiative, within theexisting National Quality Assurance Standards (NQAS) framework.
NQAS have been developed keeping in the specific requirements for public health facilitiesas well global best practices.
NQAS are currently available for District Hospitals, CHCs, PHCs.
::INTERNATIONAL::
International Olympic Committee
The International Olympic Committee (IOC) has suspended North Korea until the end of 2022 after it failed to send a team to the Tokyo Games. 
CLICK HERE FOR FULL CURRENT AFFAIRS (Only for Course Members)
About:
The suspension means the country will miss out on the Beijing Winter Games.
North Korea did not send a delegation to the Tokyo Games, saying it wanted to protect its athletes from Covid-19. IOC President Thomas Bach said the North Korean Olympic Committee would not receive financial aid during the suspension. 
Bach added that the IOC reserves the right to make decisions on any individual North Korean athletes who qualify for Beijing 2022 and to reconsider the duration of the country's suspension.
At Rio Olympics 2016, North Korea had won two Golds, three Silvers and two Bronzes.
ICP Petrapole
A new Passenger Terminal Building (I) at ICP Petrapole was inaugurated on September 17th. This signals a major boost to modernization of border infrastructure and to further strengthen India's connectivity with Bangladesh. 
It has been built by the Land Ports Authority of India, the new PTB (I) is designed to handle around 550 passengers at any point of time.
About:
The largest land port in South Asia, ICP Petrapole is located along the international border between India and Bangladesh, at a distance of about 80 kms from the city of Kolkata.
Petrapole (India)-Benapole (Bangladesh) is an important land border crossing for India-Bangladesh both in terms of trade and passenger movement.
Nearly 30 percent of land-based trade between India and Bangladesh takes place through ICP Petrapole.
Since its operationalization in February 2016, the ICP has been witnessing an increasing number of passenger movement with an average of 22 lakh people crossing the border post on either sides each year.
LPAI is also in the process of constructing a new state-of-the-art Passenger Terminal Building (II) at ICP Petrapole which is planned to cater to half a million handling capacity. The construction work commenced in February 2020 and is expected to be completed by end of 2022.
::ECONOMY::
Rail Kaushal VikasYojana
Ministry of Railways launched RKVY, under the aegis of Pradhan Mantri Kaushal Vikas Yojana.
About:
Aim of RKVY is to impart training skills to the youth in various trades to bring qualitativeimprovement.
Candidates who are 10th passed and between 18-35 years shall be eligible to apply.
Training will be provided to 50000 candidates over a period of three years.
CLICK HERE FOR FULL CURRENT AFFAIRS (Only for Course Members)
::SCIENCE AND TECHNOLOGY::
Adaptive refresh rates
The recent iPhone 13 Pro range is offering a 120Hz high-refresh-rate display which Apple is calling ProMotion.
Refresh Rate:
Whether it is a TV, a PC monitor, or a smartphone, all devices constantly change the pixels they display to project the appearance of motion.
Simply put, refresh rate means how many times the image on a screen can be updated or "refreshed" every second – much faster than your eye can detect.
A 60Hz TV can refresh the screen 60 times per second, while a 120Hz on the iPhone 13 Pro can refresh the screen 120 times per second. The higher the refresh rate, the more times per second the screen is refreshing its pixels.
Adaptive Refresh Rate:
When a display has an adaptive refresh rate the refresh rate changes from 10Hz to 120Hz depending on the content being played — some Samsung phones offer between 48Hz and 120Hz.
So, a static website will be played at a 10Hz refresh rate and a game at a 120Hz refresh rate. This means there is little chance of under delivering or over delivering refresh rate.
CLICK HERE FOR FULL CURRENT AFFAIRS (Only for Course Members)