Current Affairs for IAS Exams - 20 September 2022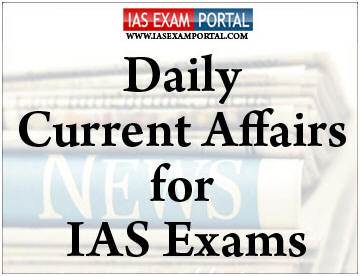 ---
Current Affairs for IAS Exams - 20 September 2022
::NATIONAL::
National Logistics Policy
Prime Minister Narendra Modi launches National Logistics Policy (NLP) recently. 
About:
The policy aims to ensure seamless movement of goods andservices across the country.
Cut elevated logistics costs, oftenconsidered the biggest structural bottleneckfor both external and internal trade, from13-14% to a single digit by 2030.
Break into top 25 in World Bank's GlobalLogistics Performance Index (Ranked 44thin last edition) by 2030.
Four major features of NLP are:
Integration of Digital Systems: To integratedifferent systems of various departmentsincluding road transport, railways, customs,aviation etc.
Unified Logistics interface Platform (ULIP):To bring all digital services related withtransportation sector on a single portal.
Improving Ease of Logistics (E-LogS): Adigital dashboard for registering,coordinating, and monitoring time-boundresolution of issues.
CLICK HERE FOR FULL CURRENT AFFAIRS (Only for Course Members)
Child Welfare Committee
Government has notified Juvenile Justice (Care and Protection Amendment) ModelAmendment Rules, 2022 that bar a person associated with an organization receiving foreignfunds to be a part of Child Welfare Committee (CWC).
About:
CWCs were established under Juvenile Justice (Care and Protection of Children) Act, 2015 forChildren in need and care of protection.
They are constituted for every district or group of districts by state government for care andprotection of children who are abused, exploited, abandoned or orphaned.
CLICK HERE FOR FULL CURRENT AFFAIRS (Only for Course Members)
::INTERNATIONAL::
India-Saudi Arabia Strategic Partnership Council
Union Minister of Commerce and Industry, Shri Piyush Goyal visited Saudi Arabia from 18th to 19th September 2022 to attend the Ministerial meeting of the India-Saudi Arabia Strategic Partnership Council. 
About:
The Strategic Partnership Council was instituted in October, 2019 during the visit of the Prime Minister of India to the Kingdom of Saudi Arabia and has two main pillars i.e., Political, Security, Social and Cultural Committee and the Committee on Economy and Investments.
The notable outcomes of the Ministerial Meeting are: 
Streamlining efforts to realize the announcement made by His Royal Highness Crown Prince Mohammad Bin Salman, during his visit to India in February 2019, of investments worth USD 100 Billion in India.
Endorsement of the 41 areas of cooperation identified by the technical teams under the 4 broad domains of Agriculture & Food Security; Energy; Technology & IT; and Industry & Infrastructure.
Agreement to undertake implementation of the priority projects in a time bound manner. Priority areas of cooperation include: 
CLICK HERE FOR FULL CURRENT AFFAIRS (Only for Course Members)
International Fund forAgricultural Development
A Global Forum highlighting the UN's Decade of Family Farming (UNDFF) got underway.
Aimed at identifying priority policies to boost support for family farmers and agricultural development worldwide.
About:
IFAD is an international financial institution and a specialized agency of United Nations (basedin Rome, Italy) dedicated to eradicating poverty and hunger in rural areas of developingcountries.
IFAD empowers rural people to increase their food security, improve nutrition and increasetheir incomes.
IFAD works in the area of agriculture, agricultural productivity.
It is focused on small-holder farmers.
CLICK HERE FOR FULL CURRENT AFFAIRS (Only for Course Members)
::ECONOMY::
Bogibeel Region
Union Minister of Ports, Shipping & Waterways (MoPSW), SarbanandaSonowal launched multiple projects for the development of the Bogibeel region near Dibrugarh in Assam.
About:
The Two floating jetties at Bogibeel in Dibrugarh district and Guijan in Tinsukia district will be constructed as state-of-art terminals using the most advanced & updated technology.
Both the jetties are being constructed by IWAI over the National Waterways - 2 (NW-2), popularly known as River Brahmaputra.
He also inaugurated Bogibeel Riverfront Passenger Jetty which has been developed by the Northeast Frontier Railways (NFR) as part of Riverfront Development near the Bogibeel bridge.
The Bogibeel Bridge is a combined road and rail bridge over the Brahmaputra River in the northeastern Indian state of Assam between Dhemaji district and Dibrugarh district.
::SCIENCE AND TECHNOLOGY::
Merge software
The Ethereum blockchain slashes energy use with 'Merge' software upgraderecently. 
About:
Merge is a software upgrade, aimed at slashing energy consumption, to the way transactions arevalidated on Ethereum (a cryptocurrency) blockchain.
It moves the network from proof-of-stake (PoS) system to proof-of-work (PoW) system, whichis designed to be more environmentally sustainable and faster.
PoS and PoW are consensus mechanisms to validate transactions on blockchains.
PoW consumes more energy since it allows all miners on a network to try and validate atransaction.
CLICK HERE FOR FULL CURRENT AFFAIRS (Only for Course Members)