Current Affairs for IAS Exams – 21 May 2016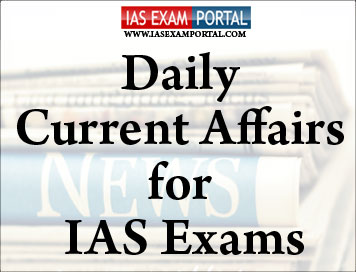 ---
Current Affairs for IAS Exams – 21 May 2016
---
:: NATIONAL ::
Union brings ordinance against SC NEET order
Facing pressure from the State governments, the Union Cabinet cleared an ordinance bypassing the Supreme Court's decision on the National Eligibility-cum-Entrance Test (NEET), a common test for admission to medical and dental courses.

Nearly 6.5 lakh candidates are to appear for the second round of the test, which is to be held on July 24.

Health Minister J.P. Nadda will meet President Pranab Mukherjee to brief him on the ordinance that, once it comes into effect, will override the apex court's May 9 order and allow the State boards to hold their own entrance tests this year.

Sources in the Health Ministry maintain that the exception is only for this academic session. "From next year, students will have a common entrance test nationwide,".
Bangalore-based Medgenome committed to sequence 100,000 Asian genomes
In a move to create one of the largest repositories of Indian genomes, Bangalore-based Medgenome has teamed up with a Southeast Asian consortium that has committed to sequence 100,000 Asian genomes.

This could mean a consolidated storehouse of at least 30,000 Indian genomes and could help understand the wide genetic variety in India's various ethnic groups and midwife customised medications for cancer and heart disease, as well as identify possible new genetic aberrations that cause untreatable diseases.

Ever since the human genome was first sequenced in 2003, that is the entire DNA pattern in the cell that lends people their unique identity was deciphered, several countries have announced initiatives to map genomes of their resident populations.

The so-called 1000 Genomes project is a collection of gene samples from across the world to capture the variety of genes that are typical to different population groups.

The United Kingdom announced a plan in 2014 to create a bank of 100,000 genomes in the nation and 100,000 Asia genomes project — called GenomeAsia 100K — echoes similar ambitions.

The project will develop in phases with an initial 1000 genomes, consisting of India and East Asian populations, sequenced within this year, and the entire database to be ready by 2020. Medgenome already has a bank of 200 Indian genomes.

The project will cost $120 million, though only about half of that has been firmed up. Other key collaborators in the project are Singapore's Nanyang Technological Institute, Singapore, and Macrogen, a genetics diagnostic company in Seoul.

Nearly 60 petabytes of data — equivalent to 30 trillion pages of text — are expected to be churned out in this study. Though all this data would be publicly available to researchers, access to it would be staggered.

Though human genome sequencing is a frontier area of biotechnology, it was prohibitively expensive.

Technology advancement has made prices dramatically drop, enabling several companies to offer genome sequencing services.

While many diseases are linked to genes going awry, afflictions such as diabetes, cardiovascular diseases, cancer, etc., are usually the result of several genes malfunctioning, and often in a domino-like effect.

Identifying such culprits is impossible without comparing genes, across individuals and population groups, in large numbers.

Thus BRCA 1 and BRCA 2 — genes associated with breast cancer — are found in as many as one-third of women.

Several of them go on to live without ever contracting the cancer. These genes come in several varieties that can vary on the level of families as well as ethnicities. Genome sequence studies are effective in studying such variations.
:: INTERNATIONAL ::
Wreckage from EgyptAir plane found in Mediterranean
Egypt found wreckage, including seats and luggage, from the EgyptAir plane that crashed in the Mediterranean, as investigators tried to unravel the mystery of why it swerved and plummeted into the sea.

Search teams spotted personal belongings of passengers and parts of the Airbus A320 about 290 km north of Egypt's coastal city of Alexandria.

The country's Aviation Minister has said a "terrorist attack" was a more likely cause than technical failure for the plane's disappearance on a flight from Paris to Cairo with 66 people on board.

The tragedy raised fears of a repeat of the bombing of a Russian passenger jet by the Islamic State (IS) over Egypt last October that killed all 224 people on board.

Relatives of some of the passengers and crew met EgyptAir officials and later gathered at a hotel near Cairo airport to exchange information.

The plane disappeared between the Greek island of Karpathos and the Egyptian coast in the early hours of Thursday, without its crew sending a distress signal.

It had turned sharply twice in Egyptian airspace before plunging 22,000 feet (6,700 metres) and vanishing from radar screens, said Greek Defence Minister Panos Kammenos.

A multinational operation involving aircraft and ships has been launched to find the plane.

Fifteen French citizens, a Briton and at least one Canadian were among 26 foreigners on the plane.

The disaster also entered the U.S. presidential election campaign, where national security is a prominent issue.
Sri Lanka facing big floodproblem
India has dispatched military ships and an aircraft with rescue and relief material to Sri Lanka, where torrential rains and landslides have resulted in several deaths and massive devastation over the last few days.

Two Navy ships — one Naval Offshore Patrol INS Sunayna and one survey ship INS Sutlej — had set sail from Kochi with 30-40 tonnes of relief material and are scheduled to reach Colombo harbour on May 21 during the morning hours.

In addition to providing the relief material, India would also be participating in the rescue and relief efforts, the officer added. The Navy has also kept two Dornier aircraft on standby in Kochi for any emergency requirement.

Sri Lankan President Maithripala Sirisena had said that his government had appealed to friendly nations to provide whatever possible assistance for the supply of relief materials and construction of houses.

Terming the flood situation "disastrous", the President said the Foreign Ministry briefed diplomats of the present status. He also thanked those countries that had come forward to help Sri Lanka.

According to a report by the government's Disaster Management Centre on Friday morning, the number of deaths stood at 64, of which 35 were in Kegalle district where a huge landslide occurred.

Totally, 4.27 lakh people were affected and about 3.2 lakh removed to safe locations.
:: INDIA and WORLD ::
India in favour of a fair and reasonable settlement of boundary question
Ahead of his visit to China, President Pranab Mukherjee said on Friday that India was in favour of a "fair, reasonable" and mutually acceptable settlement of boundary question.

Talking to state-run Chinese Central Television (CCTV) and Xinuha news agencies, the President spoke on various issues including India's concerns on terrorism, bilateral trade and cultural and educational exchanges.

Mr. Mukherjee said India would like to expand and diversify its engagement with China across various fields while "proactively addressing outstanding issues" including the boundary question.

"Both sides should strive to ensure that the outstanding issues are addressed in a manner that demonstrates mutual sensitivity to each other's concerns and aspiration," he said.

Only then can "we ensure that these differences will not come in the way of continued development of bilateral relations."
:: Business and Economy ::
FM reiterates need for greater competition sectors such as public transport
There is a need to ensure greater competition in the country in sectors such as public transport, railways and power distribution, which are dominated by the public sector, to ensure better products and services, said Finance Minister.

"Competition is at the heart of a market economy. Socialism, per se, is anti-competitive as it promotes state-owned monopolies and restrictions. That is never in the consumer interest. It is always competition which ensures that the best product and service wins," he said

Turning to the public transport in states where government-owned companies enjoy a monopoly, he said the Centre wants to free this sector up for competition and will work with the state governments on the matter.

Referring to state government-owned power distribution companies, he said they were the third-largest contributor to bad loans - mostly due to the populist policies adopted by the state governments to score political brownie points.

Opening up the power distribution to competition is an important reform that must be done soon, Mr. Jaitley said.
Money earned through corrupt practices not with in black money scheme
Persons who have earned money through corrupt practices cannot take advantage of the domestic black money disclosure scheme, says the Finance Ministry's FAQ on Income Declaration Scheme issued.

The four-month window which opens on June 1 provides an opportunity to people having undisclosed income to come clean by paying tax, penalty and surcharge totalling 45 per cent of fair market value.

The 14 Frequently Asked Questions (FAQs) further said declarations made will remain confidential as in the case of return of income filed by an assessee.

The declarant, it further said, will be liable for capital gains tax on sale of such assets in future.

On a question whether a person can declare undisclosed income which has been acquired from money earned through corruption, the FAQ said "No."

The scheme will not apply in relation to prosecution of any offence punishable under the Prevention of Corruption Act, 1988.

As per the FAQ, if a declaration is held as void, the provisions of the Income Tax Act will apply in respect of such income as they apply in relation to any other undisclosed income.
:: Sports ::
India loses to China in Uber cup
India's women's badminton team had to be content with a second straight bronze medal after being crushed by China 3-0 in the semifinals of the Uber Cup.

India, which lost to Japan in the 2014 edition in the semifinals, failed to show some resistance against the invincible Chinese, who wrapped up the tie in just three matches.

India's hopes fizzled out as Saina Nehwal failed to win her match against reigning Olympic champion Li Xuerui.

World No. 3 Xuerui's 21-15, 12-21, 21-17 triumph in an hour and four minutes over Saina decimated Indian dreams at the Kunshan Sports Centre.

In the next contest, double World Championship bronze medallist P.V. Sindhu lost to world No. 6 Wang Shixian 13-21, 21-23 in 50 minutes as China took a 2-0 lead.
Sources: Various News Papers & PIB