Current Affairs for IAS Exams - 21 may 2019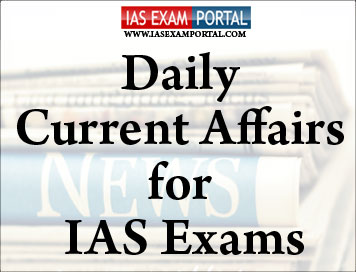 Current Affairs for IAS Exams - 21 May 2019
::NATIONAL::
Opposition to meet EC over addressing of mismatch between VVPAT and EVM
Leaders of Opposition parties will meet Election Commission (EC) officials on Tuesday to urge the panel to spell out the mechanisms to address any mismatch between voter-verified paper audit trail (VVPAT) and electronic voting machine (EVM) tallies during the counting of votes on Thursday.
The Commission will counter-check the VVPAT and EVM tallies in five randomly selected polling stations in an Assembly segment.Earlier this month, the Supreme Court dismissed a review petition filed by 21 Opposition parties for verification of tallies in at least 25% of the booths.
Opposition leaders earlier met the panel seeking details of what it planned to do if any discrepancy cropped up during the random counter-check. The EC at the time promised to come up with detailed guidelines.
"On VVPAT and EVM tallies, the EC is yet to come out with a procedure in case there is a mismatch. Even if there is one mismatch in the VVPAT samples picked for counting and EVMs, to maintain integrity of the electoral process, all VVPATs in that Assembly segment must be counted," Mr. Yechury said.
The Opposition parties expressed confidence that the exit polls did not reflect the actual result. The agenda of the meeting would include discussions on the way forward after the results.
India to block UN panel on Human rights over submission of J & K reports
Reacting angrily to a submission from the Geneva-based Human Rights Council (HRC) on alleged violations in Jammu and Kashmir, India has informed the United Nations body that it will no longer entertain any communication with the HRC's Special Rapporteurs on its report.
The report from the UN body came at the same time as a report from two NGOs in Jammu and Kashmir on alleged cases of torture, was released in Srinagar, which was endorsed by a former UN Special Rapporteur.
Rejecting all the claims, the Indian Permanent Mission to the United Nations in Geneva replied to the OHCHR on April 23, saying that "India does not intend to engage further with these mandate holders or any other mandate holders on the issue," whom it accused of "individual prejudice"
India had also rejected the OHCHR's report on the "Situation of Human Rights in Kashmir" the first ever such report on J&K that came out in June 2018 and accused the High Commissioner of Human Rights Zeid Ra'ad Al Hussein of "clear bias" in bringing it out.
"This report will constitute a landmark. It is hoped it will be an example to other civil society organizations in India and in other countries as a model," wrote Juan E. Mendez, former UN Special Rapporteur on Torture (2010-16), in the report's preface, adding that he had been denied permission to visit India.
::ECONOMY::
PM economic advisory council wants new government to liberalise agriculture
The government that comes to power should focus on agriculture by removing all restrictions placed on the sector in terms of sale, purchase, and exports, former member of the Prime Minister's Economic Advisory Council Surjit Bhalla said. He further said that the new government should reduce the cost of capital in the country to boost investment and growth.
"Every country that has conducted large scale reforms, has reformed agriculture first," Mr. Bhalla said, speaking at a FICCI event. "In India, the Agricultural Produce Market Committee (APMC) says that farmers can only sell in the mandis and need a licence to sell in the mandis."
Mr. Bhalla said that there were powerful interest groups that ensured this system did not change, and also questioned whether the Minimum Support Price system was helping the poor farmers.
"There should be zero intervention in agriculture," he said. "Farmers should be allowed to buy, sell, and export whatever."Mr. Bhalla said that India's potential economic growth rate was 8-8.5%, but several factors had meant that this had not been achieved.
"India has the second highest corporate tax rate in the world. Taxes paid by corporates as a proportion of their profits are 24% in India, compared to 15-16% in large economies around the world."
No additional seats likely for foreign aircrafts
India is unlikely to grant additional seats to foreign carriers, over and above the numbers agreed to under bilateral pacts, even though Indian expatriates in some of these countries are facing the prospect of having to pay sharply steeper airfares during the peak travel season this year following the grounding of Jet Airways.
It is reliably learnt that authorities in the UAE have written to the Indian government requesting additional capacity for its Dubai-based airlines Emirates and FlyDubai. Qatar Airways, too, announced last week that it had approached Indian authorities for more seats on high volume routes such as Delhi, Mumbai and Bengaluru on a temporary basis.
"Emirates made an offer to temporarily enhance capacity but I believe Civil Aviation Ministry will give preference to domestic carriers," a senior official of the Ministry of External Affairs (MEA), who declined to be identified, confirmed.
Government officials, however, are worried that the failure to ramp up capacity on routes to West Asia will impact not just tourists, but also Indian workers based there.
For example, an economy airfare for a Mumbai-Dubai flight on May 18 had risen to as much as Rs. 22,913 when booked 30 days before departure. This was about three times the fare that had been available for the same travel period last year, according to Yatra.com.
"The requests have been made so that the demand between the two countries could be satisfied to ensure fares don't go out of control," said an airline executive.
::INTERNATIONAL::
Indian and Pakistan to meet at SCO at Bishkek
For the first time, since the Pulwama terror attack and the Balakot airstrikes, Indian and Pakistani Foreign Ministers will together attend a ministerial meeting under the Shanghai Cooperation Organisation (SCO) in Bishkek, Kyrgyz Republic, on May 21-22.
The meeting will be attended by External Affairs Minister Sushma Swaraj, along with the Foreign Ministers of SCO member states, including Pakistan.
In keeping with the evolving developments, Shah Mahmood Qureshi, Pakistan's Foreign Minister told the media on Monday that career diplomat Moinul Haq will be the new High Commissioner of Pakistan to India. Pakistan had not appointed a new envoy since the tenure of the previous incumbent Sohail Mahmood ended in mid-April.
This is also the first meeting since India successfully ensured a global blacklisting of Jaish-e-Mohammed head Masood Azhar. India had blamed JeM for being behind the Pulwama attack.
The Regional Anti-Terrorist Structure of SCO has emerged in the last few years as an important platform where terrorism and security-related problems are discussed among member countries. India and Pakistan have participated in the multilateral military exercises.
The meeting acquires significance as it comes in the backdrop of an expanding U.S.-China trade war and the energy shock to several of the member countries after the U.S. administration ended waiver for energy trade with Iran.
Ukraine to for snap elections before parliament term ends
Ukraine's new President Volodymyr Zelensky used his inaugural speech on Monday to call snap parliamentary polls after shooting to power in a country wracked by a separatist conflict and severe economic problems.
The 41-year-old comedian was sworn in as Ukraine's youngest post-Soviet President a month after scoring a landslide victory over Petro Poroshenko with a campaign capitalising on widespread public discontent with the political establishment.
Mr. Zelensky announced his first priority was ending the five-year conflict with Moscow-backed separatists in the industrial east that has claimed over 13,000 lives. He announced he would dissolve Parliament in order to call early elections, originally scheduled for October.
Mr. Zelensky also called for the sacking of the head of the state security service, Prosecutor General and Defence Minister loyal to his predecessor, although this has to be approved by Parliament.
::SCIENCE & TECHNOLOGY::
World gets redefined units for standard measurements
After decades of ground-breaking laboratory works, the world's scientific and technical community, in a landmark and historic decision taken in the recent open session of the General Conference on Weights and Measures (CGPM) at BIPM on 16 November 2018, has unanimously adopted the resolution to redefine four of the seven base units, the kilogram (SI unit of weight), Kelvin (SI unit of temperature), mole (SI unit of amount of substance), and ampere (SI unit of current).
This decision has now enabled scientists and researchers to base the SI units entirely on fundamental properties of nature, which will ensure their ongoing refinement and improvement for years to come.
The fundamental constants are invariants of time and space and successfully replaced the artifact based units, and aptly opened up the new era for quantum world by linking all seven base units to fundamental constants/quantum standards.
The whole metrology world, especially the National Metrology Institutes (NMIs) are celebrating this year's WMD as mark for the new beginning of metrology, based on constant of nature on a large scale.
CSIR-NPL, the NMI of India have kept the strides going in these fields and started the R&D efforts in establishing the new SI, alongside the international implementations from 20th May 2019.
::SPORTS::
Ashish kumar to lead India in global gymnastics championship
A three-member team led by 2010 Asian Games bronze medallist Ashish Kumar will represent India at the second World Challenge Cup Series gymnastics tournament in Osijek, Croatia from May 23 to 26.
Besides Ashish, the Indian contingent will also have Rakesh Kumar Patra and Shraddha Talekar.
The World Challenge Cup is a major FIG event with a broader participation of 110 gymnasts from 30 different countries.