Current Affairs for IAS Exams - 21 July 2021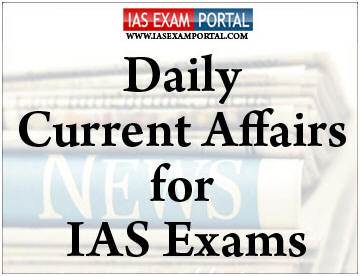 ---
Current Affairs for IAS Exams - 21 July 2021
::NATIONAL::
India's Inequality Report 2021
The "Inequality Report 2021- India's recently unveiled by Oxfam International. 
About:
The report says that the absence of universal health coverage has starkly and disproportionately affected marginalised groups at a time when socio-economic inequalities in India are growing because of the Covid-19 pandemic.
While 65.7 per cent of the households belonging to the general category have access to improved, non-shared sanitation facilities, only 25.9 per cent ST households have better, non-shared sanitation facilities. 
Also, 12.6 per cent more children are stunted in SC households than those in general category homes. And, the chances of a child dying before the age of five are three times higher for the bottom 20 per cent of the population compared to the top 20 per cent. 
The Oxfam India report also finds that institutional births and access to food supplements under the Integrated Child Development Services (ICDS) are 10 per cent less for Muslim households as compared to Hindu households; and 8 per cent less children are immunised in Muslim households.
Startup India Showcase
As many as 104 startups from different sectors have been registered on the Startup India Showcase platform.
About:
An online discovery platform by Ministry of Commerce and Industry for the most promising startups of the country.
It provides unique visibility to startups through a profile page with detailed pitch about their product and innovation.
It offers various social and digital connect opportunities.
It serves as an all-star repository as the platform contains startups that have already proved their capabilities.
CLICK HERE FOR FULL CURRENT AFFAIRS (Only for Course Members)
::INTERNATIONAL::
Monkey B virus
China has reported the first human infection case with Monkey B virus (BV).
About:
The virus, initially isolated in 1932, is an alpha herpes virus in macaques of the genusMacaca.
Alpha Herpes viruses are pathogens that invade the nervous systems of their mammalian hosts.
The infection can be transmitted via direct contact and exchange of bodily secretions of monkeys.
Currently, there are no vaccines that can protect against Monkey B virus infection.
Maglev train
China unveiled a maglev train capable of a top speed of 600 kph.
About:
The maximum speed would make the train, self-developed by China and manufactured in the coastal city of Qingdao, the fastest ground vehicle globally.
Using electro-magnetic force, the maglev train "levitates" above the track with no contact between body and rail.
China has been using the technology for almost two decades on a very limited scale. Shanghai has a short maglev line running from one of its airports to town.
::ECONOMY::
Beta Titanium Alloy
Defence Research and Development Organisation (DRDO) has indigenously developed a 'High Strength Metastable Beta Titanium Alloy.
About:
It containing Vanadium, Iron and Aluminium, Ti-10V-2Fe-3Al (non-ferrous near-beta titanium alloy) on industrial scale for applications in aerospace structural forgings.
Designed and developed by DRDO's Hyderabad-based Defence Metallurgical Research Laboratory (DMRL), the state-of-art alloys have been in use by many developed nations in recent times as a beneficial and cost-effective substitute for the relatively heavier traditional Ni-Cr-Mo structural steels to achieve weight savings.
Understanding the technology:
The homegrown high strength titanium alloy is used in intricately configured components for aerospace applications. 
The higher strength, ductility, fatigue, and fracture toughness of the titanium alloy can replace steel and can lead to considerable weight savings. The components which may be forged from Beta Titanium Alloy include slat/flap tracks, landing gear, and drop link in landing gear among several others.
The high strength beta titanium alloys are unique due to design and durability, which makes them increasingly attractive for aircraft structural applications.
Further, the lifetime cost of these are lower owing to their superior corrosion resistance as compared to steel
Notably, DMRL carried out a rigorous raw material selection, alloy melting, ultrasonics-based Non-Destructive Evaluation (NDE), thermo-mechanical processing, heat treatment, type certification and mechanical characterization along with active collaboration with several organisations.
::SCIENCE AND TECHNOLOGY::
AMLEX
Researchers at the Indian Institute of Technology (IIT), Ropar have developed a first-of-its-kind device that can regulate the flow of medical oxygen from cylinder during inhalation and exhalation by a patient, thereby reducing wastage.
About:
The device supplies a required volume of oxygen to a patient during inhalation and trips when the patient exhales, thereby saving the flow of oxygen at that time.
AMLEX is a system developed specifically for oxygen cylinders. It synchronises the flow of oxygen with inhalation and exhalation of a patient. This conserves a large amount of oxygen in the reservoir.
The device can operate on both portable power supply (battery) as well as line supply (220V-50Hz).
The device can be easily connected between the oxygen supply line and the mask worn by a patient.
It uses a sensor which senses and successfully detects inhalation and exhalation of the user in any environmental condition.
 CLICK HERE FOR FULL CURRENT AFFAIRS (Only for Course Members)