Current Affairs for IAS Exams - 21 November 2020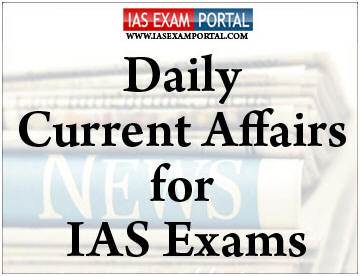 ---
Current Affairs for IAS Exams - 21 November 2020
---
::NATIONAL::
---
Virtual court and e-challanproject
---
The Assam government recently launched Virtual Court (traffic) and e-Challan project.
About:
E-challan solution is an initiative of the Union Ministry of Road Transport and Highways (MoRTH) whereas the software has been developed by National Informatics Centre (NIC). 
It will replace the present concept of manual challan with an electronically generated digital challan.
Virtual court:
Virtual court is an initiative of E-Commitee of Supreme Court along with Department of Justice, Ministry of Law and Justice, Government of India.
Virtual Court is an online court being managed by Virtual Judge (which is not a person but an algorithm) whose jurisdiction can be extended to entire state and working hours may be 24X7. 
Salient features of the court:
There is no brick and mortar building of the court. 
In a trial by Virtual Court, neither litigant shall come to the court nor will Judge have to sit physically in the court to adjudicate the case. 
The communication may only be in electronic form and the sentencing and further payment of fine or compensation will also be online. 
Only single process is allowed and there can be no argument. It may be proactive admission of guilt by the accused or proactive compliance of the cause by defendant on receipt of the summons in electronic form. 
On payment of Fine, such matters may be treated as disposed off. Citizen neither have to wait in lines in courts nor have to confront Traffic Police man. 
It will increase productivity of citizen as well as judicial officers. 
It will promote greater accountability and less corruption in Traffic Police Department thus bettering life of people. 
National Newborn Week 2020
---
Union Health Minister Dr. Harsh Vardhan today chaired an event to mark the National Newborn Week 2020.
It is being observed from 15th to 21st November.
Key highlights:
It aims to reinforce the importance of newborn health as a key priority area of the health sector and to reiterate the commitment at the highest level.
This year, the theme of National Newborn Week is 'Quality, Equity, Dignity for every newborn at every health facility and everywhere. 
The country is now at newborn mortality of 23 per 1000 live births as per Sample Registration System 2018 and United Nations Inter-Agency Group for Child Mortality Estimation estimates.
CLICK HERE FOR FULL CURRENT AFFAIRS (Only for Course Members)
---
::ECONOMY:: 
---
Meghalaya IntegratedTransport Project
---
India and World Bank signed 120 million USD loan to modernise transport sector in the state of Meghalaya.
The project aims to improve 300 km of strategic road segment through climate resilient and nature-basedsolution.
Project will tap into Meghalaya's growth potential in two ways:
Within the state, it will provide the much-needed transport connectivity.
It will also position Meghalaya as a major connecting hub for international trade through the Bangladesh,Bhutan, India, and the Nepal Corridor.
CLICK HERE FOR FULL CURRENT AFFAIRS (Only for Course Members)
---
---
::INTERNATIONAL::
---
Five Eyes alliance
---
It is an alliance comprising Australia, Canada, New Zealand, UK and US.
It is a long-standing alliance where the intelligence agencies of these respective five countries share signal,military and human intelligence among themselves.
The alliance has urged China to reconsider its actions on disqualifying Hong Kong's elected legislators.
India ranks 77 in global bribery risk matrix
---
India is at 77th position with a score of 45 in a global list that measures business bribery risks of 2020.
About:
It is released by TRACE, world leading anti-bribery standard setting organization.
India ranked 77th among 194 countries. India has performed better than China, Pakistan, Bangladesh and Nepal.
North Korea presents the highest commercial bribery risk, while Denmark the lowest. 
Score is calculated based on four parameters. These are
Government and civil service transparency.
Business interactions with government.
Capacity for civil society oversight.
Anti-bribery deterrents and enforcement.
---
::SCIENCE & TECHNOLOGY::
---
Antimalaria drug resistance
---
Malaria killed 405,000 people in 2018 and affected 218 million people. However, the fight against this killer is becoming difficult due to the growing resistance against malarial drugs.
Key highlights:
The report, released as part of the ongoing World Antimicrobial Awareness week, was prepared on the basis of studies conducted from 2010-2019.
Artemisinin-based combination therapies (ACTs) are the first and second line of treatment for malaria caused by Plasmodium falciparum (P falciparum). This parasite causes a majority of malarial cases in the WHO's African and South-East Asian regions, the hubs of the disease.
A global database containing data from 1,046 studies conducted from 2010-2019 and involving 65,749 patients was analysed for the section of the report on P falciparum.  
ACTs are combined with other drugs. The role of the artemisinin compound is to reduce the number of parasites during the first three days of treatment (i.e reduce parasite biomass).
The role of the partner drug is to eliminate the remaining parasites (i.e cure the infection). Six ACT combinations are usually prescribed. 
According to the new WHO report, ACTs remain efficacious across the world, by and large. Wherever treatment failures were observed, policy changes were introduced.  
CLICK HERE FOR FULL CURRENT AFFAIRS (Only for Course Members)
---
Sports
---
ICC postpones women's T20 World Cup 
---
The South African edition of the Women's T20 World Cup was postponed by three months to February 2023 to avoid a cluster a big-ticket events in 2022 and manage players' workload.
The tournament was scheduled in November 2022 but will now be held in February 2023 notified by International Cricket Council (ICC).
It will provide a better workload balance for players giving them the best possible opportunity to perform to the highest levels on a global stage.
---
---
---
---
---