Current Affairs MCQ for UPSC Exams - 21 April 2021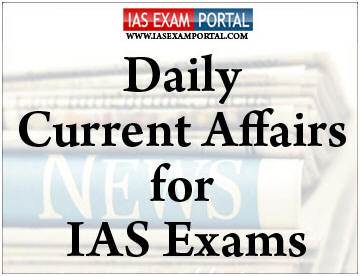 ---
Current Affairs for IAS Exams - 21 April 2021
::NATIONAL::
Migrant workers treated as 'outsiders'
National Human Rights Commission (NHRC) study on the social security and health rights of migrant workers says that this politically invisible section of the society doesn't get access to even basic facilities and they are looked upon as outsiders or second class citizens in the host states.
The human rights body's study has come at a time when India is witnessing the second wave of Covid-19 infections and there are reports of migrant workers beginning to return home from their places of work.
As part of the study, commissioned by NHRC and carried out by 'Kerala Development Society', the researchers interviewed around 4,400 migrant workers, local workers, employers/contractors, state government officials, elected representatives, scholars, experts, NGO representatives, trade unions members across four states/UTs, Delhi, Maharashtra, Gujarat, Haryana, all of which house a large number of workers from West Bengal, Assam, Bihar, Uttar Pradesh, Odisha, Jharkhand and Chhattisgarh.
Most of the migrant workers who come to Delhi, Maharashtra, Gujarat and Haryana work in low income and high-risk sectors such as construction, heavy industry, transport, services, and agriculture, and have poor access to health services, social protection, education services, housing and sanitation, food, water and other utilities.
Demographic advantage
A report released by the People's Bank of China (PBOC), China's central bank, said that China should immediately liberalise its birth policies to tackle the problems of an ageing population and plan to compete economically with a demographically young India and an immigration-friendly US.
Key highlights:
In a detailed section on India, the report said the gap between the two countries is narrowing.
China's economic growth has been faster than India's for a long time but in recent years, China's demographic dividend fading, India's economic growth has tended to approach China's.
In a rare frank assessment, it added that China's ageing population and the declining birth rate will become more serious in 10 years while India's demographic structure will be further optimised.
India's labour force will exceed China's by hundreds of millions in the years ahead. "By 2050, this advantage will continue to grow.
Not only will India have a much narrower elderly population at the top and a much wider workforce in the middle, but it will also have a wider workforce at the bottom, indicating a more abundant workforce and greater growth potential beyond 2050.
The report continued saying that since India's demographic advantage is expected to grow for at least the next three decades, the gap between China and India will narrow, provided that appropriate political and economic measures are taken.
About the US, the report noted how the US benefits from immigration even as China's population ages. Advocating to reverse the trend, the report said, China should realise that education and technological progress cannot compensate for the decline in population.
CLICK HERE FOR FULL CURRENT AFFAIRS (Only for Course Members)
::INTERNATIONAL::
Cities combating plastic entering the marine environment
The Ministry of Housing and Urban Affairs (MoHUA), Government of India and Deutsche Gesellschaft für Internationale Zusammenarbeit (GIZ) GmbH India on behalf of the German Federal Ministry of Environment, Nature Conservation and Nuclear Safety signed an agreement on Technical Cooperation titled 'Cities Combating Plastic Entering the Marine Environment' at a virtual ceremony in New Delhi.
This project is envisaged under the contours of the Joint Declaration of Intent regarding cooperation in the field of 'Prevention of Marine Litter' signed between Republic of India and Federal Republic of Germany in 2019.
The project, aimed at enhancing practices to prevent plastic entering the marine environment,will be undertaken at the national level (at MoHUA), select states (Uttar Pradesh, Kerala and Andaman & Nicobar Islands) and in the cities of Kanpur, Kochi and Port Blair for a period of three and a half years.
The new project is envisaged to be another successful collaborative effort under the Indo-German Bilateral Development Corporation working on sustainable urban transformation.
Black Sea
Recently, Russia beefed up warship presence in Black Sea at a time of tense relations with West and Ukraine.
Black Sea is an inland sea between southeastern Europe and the Anatolianpeninsula (Turkey).
It is connected to the Atlantic Ocean via the Mediterranean and Aegean Seas and various straits.
Bosphorus strait connects it to the Sea ofMarmara, and strait of the Dardanellesconnects it to the Aegean Sea region of theMediterranean.
To the north, it is connected to the Sea of Azov By the Kerch Strait.
::ECONOMY::
Startup India Seed Fund Scheme
Commerce and Industry Minister has launched the Startup India Seed Fund Scheme (SISFS).
The fund aims to provide financial assistance to startups for proof of concept, prototype development, product trials, market entry and commercialization.
An amount of 945 crore rupees corpus will be divided over the next 4 years for providing seed funding to eligible startups through eligible incubators across India.
The scheme is expected to support an estimated 3,600 startups through 300 incubators.
It will secure seed funding, inspire innovation, support transformative ideas, facilitate implementation, and Start startup revolution.
This scheme will create a robust startup ecosystem, particularly in Tier 2 and Tier 3 towns of India, which are often deprived of adequate funding.
::SCIENCE AND TECHNOLOGY::
SpO2
Defence Research and Development Organisation (DRDO) has developed SpO2 (Blood Oxygen Saturation) supplemental Oxygen Delivery System for soldiers posted at extreme high-altitude areas.
The system delivers supplemental oxygen based on the SpO2 levels and prevents the person from sinking in to a state of Hypoxia, which is fatal in most cases, if sets in. This automatic system can also prove to be a boon during the current Covid-19 situation.
About:
Hypoxia Is a state in which the amount of oxygen reaching the tissues is inadequate to fulfill all the energy requirements of the body. This is exactly the situation that gets replicated in a Covid patient due to the virus infection and has been a leading factor in the current crisis.
The electronic hardware of the system is designed for functioning at extreme altitudes featuring low barometric pressures, low temperatures and humidity. The software safety checks incorporated into the system are critical in ensuring the functional reliability of the system in field conditions.
The system reads SpO2 levels of the subject from a wrist-worn pulse oximeter module through wireless interface and controls a proportional solenoid valve to regulate the oxygen supply to the subject. The oxygen is delivered from a lightweight portable oxygen cylinder through nasal nares.
The system is available in various sizes from one litre and one kg weight with 150 litres of oxygen supply to 10 litres & 10 kg weight with 1,500 litres of oxygen supply which can sustain for 750 minutes with a continuous flow of two liters per min (lpm).
Since the system is indigenously developed for operation in field conditions, it is unique with its dual qualities of being robust & cheap and is already in bulk production with the industry.
The system is a boon in the current pandemic as it can be used in the household for moderate Covid patients for Oxygen flow therapy with flow controlled at 2/5/7/10 lpm flow. The automatic usage has huge advantage in the household, as the oximeter would give an alarm for lower SpO2 value.
It will automatically increase/decrease the O2 flow based on SpO2 setting which can be auto adjusted at 2, 5, 7, 10 lpm flow rate. The optimal O2 flow rate conserves the O2 resources/O2 management and greatly increases the endurance.
 CLICK HERE FOR FULL CURRENT AFFAIRS (Only for Course Members)