Current Affairs for IAS Exams -21 January 2023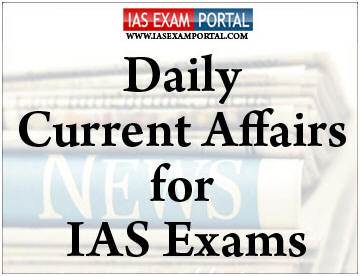 ---
Current Affairs for IAS Exams - 21 January 2023
::NATIONAL::
New Plateau in the Western Ghats
Researchers have discovered a rare low-altitude basalt plateau in the Western Ghats that could offer new insights into surviving climate change. 
Key highlights:
The plateau has a widespread flora with 76 species of plants and shrubs from 24 different families discovered so far.
It is one of the four global biodiversity hotspots in India and can prove to be a repository of information for species interactions.
Researchers believe that the plateau can help study the effects of climate change on species survival.
The plateau was discovered in Manjare village of Maharashtra's Thane district and is the fourth type of plateau to be identified in the region; the previous three are laterites at high and low altitudes and basalt at high altitudes.
About Plateaus:
Plateaus are dominant landscapes in Western Ghats. They are classified as a type of rocky outcrop.
Rocky outcrops are geological features that protrude above the surface of surrounding land.
They are formed by weathering that happens at different rates, causing the less weathered rock to remain exposed.
They are found on all continents, in most climate zones and vegetation types.
Chargesheets need not be put in public domain
The Supreme Court held the state is not obliged to provide the public free access to chargesheets by uploading them on police or government websites.
A Bench of Justices M.R. Shah and C.T. Ravikumar declared chargesheets to be "private documents".
The Supreme Court said that the chargesheet filed by investigating agencies in a criminal case in court is not a public document which could be directed to be put in public domain by uploading it on a website and also it cannot be revealed under Right to Information Act.
About Chargesheet:
As per Section 173 of Code of Criminal Procedure (CrPC), a charge sheet is a report generated by police officers after investigating a case.
It contains all the stringent records right from the commencement of investigation procedure of lodging an FIR to till the completion of investigation and preparation of final report.
It contains the names of the people brought in the custody, the charges they are brought in for and the identity of the accusers.
Once the charge sheet has been submitted to a court of law, prosecution proceedings against the accused begin.
It is to be filed within 60 days from the date of arrest of the accused in cases triable by lower courts and 90 days in cases triable by Court of Sessions.
If the charge sheet is not filed within the prescribed time mentioned above, the accused has a right to default bail.
A charge sheet is distinct from the First Information Report (FIR).
::INTERNATIONAL::
Eurasian Region 
Severalcountries includingJapan, South Korea,Australia etc. havetaken initiativessuggesting a growingfocus over betterrelationship betweenEuropean and Asiancountries.
About:
Geographically represented by Eurasian Plate, covering most of Europe andAsia, there is a lack of an agreed international understanding of whatconstitutes the region
New dynamics in the Eurasian region:
As Russia and China unveiled a Eurasian alliance this led to strengthening ofWestern alliance in Europe.
It also provided the basis for a new kind of alliance between China's EastAsian neighbours and Russia's West European neighbours (throughinitiatives like QUAD, AUKUS etc).
Significance of Eurasia for India:
Region is richly endowed with commodities such as crude oil, natural gas,cotton, gold, copper, aluminium, and iron.
It is strategically positioned as an access point between Europe and Asia.
Apart from checking Chinese influence, it will help India to overcome hostilealliances in the region.
United Nations General Assembly 
The United Nations General Assembly (UNGA) adopted a resolution titled 'Education for Democracy' that reaffirms the right of everyone to education.
Key highlights:
The resolution, which was co-sponsored by India, recognises that "education for all" contributes to the strengthening of democracy.
Resolution encouraged Member States and other stakeholders to integrate education for democracy into their education standards.
Further, resolution also highlighted that states should work with relevant stakeholders to close digital divides.
About United Nations General Assembly:
UNGA was established in 1945 under Charter of UN.
It is the chief policy making body of theorganisation.
Each of the 193 Member States of UN has an equal vote.
::Economy::
Atal Bhujal Yojana
The third meeting of the National Level Steering Committee (NLSC) of the Atal Bhujal Yojana was held at New Delhi recently.
About:
Atal Bhujal Yojana (ATAL JAL) is being implemented as a Central Sector Scheme since April, 2020 in 8220 water stressed Gram Panchayats of 229 administrative blocks/Talukas in 80 districts of seven States, viz. Gujarat, Haryana, Karnataka, Madhya Pradesh, Maharashtra, Rajasthan and Uttar Pradesh for five-year period (2020-25).
The Committee directed the States to expedite convergence for the implementation of the interventions proposed under Water Security Plans
One of the key aspects of ATAL JAL is to bring in behavioral changes in the community, from the prevailing attitude of consumption to conservation & smart water management
The sustainability of the drinking water sources are to be given utmost priority while taking up interventions under this scheme
The importance of continued engagement with the community with a focus on the aim that the Water Security Plans (WSPs) are to be owned by the Communities.
::SCIENCE AND TECHNOLOGY::
Titanosaur
Recently, a group of Indian researchers found rare cases of fossilised dinosaur eggs — an egg within an egg — among 256 newly discovered eggs from the Narmada Valley. 
The discovery suggests that Titanosaurs — one of the largest dinosaurs to have roamed the Earth — displayed a notable reproductive trait unique to modern-day birds.
Key highlights: 
This region falls between the easternmost Lametta exposures at Jabalpur in the upper Narmada Valley (central India) and Balasinor in the west in the lower Narmada Valley (western central India), according to the document.
Lametta exposure is a sedimentary rock formation known for its dinosaur fossils. These sedimentary rocks are mostly exposed along the Narmada Valley.
The fossil records here are largely concealed by Deccan volcanic flows, which prevents their removal by erosion.
Fossilised eggs provide clues on reproductive biology, nesting behaviour and parental care.
 Titanosaur:
Titanosaur belong to the sauropod group.
It is a humongous plant-eating lizard with a long neck and tail.
A recently discovered 20-meter Ninjatitan Zapata may be the oldest titanosaur to be ever discovered.
It was found in the Neuquen province of southwest Argentina in 2014.
It may have lived approximately 140 million years ago at the initial stages of the Cretaceous period.