Current Affairs for IAS Exams - 21 June 2022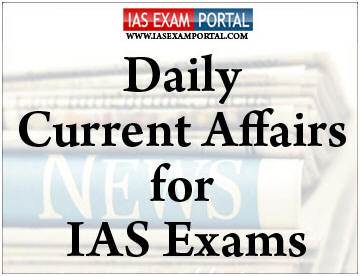 ---
Current Affairs for IAS Exams - 21 June 2022
::NATIONAL::
CM as state university Chancellor
In June 2022, the West Bengal Assembly passed the West Bengal University Laws (Amendment) Bill paving the way for making the Chief Minister the Chancellor of universities run by the state government, replacing the Governor from the position. Ironically, the Bill will become law only after it receives Governor's assent.
What powers do Governors enjoy as Chancellors?
The appointment of Vice-Chancellors in state government-run universities is among the responsibilities of Governors as Chancellors.
Chancellors in most states have the power to annul decisions of the decision-making bodies of universities such as the Executive Council, and to make appointments to these bodies.
They also enjoy the power to preside over the convocation of universities.
In some states, however, Governors have little or no say in appointing VCs despite holding the post of Chancellor. In Telangana and Gujarat, Governors have no option but to appoint VCs from among the names approved by the state governments.
How are similar disputes playing out in other states?
The move by the Mamata Banerjee government has once again brought to the fore similar disputes playing out in Opposition-ruled states such as Tamil Nadu and Maharashtra, which too have curtailed the authority enjoyed by Governors as Chancellors.
CLICK HERE FOR FULL CURRENT AFFAIRS (Only for Course Members)
Neighbours hit, Centre tells states to cut debt burden
The Centre has urged chief secretaries of all states to keep a check on increasing debt burden and fiscal deficit as their performance will have a huge bearing on the country's economy.
About:
Recently, RBI also highlighted that debt-to-GSDP ratio for 18 states and UTs has grown to 31.2%.
Reasons for increasing debt: Loss of revenue due to COVID-19 pandemic and economic shutdowns, Erosion of autonomous fiscalspace due to GST with populist schemes and election freebies adding to expenditures etc.
Fiscal Responsibility and Budget Management (FRBM) Act recommended a debt-to-GDP ratio of 20% for state governments(40% for Centre) by financial year 2022-23.
About two-thirds of India's public capexcomes from states.
States employ five times more people thanCentre.
A rising debt could start a vicious cyclewherein states end up paying more andmore towards interest payments instead ofspending their revenues on creating newassets.
CLICK HERE FOR FULL CURRENT AFFAIRS (Only for Course Members)
::INTERNATIONAL::
India-EU trade talks
India and the European Union will relaunch the first round of formal free trade negotiations on June 27 in New Delhi after a gap of nine years.
About:
The schedule of talks was finalised in Brussels on Friday after a meeting between commerce minister and European Commission's executive vice president, who agreed to launch stand-alone the Investment Protection Agreement (IPA) and the Geographical Indicators (GIs) Agreement, and conclude all the three deals simultaneously, a statement said on Saturday.
The India-EU merchandise trade was a record $116.36 billion in 2021-22 with an annual growth of 43.5%. India's export to the EU jumped 57% in 2021-22 to $65 billion, with a trade surplus.
While the purpose of the proposed IPA is to provide a legal framework for cross-border investments to enhance the confidence of investors.
The GI pact is expected to establish a transparent and predictable regulatory environment in facilitating trade of GI products, including handicrafts and farm commodities, it said.
Turban Day Act
With the Legislative Assembly of Manitoba in Canada passing the Turban Day Act, April 13 every year will now be celebrated as Turban Day across the province.
About:
Why April 13? The day of Baisakhi or Vaisakhi, which usually falls on April 13 or 14 each year, commemorates the birth of Khalsa Panth. It was on this day in 1699 that the tenth Guru Gobind Singh had laid the foundation of Khalsa Panth at Anandpur Sahib among his followers.
Significance of the Act: Giving an official recognition to the turban or dastaar (a headgear which is Sikh religious symbol) will spread awareness against racism that Sikhs still face in Canada.
Sikhs in Canada
Sikhs constitute just 1.4 per cent (around 5 lakh in number) of Canada's total population but hold significant positions in the government and political system.
Not just Sikhs, Canada remains the most preferred destination for Punjabis to immigrate.
CLICK HERE FOR FULL CURRENT AFFAIRS (Only for Course Members)
::ECONOMY::
Black Swan Event
According to a RBI report, Capital outflows to the tune of $100 billion are likely to take place fromIndia in a major black swan event.
About:
Black Swan events are difficult to predict and are considered outliers, because there is no pastdata which can point towards its occurrence in the foreseeable future.
E.g., The Dotcom Crash, 9/11 attacks, Brexit etc.
These events are of high magnitude and can be classified as a positive or a negative black swanevent.
CLICK HERE FOR FULL CURRENT AFFAIRS (Only for Course Members)
::SCIENCE AND TECHNOLOGY::
Language Model for Dialogue Applications
Senior engineer at Google claimed that the company's artificial intelligence-based chatbot Language Model for Dialogue Applications (LaMDA) had become "sentient".
About:
LaMDA is a language model created by Google AI, a division of Google dedicated to artificial intelligence.
LaMDA is an artificial intelligence system that creates chatbots — AI robots designed to communicate with humans — by gathering vast amounts of text from the internet and using algorithms to respond to queries in the most fluid and natural way possible.
Google first announced LaMDA at its flagship developer conference I/O in 2021.
CLICK HERE FOR FULL CURRENT AFFAIRS (Only for Course Members)