Current Affairs for IAS Exams - 21 November 2022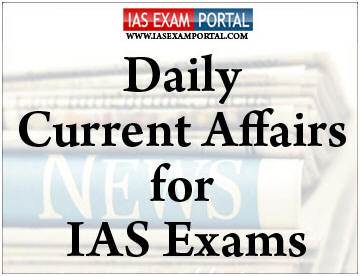 ---
Current Affairs for IAS Exams - 21 November 2022
::NATIONAL::
Punjab Cabinet clears old pension scheme
Earlier, Rajasthan and Chhattisgarh have alreadyreverted to OPS from New Pension Scheme.
About Old Pension Scheme:
Under this, pension to governmentemployees at the Centre and states was fixedat 50% of the last drawn basic pay.
Employees are not required tocontribute to their pensions.
It provides assured or 'defined' benefit tothe retiree. Thus, also called 'Defined BenefitScheme'.
Also, the monthly payouts of pensionersincreased with hikes in dearness allowanceannounced by the government.
There was no corpusspecifically for pension; pension liabilitieswould keep climbing every year.
New Pension Scheme:
New Pension Scheme, now called NationalPension System (NPS), was notified in 2004 toreform the pension scheme and make it moresustainable.
Unlike OPS, in addition to the government,a contribution from employee was made afeature in NPS.
The funds are then invested in earmarkedinvestment schemes through Pension FundManagers.
It is mandatory to all employees of CentralGovernment (except Armed Forces) andCentral Autonomous Bodies joining sinceJanuary 2004.
Pension Fund Regulatory andDevelopment Authority is regulatory bodyfor NPS.
Digital Personal Data Protection Bill 2022
The draft Digital Personal Data Protection Bill 2022 has now been released by the Ministry of Electronics and IT (MeitY). 
Earlier, previous bill on data protection was withdrawn by government.
Key highlights of the bill
Narrows down scope of data protection regime to personal data protection, leaving out non-personal data.
Personal Data is any data about an individual who is identifiable by or in relation to such data.
Proposes Data Protection Board to ensure compliance.
Provides concessions on cross-border data flows.
Centre will notify regions outside India to which data of Indians can be transferred.
Penalty of up to ₹500 crore for non-compliance, or data breach.
Allows Centre to exempt state agencies in the interest of national security.
Proposes Consent Managers, to enable an individual to have a comprehensive view of her interactions with Data Fiduciaries.
::INTERNATIONAL::
Network Readiness Index 2022
India has improved its position by six slots and is now placed at 61st rank as per the Network Readiness Index 2022 (NRI 2022) report released recently. 
About:
In its latest version of 2022, the NRI Report maps the network-based readiness landscape of 131 economies based on their performances in four different pillars: Technology, People, Governance, and Impact covering a total of 58 variables. 
The report has been prepared by the Portulans Institute, an independent non-profit, nonpartisan research and educational institute based in Washington DC.
India has not only improved its ranking, but also improved its score from 49.74 in 2021 to 51.19 in 2022. India leads in several indicators.
The report states that India secured 1st rank in "AI talent concentration", 2nd rank in "Mobile broadband internet traffic within the country" and "International Internet bandwidth", 3rd rank in "Annual investment in telecommunication services" and "Domestic market size", 4th rank in "ICT Services exports", 5th rank in "FTTH/Building Internet subscriptions" and "AI scientific publications".
NRI-2022 report states that India has a greater network readiness than would be expected given its income level.  India is ranked 3rd out of 36 in the group of lower-middle-income countries after Ukraine (50) and Indonesia (59).  India has a score higher than the income group average in all pillars and sub-pillars.
Friendshoring
US treasury secretary Janet Yellen, who was in New Delhi recently, said the US will pursue the 'friend-shoring' approach with trusted allies like India.
About:
'Friendshoring'- the term is shorthand for the practice of relocating supply chains to countries where the risk of disruption from political chaos is low.
It is a strategy where a country sources the raw materials, components and even manufactured goods from countries that share its values. The dependence on the countries considered a "threat" to the stability of the supply chains is slowly reduced. It is also called "allyshoring".
Problems with friendshoring
Friendshoring may push the world towards a more isolated place for trade and reverse the gains of globalisation. It is a part of the "deglobalisation" process.
While moving supply chains away from east Asia could increase security in the long run, an ill-conceived implementation of this friendshoring strategy could result in price hikes and a stronger China over time.
::Economy::
Reserve bank-Integrated Ombudsman Scheme
Reserve bank-Integrated ombudsman Schemeintegrates the existing three Ombudsman schemes of RBI namely,
The Banking Ombudsman Scheme, 2006
The Ombudsman Scheme for Non-Banking Financial Companies, 2018; and
The Ombudsman Scheme for Digital Transactions, 2019.
Key highlights:
It provides for a single window for resolution of complaints not resolved within 30 days or notresolved satisfactorily by banks/NBFCs/system participants regulated by RBI.
The Scheme defines 'deficiency in service' as the ground for filing a complaint, with a specifiedlist of exclusions.
A Centralised Receipt and Processing Centre has been set up at RBI, Chandigarh for receiptand initial processing of physical and email complaints in any language.
It will help in improving the grievance redress mechanism.
::SCIENCE AND TECHNOLOGY::
Global Partnership on Artificial Intelligence
India will take over the Chair of the Global Partnership on Artificial Intelligence, GPAI from France on November 21. 
About:
Minister of State for Electronics and Information Technology Rajeev Chandrasekhar will represent the country at the GPAI meeting in Tokyo for the symbolic takeover from France. This development comes on the heels of assuming the Presidency of the G20, a league of the world's largest economies.
GPAI is an international initiative to support responsible and human-centric development and the use of Artificial Intelligence. AIR correspondent reports that the GPAI is a congregation of 25 member countries, including the US, UK, European Union, Australia, Canada, France, Germany, Italy, Japan, Mexico, New Zealand, South Korea, and Singapore.
India joined the GPAI in 2020 as a founding member. Artificial Intelligence is expected to add 967 billion US dollars to the Indian economy by 2035. It is also expected to add 450 to 500 billion US dollars to India's GDP by 2025 accounting for 10 per cent of the country's 5 trillion-dollar GDP target. 
India occupying the chair also signifies how the world today perceives it as a Trusted Technology partner and one that has always advocated for the ethical use of technology for transforming citizens lives.