Current Affairs for IAS Exams - 21 October 2022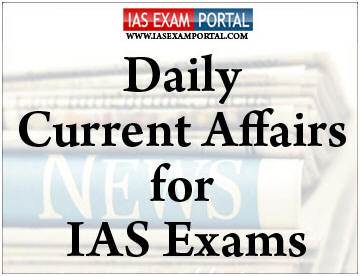 ---
Current Affairs for IAS Exams - 21 October 2022
::NATIONAL::
Legal Rights to Non-Humans
As the world fights climate change and the exploitation of nature, countries like Ecuador and New Zealand have taken some significant steps in bringing laws into the natural world.
Background:
In 2008 Ecuador, approved a Constitution that grants tropical forests, islands, rivers and air, legal rights to "exist, flourish and evolve". 
In April 2022 Ecuador became the first country to grant legal rights to individual wild animals. Bolivia granted all nature rights equal to that of humans in 2011. 
New Zealand in 2017, passed the Whanganui River Claims Settlement Bill, which granted legal personhood to river Whanganui and its surrounding ecosystem. 
Where does India stand? 
Article 51-A (g) of the Constitution of India lays down that it is the fundamental duty of every citizen to protect wildlife and have compassion for all living creatures. However, such duties are not enforceable by law. 
The Uttarakhand High Court in 2017, granted the river Ganga and its longest tributary Yamuna the legal right to be protected and not be harmed. 
While other legal acts such as the Wildlife Protection Act of 1972 and the Cruelty to Animals Act of 1960 exist, they do not recognize animals as individual living entities. 
Bio age 
The increased integration of biotechnology in human life will bring in the bio age. 
CLICK HERE FOR FULL CURRENT AFFAIRS (Only for Course Members)
Bhasha Kendras
The government has decided to set up language centrescalled bhasha kendras to prepare study material and courses for each of the 22 languages in the eighth schedule of the Constitution.
About:
It will be established under the Union ministry of education's Indian Knowledge System (IKS) initiative.
These language centres will be in line with the National Education Policy (NEP) 2020, that emphasises on promoting regional languages.
First, they will prepare small booklets of 100-200 pages of the IKS-related literature and manuscripts available in their designated languages. 
The second task of these centres will be to enrich their designated Indian languages with modern science and social models..
CLICK HERE FOR FULL CURRENT AFFAIRS (Only for Course Members)
::INTERNATIONAL::
Kamikaze Drones
Ukraine's capital region was struck by Iranian-made kamikaze drones recently. 
About:
These are small unmanned aircraft packed with explosives that can be flown directly at a tank or a group of troops that are destroyed when it hits the target and explodes.
The name comes from the World War 2 era's feared Japanese kamikaze pilots, who conducted suicide attacks by intentionally crashing their explosive filled aircraft into enemy targets.
The modern drone versions have the capability of surpassing traditional defences to strike their targets and are also cheaper than their larger counterparts.
The small lethal drones are difficult to detect on radar, and through the use of facial recognition, can be programmed to hit targets without human intervention.
Key highlights: 
According to the US military, Iranian-backed militias have used small drones in 10 attacks on US bases in Iraq this year.
Azerbaijan had used small Turkish-made drones against the Armenian military in the last few years.
Russia has used such suicide drones to launch attacks in Ukraine following their invasion.
Sri Lanka recently asks to translocate Indian bisons
Sri Lanka recently asks India to translocate 6 Indian bisons or gaurs to reintroduce them in the island after three centuries.
About:
Indian Bisons are one of the largest extant bovines. It is one of the largest species among the wild cattle, reaching a shoulder height of up to 220 cm.
They are found on the forested hills and grassy areas of south to south east Asia.
There are about 13,000 to 30,000 gaurs in the world with approximately 85% of the population present in India. It is also found in Burma and Thailand.
The Western Ghats in southern India constitute one of the most extensive extant strongholds of gaur, in particular in the Wayanad – Nagarhole – Mudumalai – Bandipur complex.
The first-ever population estimation exercise of the Indian gaur carried out in the Nilgiris Forest Division in February 2020 estimated around 2,000 Indian gaurs to be inhabiting the division.
The gaur is the State Animal of Goa and Bihar. 
Conservation:
It is a protected species and included in Schedule I of the Wild Life Protection Act, 1972
CLICK HERE FOR FULL CURRENT AFFAIRS (Only for Course Members)
::Economy::
India has potential to attract USD 475 billion through FDI in 5 years
According to EY- Confederation of Indian Industries (CII) report, India to attract FDI worth $475 billion in 5 years.
About:
The report titled 'Vision—Developed India: Opportunities and Expectations of MNCs', added that 71% of MNCs working in India consider the country an important destination for their global expansion. The optimism is driven by both short-term as well as long-term prospects.
FDI in India has seen a consistent rise in the last decade, with FY 2021-22 receiving FDI inflow of $84.8 billion despite the impact of the COVID-19 pandemic and geopolitical developments on investment sentiment.
India is seen as an emerging manufacturing hub in global value chains, as a growing consumer market and as a hub for ongoing digital transformation.
Over 60% of MNCs in the report stated improvement in the business environment in the last three years. 
CLICK HERE FOR FULL CURRENT AFFAIRS (Only for Course Members)
::SCIENCE AND TECHNOLOGY::
Omicron sub-variant BF.7
The Gujarat Biotechnology Research Centre has recently detected the first case of the Omicron sub-variant BF.7 in India.
About:
Omicron BF. 7 is the latest sub-variant of the Omicron variant, first detected in Northwest China's Inner Mongolia Autonomous Region.
It is also known as the 'Omicron spawn'.
This new variant is fast spreading to several other countries including the United States, UK, Australia and Belgium.
Being a sub-variant of Omicron BA.5, BF.7 reportedly has enhanced immunity evasion in comparison to its parental strain.
This means that people who have been infected before or have taken the COVID-19 vaccines can get infected with BF.7.
CLICK HERE FOR FULL CURRENT AFFAIRS (Only for Course Members)