Current Affairs for IAS Exams - 21 September 2021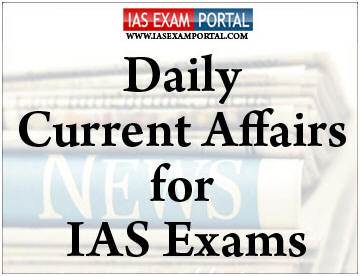 ---
Current Affairs for IAS Exams - 21 September 2021
::NATIONAL::
lack Tigers
According to a recent study, from the National Centre for Biological Sciences, a single geneticmutation in in these tigers caused black stripes tobroaden or spread.
About:
Simlipal's small and isolated tiger population led to inbreeding and the anomalous phenotypecharacterised by wide, merged stripes.
The loss of genetic diversity is evident from the low heterozygosity (chances of inheriting different forms of a particular gene from each parent) in Simlipal (28%) compared to Central India(36%).
Why black tigers are rare?
Mutants are genetic variations which may occur spontaneously, but not frequently, in nature. 
Black tiger sightings have been claimed sporadically at least since 1773 when artist James Forbes painted a watercolour of one shot in Kerala.
In 1993, a confiscated black tiger skin of unknown origin was displayed at Delhi's National Museum of Natural History.
Rajasthan passes bill to register child marriages
Rajasthan has passed a bill to amend an act on mandatory registration of marriages, including child marriages, with the opposition staging a walkout from the assembly. 
Key features of the bill:
Both parties can apply for registration of marriage to the marriage registration officer of the place where they have been residingfor more than 30 days.
Marriage between the bridegroom and bride who has not completed 21 years and 18 years of age respectively could beregistered by parents or guardians within 30 days of marriage.
Registration can be done at the level of District Marriage Registration Officer as well as Additional District MarriageRegistration Officer and Block Marriage Registration Officer to bring simplicity and transparency to the work.
CLICK HERE FOR FULL CURRENT AFFAIRS (Only for Course Members)
::INTERNATIONAL::
World's First 'Five-Country Biosphere Reserve'
Recently, UNESCO declares Mura-Drava-Danube (MDD) as the world's first 'five-country biosphere reserve. 
About:
The biosphere reserve area covers 700 kilometres of the Mura, Drava and Danube rivers and stretches across Austria, Slovenia, Croatia, Hungary and Serbia. 
The total area of the reserve approx. a million hectares in the so-called 'Amazon of Europe', makes it the largest riverine protected area on the continent.
MDD's recognition "was a mandate to all five countries to jointly advance the protection and revitalisation of the Mura-Drava-Danube area and boost sustainable business practices".
Significance:
The reserve is home to floodplain forests, gravel and sand banks, river islands, oxbows and meadows.
It is home to continental Europe's highest density of breeding white-tailed eagle (more than 150 pairs), as well as endangered species such as the little tern, black stork, otters, beavers and sturgeons.
It is also an important annual resting and feeding place for more than 250,000 migratory birds, according to WWF. Almost 900,000 people live in the biosphere reserve.
UN calls for moratorium on Artificial Intelligencethat threatens human rights
Recently, UN human rights officereleased a report named, The right to privacy in the digital age.
The report analysed how AI affects people's right to privacyand other rights.
Key findings of the report:
States and businesses often rushed to incorporate AI applications, failing to carry out due diligence.
The data used to inform and guide AI systems can be faulty, discriminatory, out of date or irrelevant.
Opaque decision making, undermining people's freedom of expression and State accountability.
Long-term storage of data also poses particular risks, as data could in the future be exploited in as yet unknown ways.
Key recommendation: 
Serious questions should be raised about the inferences, predictions and monitoring by AI tools, including seeking insightsinto patterns of human behaviour.
AI applications that cannot be used in compliance with international human rights law, should be banned.
AI refers to systems or machines that mimic human intelligence to perform tasks and can iteratively improve themselves based on theinformation they collect.
This includes technologies like machine learning, enabling computers to make decisions and solve problems to complement orreplace specific tasks otherwise performed by humans.
::ECONOMY::
Mahua nutra beverage 
TRIFED has entered into a collaborative project with Foundation for Innovation and Technology Transfer (FIIT), a unit established by IIT Delhi and M/s Rusicaa Beverages Private Ltd, Purbi Singhbhum, Jharkhand to commercialize the production of Mahua Nutra beverage – A Heritage Drink in the State of Jharkhand.
Key highlights: 
Mahua nutra beverage is a value added product made out of Mahua flowers in the state
Trifed in association with Foundation for Innovation and Technology Transfer(FIIT) has developed this value added product Mahua Nutra.
Now the technology is being licensed to M/sRrusicaa Beverages Private Ltd of Jharkhand for commercialization of this Mahua Nutra Beverage in Jharkhand.
The mahua nutra beverage in its improvised form is blended with pomegranate fruit juice.
::SCIENCE AND TECHNOLOGY::
HELINA
The Defence Research and Development Laboratory (DRDL) Hyderabad, a laboratory of the Defence Research and Development Organisation (DRDO) has completed all trials of the indigenously made Nag Anti-Tank Guided Missile (ATGM), Helina.
About:
HELINA is a Helicopter based NAG which is a third-generation fire and forget class anti-tank guided missile (ATGM) system mounted on the Advanced Light Helicopter (ALH). 
The system can hit a target with a minimum range of 500 m and a maximum range of 7 km. 
The missile is guided by an Infrared Imaging Seeker (IIR), which makes it one of the most advanced Anti-Tank Weapons in the world.
The missile system has all-weather day and night capability. It can penetrate through the conventional armor and can also destroy the explosive reactive armor. 
The missile can engage targets both in direct hit mode as well as top attack mode.
 CLICK HERE FOR FULL CURRENT AFFAIRS (Only for Course Members)