Current Affairs for IAS Exams - 21 September 2022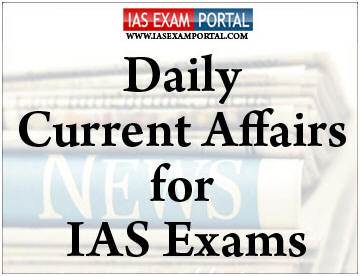 ---
Current Affairs for IAS Exams - 21 September 2022
::NATIONAL::
The 'triple dip' La Niña
The ongoing La Niña phase of the equatorial Pacific Ocean has just been predicted to persist for at least another six months, making it one of the longest ever La Niña episodes in recorded history. It is also only the third episode since 1950 to stretch into a third consecutive year.
About:
The World Meteorological Organisation (WMO) on August 31 had stated for the first time this century, La Nina would span three consecutive northern hemisphere winters to become a 'triple dip' La Nina.
This is likely to have wide-ranging implications for weather events across the world in the coming months, and can potentially aggravate both floods and droughts in different regions.
El Niño and La Niña episodes typically last for about nine months to a year. They usually develop in the March-June period, and are the strongest during winter (November-January in the northern hemisphere), before weakening or dissipating by March or April of next year.
Occasionally, however, they continue for much longer periods. In recent years, the El Niño of 2015-16, spread over 19 months, was one of the longest on record, and was dubbed 'Godzilla' due to its sustained high intensity.
The current La Niña episode has already surpassed that in length. Having started in September 2020, it has prevailed for the last 24 months, and looks set to continue for another six months, and has thus been classified as a 'triple dip' La Niña.
However, El Niño and La Niña events are not mirror images of each other. They differ in length and strength.
CLICK HERE FOR FULL CURRENT AFFAIRS (Only for Course Members)
Nutrition rating stars
The Food Safety and Standards Authority of India (FSSAI) has released draft notification for front-of-pack labelling to discourage consumers from buying packaged food high in sugar, salt, and fat.
About:
The draft notification comes even as several health experts have questioned the star-rating system, contending that a warning symbol on foods high in sugar, salt, and fat are more likely to discourage people from consuming them.
Like the star-rating system for energy efficiency of electronic products, the 'Indian Nutrition Rating (INR)' will see the unhealthiest food items carry a 0-star rating and the healthiest carry a 5-star rating.
The INR system rates the overall nutritional profile for packaged food by assigning it a rating from ½ star (least healthy) to 5 stars (healthiest). 
CLICK HERE FOR FULL CURRENT AFFAIRS (Only for Course Members)
::INTERNATIONAL::
India-Egypt Relations 
India and Egypt have agreed to identify proposals for expanding cooperation between the defence industries of the two countries in a time-bound manner.
About:
Defence Minister Rajnath Singh held bilateral talks with his Egyptian counterpart General Mohamed Zaki in Cairo.
Both sides discussed steps to strengthen defence ties and reached a consensus to enhance conduct of joint exercises and exchange of personnel for training especially in the field of counter-insurgency.
They also signed a Memorandum of Understanding on cooperation in the field of defence to pave the way for enhancing defence cooperation across all sectors of mutual interest.
Defence Minister Rajnath Singh also invited his Egyptian counterpart to the India-Africa Defence Dialogue and IOR Defence Ministers' Conclave scheduled to be held as part of 12thDefence Expo in Gandhinagar next month.
Global Clean Energy ActionForum (GCEAF)
Union Minister of Science and Technology to take part in Global Clean Energy Action Forum (GCEAF) at Pittsburg, US.
About:
GCEAF is first-of-its-kind meeting where 30 countries will participate.
GCEAF is a joint convening of 13th Clean Energy Ministerial (CEM13) and 7th MissionInnovation Ministerial (MI-7) hosted by US Department of Energy and Carnegie Mellon University.
CEM is a high-level global forum to promote policies and programmes that advance cleanenergy technology.
CLICK HERE FOR FULL CURRENT AFFAIRS (Only for Course Members)
::ECONOMY::
Sebi comes out with Framework for Social Stock Exchange
The Securities and Exchange Board of India (Sebi) came out with a detailed framework for social stock exchange, specifying minimum requirements for a Not-for-Profit Organisation (NPO) for registering with the bourse and disclosure requirements.
About:
Social Stock Exchange(SSE) is a novel concept and idea was first floated by Finance Minister in Budgetspeech for financial year 2019-20.
It is meant to serve the private and non-profit sectors by channellinggreater capital to them.
Key highlights of the framework:
NPOs should be registered as a charitable entity, and registration certificatemust be valid for next 12 months.
Age of the NPO should be "minimum of three years".
CLICK HERE FOR FULL CURRENT AFFAIRS (Only for Course Members)
::SCIENCE AND TECHNOLOGY::
Long Range Radio (LoRa)
In a first, Institute for Development and Research in Banking Technology (IDRBT, an Institute under the RBI) has developed a new low cost financial network to take banking to remote areas.
About:
Long Range Radio (LoRa)technology is a wireless modulation technique in the physical layer, allowing long-range communication.
LoRa technology uses dedicated radios, which are not usually present in end-user devices, limiting interferences from other devices.
Banks can use this as their own dedicated private network instead of using a third party network which are presently based either on satellite link or wired (fibre).
CLICK HERE FOR FULL CURRENT AFFAIRS (Only for Course Members)