Current Affairs for IAS Exams - 22 March 2020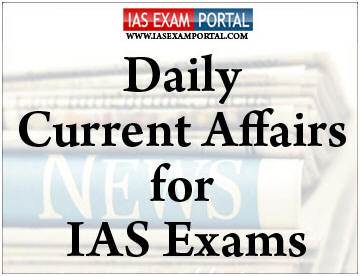 ---
Current Affairs for IAS Exams - 22 March 2020
---
::NATIONAL::
Centre likely to postpone census, NPR exercises
The Union government looks all set to postpone the house-listing Census and updating of the National Population Register (NPR), which was scheduled to kick off in certain States on April 1, owing to the COVID-19 pandemic.
Two government sources confirmed to The Hindu that the Census and NPR exercises would not go ahead, given the Health Ministry's guidelines limiting mass contact on account of the pandemic. A formal announcement is, however, awaited.
President Ram NathKovind was supposed to be the first Indian to be enumerated in the Census and NPR exercise, but his schedule has been cleared and he is not meeting members of the public due to the growing threat of the novel coronavirus.
In a letter to Census Commissioner of India Vivek Joshi, the Delhi government, on March 18, pointed out that a "high state" of alert had been declared in the capital territory and the Epidemic Diseases Act, 1897, invoked.
Multiple efforts to contact Mr. Joshi on his response to the letters of the Odisha and Delhi governments were to no avail. He did not respond to either text or telephone calls on the issue.
CLICK HERE FOR FULL CURRENT AFFAIRS (Only for Course Members)
AYUSH wellness centres to be included in NAM scheme
The Union Cabinet has approved the inclusion of the AYUSH Health and Wellness Centre (AYUSH HWC) component of Ayushman Bharat in the National AYUSH Mission (NAM).
"The proposal entails an expenditure of ₹3,399.35 crore — ₹2,209.58 crore as Central Share and ₹1189.77 crore as State share — for operationalisation of AYUSH HWCs within a period of five years (from financial years 2019-20 to 2023-24)," noted a release issued by the government on Saturday.
The move is aimed at establishing a holistic wellness model based on AYUSH principles and practices focusing on preventive, promotive, curative, rehabilitative and palliative healthcare by integration with the existing public health care system.
The National Health Policy 2017 has advocated mainstreaming the potential of AYUSH systems (Ayurveda, Yoga and Naturopathy, Unani, Siddha, Sowa-rigpa and Homoeopathy) within a pluralistic system of Integrative healthcare.
"The vision of the proposal is to establish a holistic wellness model based on AYUSH principles and practices, to empower masses for 'self care' to reduce the disease burden and out of pocket expenditure and to provide informed choice of the needy public," noted the release.
CLICK HERE FOR FULL CURRENT AFFAIRS (Only for Course Members)
::ECONOMY::
Cabinet approves financial assistance for electronics manufacturing sector
Union Cabinet has approved financial assistance to the Modified Electronics Manufacturing Clusters Scheme for development of world class infrastructure along with common facilities and amenities through Electronics Manufacturing Clusters.
Briefing media in New Delhi this afternoon, Union Minister Ravi Shankar Prasad said that the government also approved Production Incentive Scheme for Large Scale Electronics Manufacturing.
The scheme proposes production linked incentive to boost domestic manufacturing and attract large investments in mobile phone manufacturing and specified electronic components.
The Minister said, the government will emphasize on mobile and component manufacturing in India. He stated that the Centre will invest Rs 20 lakh crore in this sector which will provide employment to 25 lakh people in next five years.
CLICK HERE FOR FULL CURRENT AFFAIRS (Only for Course Members)
COVID hits NRI foreign currency deposits
With the introduction of an increasing number of protocols to prevent the spread of the COVID-19 pandemic, major private sector banks are clamping down on retail offerings, including by stopping foreign currency deposits by NRIs over fears that transmission could occur via such notes.
One customer told The Hindu that he had to retain the currency he had hoped to deposit, instead, issuing a cheque and seeking his relationship manager's help to get the same deposited at a city branch.
So far, it appears that no measures have been taken to prevent NRI customers themselves from using banking services, despite questions about the risk of the virus passing from the notes to the bearer of the currencies.
Both at HDFC Bank and ICICI Bank, rotation of staff in shifts to minimise social contact in the work environment has been put in place and been in force for several days now.
While some private sector banks have categorised cities such as New Delhi, Mumbai, Bengaluru, Kolkata and Hyderabad as 'red-alert' areas from the point of view of infection risk, Chennai does not yet appear to have been labelled as such.
CLICK HERE FOR FULL CURRENT AFFAIRS (Only for Course Members)
::INTERNATIONAL::
Globally nearly one billion people confined to homes
Close to one billion people worldwide were confined to their homes on Saturday as the global COVID-19 death toll shot past 11,000 and U.S. States rolled out lockdown measures already imposed across swathes of Europe.
The virus death toll surged past 11,000 worldwide, with 4,000 alone in worst-hit Italy where the daily number of fatalities has shot up relentlessly over the past week.
Italy reported its worst single day death toll on Friday, adding another 627 fatalities and taking its reported total to 4,032 despite efforts to stem the spread.
The nation of 60 million now accounts for 36% of the world's COVID-19 deaths and its death rate of 8.6% among confirmed infections is significantly higher than that in most other countries.
CLICK HERE FOR FULL CURRENT AFFAIRS (Only for Course Members)
North Korea test fires two ballistic missiles
North Korea fired what appeared to be two short-range ballistic missiles off its east coast on Saturday, the latest in a series of such launches by Pyongyang as the world struggles with the COVID-19 pandemic.
The South Korean military condemned the launches as "extremely inappropriate given the difficult situation the world is experiencing due to COVID-19,we urge them to stop immediately." North Korea has not reported any cases of the COVID-19.
Japan's Defence Ministry also confirmed the North Korean launches.For decades, North Korea's leadership has faced international criticism for prioritising spending on its military and nuclear weapons programme instead of providing for the population — even during times of famine.
Shortly before the launch, North Korea's official news agency KCNA reported that the rubber-stamp Parliament, the Supreme People's Assembly, would convene on April 10.
CLICK HERE FOR FULL CURRENT AFFAIRS (Only for Course Members)
::SCIENCE & TECHNOLOGY::
Scientists discover cellular mechanism of Huntington disease
The National Centre for Cell Science have found that the pathogenic protein called the Huntingtin Protein causes decrease in overall protein production.
The disease is a genetic disorder that declines cognitive abilities, impairs coordination of balance and movement, memory lapses, mood swings and personality changes.
The disease is caused due to the mutation of the gene called HTT. The major function of these genes is to produce protein called Huntingtin.
A normal gene gives the right instruction to produce these proteins. A mutated gene gives faulty instructions. This disrupts the normal functioning ofthe brain and results in Huntington disease.
The Scientists have found that in a diseased person the Huntingtin protein interfered with the protein production of the cells.
CLICK HERE FOR FULL CURRENT AFFAIRS (Only for Course Members)
::SPORTS::
New Zealand cricketers and staff into 14 day isolation after Australian tour
New Zealand cricketers and support staff members have gone into a 14-day self-isolation period after returning from their aborted Australia tour due to COVID 19. New Zealand Cricket confirmed that all 15 players and support staff members who returned from Sydney last weekend have gone into self-isolation as per the government's directive.
New Zealand were scheduled to play three ODIs and as many T20s but the Chappell-Hadlee series was called off after just one ODI, which was held without spectators.
The Kane Williamson-led side had lost the match by 71 runs. Kiwi Fast bowler Lockie Ferguson was kept under isolation after he reported a sore throat. However, he tested negative for the coronavirus.
CLICK HERE FOR FULL CURRENT AFFAIRS (Only for Course Members)