Current Affairs for IAS Exams - 22 August 2022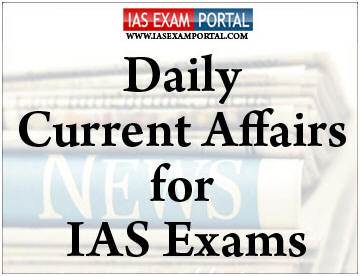 ---
Current Affairs for IAS Exams - 22 August 2022
::NATIONAL::
Cloudburst incidents
Over 20 people have been killed in destruction caused by cloudbursts and flash floods in different parts of Himachal Pradesh and Uttarakhand over the last three days. 
What are cloudbursts?
A cloudburst is a localised but intense rainfall activity. 
Short spells of very heavy rainfall over a small geographical area can cause widespread destruction, especially in hilly regions where this phenomenon is the most common.
A cloudburst has a very specific definition: Rainfall of 10 cm or more in an hour over a roughly 10 km x 10-km area is classified as a cloudburst event. By this definition, 5 cm of rainfall in a half- hour period over the same area would also be categorized as a cloudburst.
During a cloudburst event, a place receives about 10% of this annual rainfall within an hour. 
Cloudbursts are not uncommon events, particularly during the monsoon months. Most of these happen in the Himalayan states where the local topology, wind systems, and temperature gradients between the lower and upper atmosphere facilitate the occurrence of such events.
Facial Recognition Technology 
Right to Information (RTI) responses received by the Internet Freedom Foundation reveal that the Delhi Police treats matches of above 80% similarity generated by its facial recognition technology (FRT) system as positive results.
About:
Facial recognition is an algorithm-based technology which creates a digital map of the face by identifying and mapping an individual's facial features, which it then matches against the database to which it has access.
It can be used for two purposes: firstly, 1:1 verification of identity wherein the facial map is obtained for the purpose of matching it against the person's photograph on a database to authenticate their identity. For example, 1:1 verification is used to unlock phones. However, increasingly it is being used to provide access to any benefits or government schemes.
CLICK HERE FOR FULL CURRENT AFFAIRS (Only for Course Members)
::INTERNATIONAL::
Tasmanian Tiger
Scientists in US and Australia have started a project to resurrect Tasmanian Tiger using gene-editing technology.
About:
The project aims to reintroduce animal to its native place Tasmania to revive region's lost ecologicalbalance.
It is a marsupial that went extinct in 1930s.
Marsupials are thought of as pouched mammals.
hey give live birth, but they do not have long gestation times like placental mammals.
It was region's apex predator and its disappearance from food chain resulted in Trophic Downgrading (causal degradation of an ecosystem) resulting in loss or exponential growth of otherspecies, wildfires, growth of invasive species etc.
Rohingya refugees
On August 17, Union Housing Minister Hardeep Singh Puri tweeted that Rohingya refugees would be shifted to flats meant for economically weaker sections (EWS), and provided with basic amenities and police protection.
About:
The Minister said "India respects & follows the UN Refugee Convention 1951 & provides refuge to all, regardless of their race, religion or creed."
The Ministry of Home Affairs (MHA) under Amit Shah issued a clarification saying that no such direction had been given to provide EWS flats to "Rohingya illegal foreigners".
What is India's stand on refugees?
India is not a signatory to the 1951 UN Convention relating to the Status of Refugees and the 1967 Protocol.
CLICK HERE FOR FULL CURRENT AFFAIRS (Only for Course Members)
::ECONOMY::
Unified Payments Interface System 
Government has clarified that there is no plan to levy any charges for UPI services. 
Key highlights: 
The Finance Ministry said, UPI is a digital public good with immense convenience for the public and productivity gains for the economy. 
The clarification came amid some reports that there may be possibility of UPI transactions charge.
The concerns of the service providers for cost recovery have to be met through other means.
The government had provided financial support for the Digital Payment ecosystem last year and has announced the same, this year as well to encourage further adoption of Digital Payments and promotion of payment platforms that are economical and user-friendly. 
About:
Unified Payments Interface is an instant real-time payment system developed by National Payments Corporation of India. 
CLICK HERE FOR FULL CURRENT AFFAIRS (Only for Course Members)
::SCIENCE AND TECHNOLOGY::
Per- and polyfluoroalkyl substances
A recent study published in Environment Science and Technology has found that rainwater from many places across the globe is contaminated with "per- and polyfluoroalkyl substances," (PFAs), which are called "forever chemicals" because of their tendency to stick around in the atmosphere, rainwater and soil for long periods of time.
About:
PFAs are man-made chemicals used to make nonstick cookware, water-repellent clothing, stain-resistant fabrics, cosmetics, firefighting forms and many other products that resist grease, water and oil.
PFAs can migrate to the soil, water and air during their production and use. 
Since most PFAs do not break down, they remain in the environment for long periods of time. Some of these PFAs can build up in people and animals if they are repeatedly exposed to the chemicals.
CLICK HERE FOR FULL CURRENT AFFAIRS (Only for Course Members)