Current Affairs for IAS Exams - 22 June 2022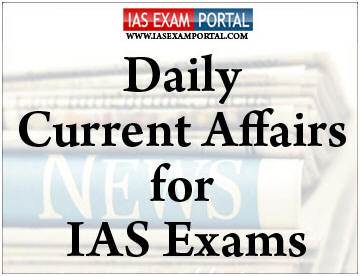 ---
Current Affairs for IAS Exams - 22 June 2022
::NATIONAL::
Reuters Institute Digital Report 2022
The 2022 Reuters Institute Digital News Report was recently released.
About:
This study, an annual one commissioned by the Reuters Institute for the Study of Journalism, tracks how news is consumed in different countries.
This year's report, the eleventh overall, is based on a survey conducted by YouGuv, a British market research and data analytics firm.
What are the major trends highlighted in the report?
It flags six major trends which could have wider socio-political implications.
Firstly, people are trusting news content less and less. The average level of trust in news, at 42%, was found to be lower than the previous year.
Second, consumption of traditional news media declined in nearly all the countries surveyed.
Third, the proportion of news consumers who say that they "avoid news" has risen sharply across countries, with the report describing the phenomenon as "selective avoidance".
Fourth, despite small increases in the proportion of people willing to pay for online news (mostly in richer countries), the growth in digital subscriptions for news content seems to be leveling off.
Next, "the smartphone has become the dominant way in which most people first access news in the morning".
CLICK HERE FOR FULL CURRENT AFFAIRS (Only for Course Members)
What does the report say about trends in India?
India is a strongly mobile-focussed market. 72% of the survey respondents accessed news through smartphones and 35% did so via computers.
Also, 84% of the Indian respondents sourced news online, 63% from social media, 59% from television, and 49% from print. YouTube (53%) and WhatsApp (51%) were the top social media platforms for sourcing news.
India registered a small increase in the level of trust, with 41% trusting news overall.
While legacy print brands and public broadcasters continued to have high trust levels , only a minority — 36% and 35% — felt that the media was free from undue political influence and from undue business influence respectively. 
Unemployment rate dips in first quarter of 2022
The unemployment rate saw a decrease of 0.6% and fell to 4.2% in 2020-21, compared with 4.8% in 2019-20, according to the Periodic Labour Force Survey (PLFS) for 2020-21 released by the Ministry of Statistics and Programme.
About:
It suggests that only 4.2% of adults who looked for jobs could not get any work in rural and urban areas of the country in 2020-21. 
Rural areas recorded an unemployment rate of 3.3% and urban areas recorded an unemployment rate of 6.7%.
The National Statistical Office (NSO) uses "rotational panel sampling design" in urban areas to assess the Labour Force Participation Rate (LFPR), Worker Population Ratio (WPR) and the unemployment rate, and visits selected households in urban areas four times. There was, however, no revisit for the rural samples.
The sample size for the first visit during July 2020-June 2021 in rural and urban areas was 12,800 first-stage sampling units (FSU) consisting 7,024 villages and 5,776 urban frame survey blocks. Out of this, 12,562 FSUs (6,930 villages and 5,632 urban blocks) were surveyed for canvassing the PLFS schedule. 
The LFPR, the percentage of persons in the labour force (that is, working or seeking work or available for work) in the population was 41.6% during 2020-21. It was 40.1% in the previous year. 
CLICK HERE FOR FULL CURRENT AFFAIRS (Only for Course Members)
::INTERNATIONAL::
India-Bangladesh Pact
India and Bangladesh have decided to expand their strategic partnership.
About:
Aims to develop cooperation in areas of Artificial Intelligence, cyber security, startups and Fintech besides expanding ties in railways sector as well as cross-border river management and conservation.
This was decided at the 7th Joint Consultative Commission meeting between the two foreign ministers S Jaishankar and AK Abdul Momen held.
Bangladesh and India share a4,096-kilometre-long (2,545 mi)international border, the fifth-longest land border in the world,including 262 km (163 mi) inAssam, 856 km (532 mi) in Tripura,318 km (198 mi) in Mizoram,443 km (275 mi) in Meghalaya, and2,217 km (1,378 mi) in WestBengal.
Gustavo Petro
Colombia has elected Gustavo Petro, a former guerilla fighter, as itsfirst left-wing President
Petro's victory underlines an ongoing shift of South American politics to the left, which has seen leftist leaders secure victories in Peru last July, and in Chile and Honduras this year.
About:
Colombia is a northwestern South America country with a coastline on the Atlantic Ocean as well asthe Pacific Ocean.
Geographical Features:
Political Boundaries: It shares land borders with Brazil,Ecuador, Panama, Peru and Venezuela.
It shares maritime borders with Costa Rica, DominicanRepublic, Haiti, Honduras, Jamaica, Nicaragua, and theCayman Islands (United Kingdom).
Highest Point: Pico Cristobal Colon (5,700 m) of SierraNevada de Santa Marta Range.
CLICK HERE FOR FULL CURRENT AFFAIRS (Only for Course Members)
::ECONOMY::
Centre for Monitoring Indian Economy Survey 
The Centre for Monitoring Indian Economy (CMIE) reported that the labour participation rate of rural women was 9.92% in March 2022 compared to 67.24% for men. 
About:
According to the informationprovided by the office of RegistrarGeneral & Census Commissionerof India, As per Census 2011, thetotal number of female workers inIndia is 149.8million and femaleworkers in rural and urban areasare 121.8 and 28.0 millionrespectively.
Women helpbuild aninspiringworkculture by bringinginhealthycompetition, fosteringteamwork,bondingandthereby helping thecompany growtoitsfull potential.
The Mahatma Gandhi National Rural Employment Guarantee Act (MGNREGA) sites are probably the best places to understand the compulsions of millions of women to work. 
An assistant to the officer-in-charge estimated that because the soil is hard and stony, this would mean digging and lifting about 3,000 kg of mud a day. 
Since most of these women are unable to complete this task, they do not get the piece rate of ₹309; they get only ₹280 to ₹285. 
CLICK HERE FOR FULL CURRENT AFFAIRS (Only for Course Members)
::SCIENCE AND TECHNOLOGY::
Robots to clean septic tanks
Indian Institute of Technology Madras' 'HomoSEP,' a robot developed by the institute's researchers to eliminate manual scavenging, is all set for field deployment. 
Key highlights: 
The robot was developed by a team led by Prabhu Rajagopal, Centre for Nondestructive Evaluation, IIT Madras, and Faculty, Department of Mechanical Engineering, IIT Madras together with a start-up Solinas Integrity Private Limited. 
The team has been in constant touch with sanitation workers and supported by the NGO, SafaiKaramchariAndolan (SKA) dedicated to elimination of manual scavenging in India.
At present, the first two HomoSEP units have been distributed to self-help groups led by Nagamma and Ruth Mary whose husbands died during sanitation work, through the support of the SKA.
About HomoSEP:
CLICK HERE FOR FULL CURRENT AFFAIRS (Only for Course Members)