Current Affairs for IAS Exams - 22 November 2021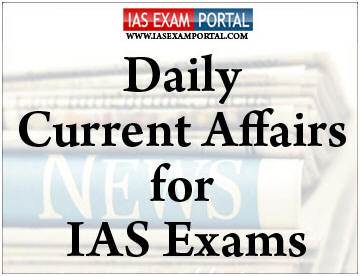 ---
Current Affairs for IAS Exams - 22 November 2021
::NATIONAL::
Real Estate (Regulationand Development) Act,2016
Supreme Court affirmed that the provisions of the RERA are applicable to projects that wereongoing and for whom completion certificates were not obtained at the time of the enactmentof the law.
About:
RERA act enacted with an aim to regulate and promote the real estate and to protect the interestof buyers.

The act provides, Real Estate Regulatory Authority for regulatory purpose for mandatory registration of real estate agents with the authority.

The act also provide Real Estate Appellate Tribunal consist of a Chairperson and not less than two whole timeMembers of which one shall be a Judicial member and other shall be a Technical or AdministrativeMember.
CLICK HERE FOR FULL CURRENT AFFAIRS (Only for Course Members)
Ranthambore TigerReserve
Recently, some tigers went missing from the Kundera and Talada ranges of RTR.
Ranthambore TigerReserve (RTR):
Geographical location: On Eastern part of Rajasthan in Karauli and Sawai Madhopur districts,at the junction of the Aravali and the Vindhya hill ranges.

Comprises: Ranthambore National Park, Sawai Mansingh and Keladevi Sanctuaries.

Rivers: Banas River and the Chambal River.

Forest: Mainly tropical dry deciduous with 'dhak' being the commonest. Trees include khair,Khajur, Banyan, Kakera, Gum etc.

Fauna: Leopards, striped hyenas, common or Hanuman langurs, rhesus macaques, jackals, junglecats, blackbuck, Blacknaped hare and chinkara etc.
::INTERNATIONAL::
Lithuania
China has officially downgraded its diplomatic ties with Lithuania after it allowed Taiwan to open a de facto embassy in Vilnius.
About:
China's foreign ministry said in a statement that Lithuania had ignored China's solemn stance and the basic norms of international relations in allowing Taiwan to set up its representative office. China considers the self-ruled and democratically governed Taiwan island as its own territory.

In August, Beijing expelled the Lithuanian ambassador and recalled its Ambassador from Lithuania in protest to the Baltic state's decision to allow Taiwan to open its de-facto embassy in Vilnius.

Taiwan says, it is an independent country called the Republic of China, its official name, and that the People's Republic of China has never ruled it and has no right to speak for it.

Taiwan has been upbeat by growing international support for it, especially from the US and some of its allies, in the face of China's military and diplomatic pressure.
CLICK HERE FOR FULL CURRENT AFFAIRS (Only for Course Members)
Reliance Aramco Deal
Reliance Industries Ltd and Saudi Arabia's national oil company, Saudi Aramco, have decided to "re-evaluate" a proposed investment by the latter in RIL's oil to chemicals (O2C) business. We examine the background and context for this decision.
What was the proposed investment?
In August 2019, RIL and Aramco signed a non-binding letter of intent for the latter to acquire a 20 per cent stake in Reliance's O2C business in a deal worth $15 billion.

The deal was expected to benefit RIL's O2C business in terms of higher feedstock security for its tilt towards higher crude to petrochemical conversion.

Reliance had applied to hive off its O2C business in line with the National Company Law Tribunal.
What are the factors that have led to the deal being called off?
The Covid-19 pandemic had played a significant role in delaying the planned investment by Aramco as the pandemic caused crude oil prices to crash in line with demand for petroleum products.

Experts noted that this likely impacted Aramco's ability to acquire the 20 per cent stake in the RIL's O2C business.

Further, RIL's announcement to become a net zero carbon emitter by 2030 and plans to optimise its Jamnagar refinery to produce on jet fuels and petrochemicals may have impacted Aramco's interest in investing in the O2C.
::ECONOMY::
Bio-economy
According to recent FAO report, Renewable wood-based products. Engineered wood products andwood-based textile fibres are two emerging forest product categories that can provide renewable andsustainable solutions to the global crisis.

These both products can help in realising Bio-economy.

Bio Economy generally refers to an economy using renewable natural resources to produce food,energy, products and services.

Bio-economy covers all sectors and systems that rely on biological resources (animals, plants,micro-organisms and derived biomass, including organic waste), their functions and principles.
::SCIENCE AND TECHNOLOGY::
Biomarkers
Researchers at IISc Bengaluru identified blood-based biomarkers that can predict disease progressionin persons with brain tumour.

A biomarker is a measurable indicator of the severity or presence of some disease state.

Biomarker is anything that can be used as an indicator of a particular disease state or some otherphysiological state of an organism.

It plays a critical role in improving the drug development.
CLICK HERE FOR FULL CURRENT AFFAIRS (Only for Course Members)