Current Affairs for IAS Exams - 22 September 2021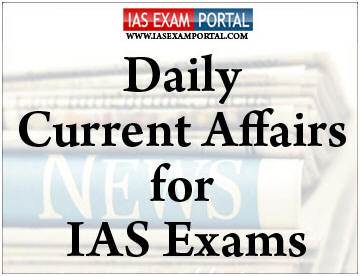 ---
Current Affairs for IAS Exams - 22 September 2021
::NATIONAL::
Population of India's religious group
The religious composition of India's population since Partition has remained largely stable, with both Hindus and Muslims, the two largest religious groups, showing not only a marked decline but also a convergence in fertility rates, according to a new study published by the Pew Research Center, a non-profit based in Washington DC.
About:
The study, based on data sourced from India's decennial census and the National Family Health Survey (NFHS), looked at the three main factors that are known to cause changes in religious composition of populations —
fertility rate,
migration,
conversions. 
The study found that Muslims, who had the highest fertility rate, also had the sharpest decline in fertility rates.
From 1992 to 2015, the total fertility rates of Muslims declined from 4.4 to 2.6, while that of Hindus declined from 3.3 to 2.1.
The average fertility rate in India today is 2.2, which is higher than the rates in economically advanced countries such as the U.S. (1.6), but much lower than what it was in 1992 (3.4) or 1951 (5.9).
The study notes that due to the "declining and converging fertility patterns", there have been only marginal changes in the overall religious composition of the population since 1951, the year India conducted its first census as an independent nation.
Food safety index 2020-21
Gujarat has retained the best performing state recognition by topping the State Food Safety Index 2020-21.
About:
The index is made by Food Safety Standards Authority of India (FSSAI).
With an overall score of 72%, Gujarat has been adjudged the best performing state among major states of the country. Gujarat had been adjudged best state in the 2019-20 ranking as well.
The State Food Safety Index gauges states on the parameters of food sampling, testing, laboratory infrastructure, compliance, training, licence and registration.
CLICK HERE FOR FULL CURRENT AFFAIRS (Only for Course Members)
::INTERNATIONAL::
Global Innovation Index 2021
India has climbed two spots and has been ranked 46th by the World Intellectual Property Organization in the Global Innovation Index 2021 rankings.
Co-published by the World Intellectual Property Organisation (WIPO), Cornell University and INSEAD, the report provides an annual ranking of innovation capabilities and performance of 131 countries and economies around the world.
About:
Over the past several years in the Global Innovation Index (GII) India rose from a rank of 81 in 2015 to 46 in 2021.
Switzerland topped the list, followed by Sweden, US and UK.
Theme of GII 2021 is 'Tracking Innovation through the COVID-19 Crisis'.
Reason behind improving:
Owing to the immense knowledge capital, the vibrant startup ecosystem and the amazing work done by the public and the private research organisations.
Lake Tanganyika
Recently, due to floods and landslides caused by the rising level of Lake Tanganyika, over 1 lakh people were forced to flee their homes in Burundi.
Key highlights:
Lake Tanganyika is the second largest freshwater lake in volume after Lake Baikal of Russia.
The water level rose to 776.4 metres above sea level in April compared to the normal average of 772.7 metres, due to heavy storms and subsequent flooding and landslides. 
Shared among Burundi, Tanzania, Zambia andDemocratic Republic of Congo (DRC), it forms border between Tanzania and DRC.
River Lukuga is its major outflow river, flowing into theCongo River System and River Ruzizi is the main inflowRiver along with River Kalambo and River Malagarasi (2ndlargest river of Tanzania).
::ECONOMY::
Integrated Aroma Dairy Entrepreneurship
Union Minister Dr Jitendra Singh proposes Integrated Aroma Dairy Entrepreneurship for Jammu and Kashmir to augment the income of farmers.
About:
Jammu & Kashmir has abundant stock of Animal Husbandry and Dairy resources and suggested that the same can be effectively integrated with Aroma Mission which has already been launched in J&K by CSIR under the aegis of Union Ministry of Science & Technology.
The Aroma Mission, also popularly referred as "Lavender or Purple Revolution", has started from J&K and transformed the lives of farmers who are able to grow lavender, make lucrative profit and improve their lives.
Apart from providing planting material, distillation units are provided and farmers are trained in extraction and many of them have become entrepreneurs as lavender oil is quite sought after. Apart from Lavender, many high value Aromatic and Medicinal cash crops have been introduced by CSIR in J&K. It is now being expanded as Aroma Mission Phase II and also a floriculture mission has been recently launched.
::SCIENCE AND TECHNOLOGY::
Planet Nine
Planet Nine - also referred to as Planet X - is a massive, hypothetical object in an elliptical orbit far beyond Pluto.
About:
A study published in 2018 in The Astronomical Journal, cited fresh evidence for the existence ofPlanet Nine.
It is believed that Planet Nine has a mass of 6.2 (+2.2/-1.3) Earth masses.
According to researchers, it roughly at a distance that would take 10,000 to 20,000 Earth years for it to complete a single trip around the Sun. 
Planet Nine would probably be cold gas giant like Neptune, the farthest known planet in a Solar System from the Sun. Neptune has a nonsolid surface made up mostly of hydrogen, helium, and methane, according to NASA.
 CLICK HERE FOR FULL CURRENT AFFAIRS (Only for Course Members)