Current Affairs for IAS Exams - 22 September 2022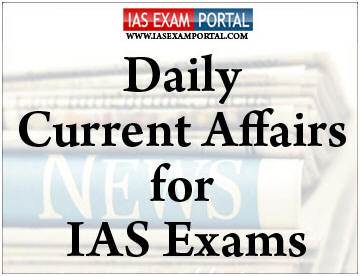 ---
Current Affairs for IAS Exams - 22 September 2022
::NATIONAL::
National Lists of Essential Medicines 2022
Union Minister for Health and Family Welfare, Dr Mansukh Mandaviya, launched National Lists of Essential Medicines (NLEM) 2022.
About:
384 drugs have been included in this list with addition of 34 drugs, while 26 from the previous list have been dropped. The medicines have been categorized into 27 therapeutic categories.
The following criteria are followed for inclusion in NLEM:
1.    be useful in diseases which is a public health problem in India
2.    be licensed/ approved Drugs Controller General (India) (DCGI)
3.    have proven efficacy and safety profile based on scientific evidence
4.    be comparatively cost effective
5.    be aligned with the current treatment guidelines
6.    recommended under National Health Programs of India. (e.g. Ivermectin part of Accelerated Plan for Elimination of Lymphatic Filariasis 2018).
7.    when more than one medicine are available from the same therapeutic class, one prototype/ medically best suited medicine of that class to be included.
8.    price of total treatment is considered and not the unit price of a medicine
CLICK HERE FOR FULL CURRENT AFFAIRS (Only for Course Members)
NCERT issues guidelines for early identification of mental health problems in students
National Council of Educational Research and Training (NCERT) has released guidelines following its survey on Mental Health and Well-being of School Students that cited.
Mental well-being is linked with all aspects of health-physical, social and emotional and creates foundational base for holistic development and nurturance of students.
Also, National Education Policy, 2020 emphasises student's mental well-being to promote their holistic development.
Key highlights:
Schools should establish mental health advisory panel constituting teachers, parents to create awareness and to plan and enforce an appropriate annual school mental health programme.
Schools should have a provision for identifying behaviour, substance use and self-harm etc.
Train teachers in identifying early signs in students for attachment issues, separation anxiety, school refusal etc.
Initiatives taken by Government:
Manodarpan initiative of Ministry of Education to provide psychosocial support to students, teachers and families.
Working Group to monitor mental health issues and concerns.
CLICK HERE FOR FULL CURRENT AFFAIRS (Only for Course Members)
::INTERNATIONAL::
NASA's DART spacecraft
NASA's DART spacecraft is scheduled to crash into the asteroid Dimorphos on September 27.
What is DART?
NASA's Double Asteroid Redirection Test (DART) is the world's first full-scale mission to test technology for defending Earth against potential asteroid or comet hazards.
It was launched on a SpaceX Falcon 9 rocket from Space Launch Complex 4 East at Vandenberg Space Force Base in California.
What is its relevance?
The mission will test a method that could be used to redirect asteroids that pose a threat to our planet.
Using the impact of a massive object like a spacecraft to divert asteroids is called the "kinetic impact method" of asteroid impact avoidance.
The 160-meter-wide asteroid Dimorphos orbits the much larger asteroid Didymos, which is about 780 meters wide. After DART crashes into Dimorphos, it will ever so slightly change the way that it orbits Didymos.
Telescopes on our planet and in space– including the Webb Telescope and Hubble– will be trained on this asteroid system to take measurements of the changes in the system.
JIMEX 22
The sixth edition of Japan India Maritime Exercise 2022 (JIMEX 22) hosted by Indian Navy commenced in the Bay of Bengal on 11 Sep 22.
About:
The Japan Maritime Self Defence Force (JMSDF) ships are being led by R Adm Hirata Toshiyuki, Commander Escort Flotilla Four, and Indian Naval ships by R Adm Sanjay Bhalla, Flag Officer Commanding Eastern Fleet.
JIMEX 22 involves two Phases; exercises at sea and a harbour phase at Visakhapatnam.
This edition marks the 10th anniversary of JIMEX, which began in Japan in 2012.
CLICK HERE FOR FULL CURRENT AFFAIRS (Only for Course Members)
::ECONOMY::
Financial Intermediary Fund
A new Financial Intermediary Fund (FIF) for pandemic prevention, preparedness, and response (PPR) has been established internationally, with financial commitments from multiple countries including India.
About:
Hosted by World Bank and with technical support from WHO, FIF will:
Provide long-term financing to strengthen PPR capabilities in low- and middle-income countries Address critical gaps at national, regional, and global levels.
CLICK HERE FOR FULL CURRENT AFFAIRS (Only for Course Members)
::SCIENCE AND TECHNOLOGY::
CRISPR
Over the last 3 years, the gene-editing technology with near unlimited potential has produced flawless results in clinical trials. India has approved a 5-year project to develop CRISPR to cure sickle cell anaemia.
About:
CRISPR is short for Clustered Regularly Interspaced Short Palindromic Repeats, which is a reference to the clustered and repetitive sequences of DNA found in bacteria, whose natural mechanism to fight some viral diseases is replicated in this gene-editing tool.
Editing, or modification, of gene sequences to eliminate — or introduce — specific properties in an organism is not a new development. 
It has been happening for several decades now, particularly in the field of agriculture, where genetically modified variants, with specific desirable traits, are regularly developed. 
It usually involves the introduction of a new gene, or suppression of an existing gene, through a process described as genetic engineering.
CRISPR technology is different. It is simple, and still far more accurate — and it does not involve the introduction of any new gene from the outside. 
Its mechanism is often compared to the 'cut-copy-paste', or 'find-replace' functionalities in common computer programmes.
CLICK HERE FOR FULL CURRENT AFFAIRS (Only for Course Members)