Current Affairs for IAS Exams - 23 March 2020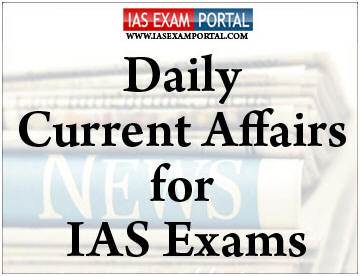 ---
Current Affairs for IAS Exams - 23 March 2020
---
::NATIONAL::
Centre proposes lock down of 80 districts to contain corona spread
All train, metro and inter-State transport services across the country were suspended on Sunday till March 31 as the death toll from COVID-19 rose to seven nationwide, and the number of confirmed cases stood at 396. Unprecedented restrictions were imposed in 80 districts across 17 States and five Union Territories affected by the pandemic.
Cabinet Secretary Rajiv Gauba described the new measures as further "pre-emptive" actions, given the "sharp increase" in the number of confirmed COVID-19 cases in the country after curbs on international travel, contact tracing and efforts at social distancing.
Indicating that the 'Janata Curfew' on Sunday was a precursor of more stringent measures, Mr.Gauba, in a letter to the Chief Secretaries, said the States need to "build on the momentum" of the 14-hour lockdown.
Earlier in the day, the Railways announced suspension of all passenger services until March 31, including suburban services. Only goods trains will run during the period, the Railways said, adding that trains that had commenced their journey prior to 4 a.m. on March 22 would complete their journeys.
Joint Secretary in the Health Ministry LavAgarwal said the nature of "essential services" would be decided by the individual States. "We want to control the movement of people," he said at a press briefing.
In response to questions, Mr.Agarwal was clear that more districts could be brought under curbs if they were affected. According to him, the lockdown was temporary in nature.
CLICK HERE FOR FULL CURRENT AFFAIRS (Only for Course Members)
Centre asks social media companies to prevent spread of misinformation on virus
Taking cognisance of fake news reports on the Internet, the Ministry of Electronics and Information Technology (Meity) has asked all social media companies to remove false reports spreading misinformation about the novel coronavirus from their platform immediately.
The Ministry issued an advisory on March 20 asking social media companies to inform users about not posting false news that can create panic and disturb social tranquillity.
"Intermediaries are urged to... take immediate action to disable or remove such [false news] content hosted on their platforms on a priority basis," Meitycyberlaws and e-security group coordinator RakeshMaheshwari said in the advisory note issued to all social media companies.
It said that as per media reports, there was a trend of circulation of misinformation/false news and sharing anonymous data related to coronavirus in social media platforms creating panic among the public.
The advisory asked social media companies to initiate an "awareness campaign on their platforms for the users not to upload or circulate false news or misinformation concerning coronavirus which are likely to create panic among the public and disturb the public order and social tranquillity".
CLICK HERE FOR FULL CURRENT AFFAIRS (Only for Course Members)
::ECONOMY::
Prices of agri commodities drop by 20% amid COVID
Prices of agricultural commodities such as perishable vegetables, grapes and sugar have fallen 15-20% as bulk demand from hotels and restaurants has nosedived and there is uncertainty over exports.
Various industry bodies, including those representing textile and poultry, have started approaching the government, seeking loan restructuring and financial incentives to survive.
Traders across the country are struggling to combat rumours about closure of markets and attempts to create artificial shortages.
There is no shortage of grains and pulses in the country. "As of now, there is no dearth of material lying in the supply chain as most of the importers and the traders across the country generally keep a buffer stock of 45-60 days. As of now, the supply chain is fully geared up with abundance of material and it is hoped that for the next 15-20 days, the supply chain will be able to deliver goods. It is only after 15 days that the heat may be felt," said Confederation of All India Traders (CAIT)
The poultry industry, which has suffered the most due to coronavirus related rumours, has requested the government for restructuring of bank loans and moratorium on interest and principal payments.
CLICK HERE FOR FULL CURRENT AFFAIRS (Only for Course Members)
Govt.allows export of pharma formulations under export-linked scheme
The government on Friday allowed the exports of 13 formulations including those made of Vitamin B6, B12 and B1 under advance licenses issued on or before March 3.
It also permitted exports of the restricted 13 active pharmaceutical ingredients (API) and 13 formulations is allowed from units in special economic zones (SEZ).
The Directorate General of Foreign Trade (DGFT) had restricted the exports of 26 active pharmaceutical ingredients (API) and formulations on March 3 to ensure there is no shortage of drugs in India due to the lockdown in China's Hubei's province, a major source for these raw materials that has also been the epicentre of the coronavirus outbreak.
Under an advance license, duty-free imports are bound to certain export obligations. The Department of Pharmaceuticals had written to the DGFT to allow exports from APIs imported under an advance licence.
In another circular on exports from SEZs, it said the earlier restriction was applicable only to those item descriptions specified and not products that may fall under the same tariff code but have different description.
The government had restricted the exports of paracetamol and vitamins B1, B6 and B12, tinidazole, metronidazole, acyclovir, progesterone, chloramphenicol, erythromycin salts, neomycin, clindamycin salts and ornidazole amid the ongoing coronavirus pandemic.
CLICK HERE FOR FULL CURRENT AFFAIRS (Only for Course Members)
::INTERNATIONAL::
Globally one billion people confined to homes to curb virus
Close to one billion people worldwide were confined to their homes on Saturday as the global coronavirus death toll shot past 11,000 and US states rolled out lockdown measures already imposed across swathes of Europe.
The pandemic has completely upended lives across the planet, restricting movement, shutting schools and forcing millions to work from home.
An estimated 900 million people are now confined to their homes in 35 countries around the world -- including 600 million hemmed in by obligatory government lockdown orders -- according to an AFP tally.
While the elderly and those with pre-existing medical conditions are the hardest hit by the virus, the World Health Organization warned that young people were also vulnerable.
Italy reported its worst single day death toll Friday, adding another 627 fatalities and taking its reported total to 4,032 despite efforts to stem the spread.
In a sign of the shifting centre of the crisis, China has sent medical supplies to European nations struggling to cope with the pandemic, including Greece which received 500,000 medical masks from Beijing Saturday.
CLICK HERE FOR FULL CURRENT AFFAIRS (Only for Course Members)
Guinea conducts referendum to extend President Alpha Conde's rule
Despite the threat of COVID-19 and an Opposition boycott, a constitutional referendum was held in Guinea on Sunday that opponents of President Alpha Conde fear could allow him to govern for 12 more years.
Opposition supporters heeding a call to disrupt the referendum and simultaneous legislative election attacked several polling stations in the capital Conakry, delaying the start of voting in some districts.
The Opposition boycott all but ensures the new basic law will be approved when results are announced in the coming days, despite the risk it could trigger wider unrest that would, along with COVID-19, threaten Guinea's mining economy.
With the first two cases of the COVID-19 disease recorded in the country, some polling stations required voters to wash their hands before casting their ballot and radio stations reminded citizens to keep their distance from one another.
::SCIENCE & TECHNOLOGY::
Indian researchers develop affordable COVID test kit
Researchers at the Indian Institute of Technology here have developed a method to detect COVID-19 which can significantly reduce the test cost making it affordable for large sections.
The National Institute of Virology (NIV), Pune is in the process of validating this test on clinical samples.The central government on Saturday recommended that the maximum charge for each COVID-19 test by private laboratories should not exceed Rs 4,500.
All private laboratories which have NABL accreditation for real-time PCR SA for RNA virus will be allowed to conduct COVID-19 tests, according to the guidelines issued by the Indian Council of Medical Research (ICMR) for COVID-19 testing in private laboratories, which were notified by the Health Ministry on Saturday night.
"Using comparative sequence analysis, we have identified unique regions in COVID-19. These unique regions are not present in other human coronaviruses providing an opportunity to specifically detect COVID-19," Professor VivekanandanPerumal, lead member of the team told PTI.
"Once the NIV validates the assay, it can be quickly scaled up to meet the increasing need in our country," he added.
CLICK HERE FOR FULL CURRENT AFFAIRS (Only for Course Members)
::SPORTS::
Brazilian football clubs hand over stadiums to convert them into field hospitals
Brazil's top football clubs are handing over their stadiums to allow health authorities to turn them into field hospitals and clinics to fight the coronavirus pandemic.
Football in Brazil has been suspended until further notice and more than half the clubs in Brazil's "Serie A" have given up their stadiums to expand hospital capacity to deal with the coronavirus.
Authorities in Sao Paulo said, they would install 200 beds in a field hospital at the Pacaembu municipal stadium to relieve pressure on the city's hospitals. Brazil currently has 1,128 confirmed infections and 18 deaths.
CLICK HERE FOR FULL CURRENT AFFAIRS (Only for Course Members)