Current Affairs for IAS Exams - 23 August 2022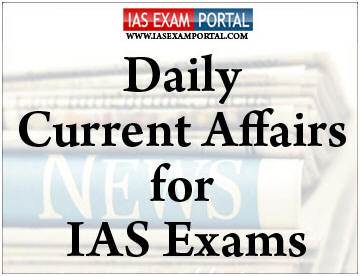 ---
Current Affairs for IAS Exams - 23 August 2022
::NATIONAL::
Parliamentary panel says, to create more women-centric NREGS work
Recently, a Parliamentary Standing Committee on Rural Development and Panchayati Raj has submitted its recommendations w.r.t. Mahatma Gandhi National Rural Employment Guarantee scheme.
In its report, the committee has recommended to increase more on women-centric work under the scheme.
Highlights about the recommendations:
Increase in number of days of work under MGNREGA to 150 days from 100.
Strengthen economic prowess of women by promotingwomen-centric works.
Increase in wages through linkage with commensurate inflationary indexinstead of existing Consumer Price Index-Agricultural Labour (CPI-AL).
Single unified wage rate across country to end disparity of wagesunder MGNREGA.
Currently, 50 additional days of work can be provided indrought/natural calamity notified rural areas.
Though higher than stipulated 1/3rd mark, women participation hasstagnated at around 50% for more than 5 years.
CLICK HERE FOR FULL CURRENT AFFAIRS (Only for Course Members)
'Made In India' Hydrogen Fuel Cell Bus 
Union Minister of State (Independent Charge) Science & Technology launched India's first indigenously developed Hydrogen Fuel Cell Bus developed by KPIT-CSIR in Pune.
About:
The fuel cell utilizes Hydrogen and Air to generate electricity to power the bus and the only effluent from the bus is water and could be the most environmentally friendly mode of transportation to date.
For instance, a single diesel bus plying on long-distance routes typically emits 100 tons of CO2 annually and there are over a million such buses in India.
Fuel Cell vehicles also give zero greenhouse gas emissions in stark contrast to diesel-powered heavy commercial vehicles which account for 12-14% CO2 and particulate emissions.
Benefits:
Lower operational costs due to higher efficiency and high energydensity of hydrogen.
Meet climate change goals through decarbonization oftransportation.
Noise-free operation and modular construction allow its further application in small residential, automotive, portable electronicdevices.
CLICK HERE FOR FULL CURRENT AFFAIRS (Only for Course Members)
::INTERNATIONAL::
Battle to reduce disaster losses by 2030 will be won or lost in Asia-Pacific
The global battle to reduce disaster losses by 2030 will be won or lost in Asia and the Pacific, says Mami Mizutori, Special Representative of the UN Secretary-General for Disaster Risk Reduction, ahead of the Asia-Pacific Ministerial Conference on Disaster Risk Reduction to be held in Brisbane from September 19 to 22. 
About:
The conference comes at time when the compounding consequences of natural hazards and the pandemic continue to disrupt people and the economies. 
An analysis by the UN-ESCAP shows that SDG (Sustainable Development Goals) progress has been insufficient and has slowed down in the Asia-Pacific region that has regressed on achieving climate action (Goal 13) and sustainable consumption and production (Goal 12) targets.
The Global Assessment Report on Disaster Risk Reduction 2022 informs multiple Sendai Framework targets are not on-track for 2030.
It also notes direct economic loss and damage to critical infrastructure due to natural hazards has increased substantially over the past decade. Floods, drought, tropical cyclones, and heatwaves are already intensifying disproportionately and many of these trends are now irreversible.
Major action points:
on managing complex, compounding, and cascading risk-scape in the Asia-Pacific; 
scaling up both resilience-building measures in emerging and intensifying risk hotspots as also resilient agri-food systems; 
CLICK HERE FOR FULL CURRENT AFFAIRS (Only for Course Members)
International Olympiad on Astronomy and Astrophysics
India secured the third rank in medal tally at the 15th International Olympiad on Astronomy and Astrophysics (IOAA).
About:
India held the third position jointly with Singapore with students winning three gold and two silver medals. 
The 15th International Olympiad on Astronomy and Astrophysics (IOAA) 2022 held in Kutaisi, Georgia, from 14 to 21 August, 2022.
In the medals tally India was placed jointly in the third position along with Singapore, behind Iran's official team (5 golds) and guest team (4 golds, 1 silver). 
In all, 28 gold, 38 silver and 55 bronze medals were awarded at this IOAA. Raghav Goyal won a special prize for the best solution to the most challenging theoretical question.
CLICK HERE FOR FULL CURRENT AFFAIRS (Only for Course Members)
::ECONOMY::
Central Bank Digital Currency
Reserve Bank of India's (RBI) digital rupee — the Central Bank Digital Currency (CBDC) — may be introduced in phases beginning with wholesale businesses in the current financial year.
In her Budget speech on February 1, Finance Minister Nirmala Sitharaman had said that the central bank would launch the CBDC in the financial year 2022-23. 
About: 
According to the RBI, "CBDC is the legal tender issued by a central bank in a digital form. It is the same as a fiat currency and is exchangeable one-to-one with the fiat currency. Only its form is different." 
The digital fiat currency or CBDC can be transacted using wallets backed by blockchain.
Though the concept of CBDCs was directly inspired by Bitcoin, it is different from decentralised virtual currencies and crypto assets, which are not issued by the state and lack the 'legal tender' status. CBDCs enable the user to conduct both domestic and cross-border transactions which do not require a third party or a bank.
"Introduction of CBDC has the potential to provide significant benefits, such as reduced dependency on cash, higher seigniorage due to lower transaction costs, reduced settlement risk.
Introduction of CBDC would also possibly lead to a more robust, efficient, trusted, regulated and legal tender-based payments option."
CLICK HERE FOR FULL CURRENT AFFAIRS (Only for Course Members)
::SCIENCE AND TECHNOLOGY::
Tomato Flu
A new infection dubbed tomato flu, or tomato fever, has been detected in India mostly among children younger than five, according to a report in the Lancet Respiratory Journal.
About:
The "non-life-threatening" virus was first identified in Kollam district of Kerala on May 6.
The primary symptoms of tomato flu are similar to those of chikungunya, which include high fever, rashes, and intense pain in the joints. As with other viral infections, further symptoms include fatigue, nausea, vomiting, diarrhoea, dehydration, swelling of joints, body aches, and common influenza-like symptoms, which are similar to those manifested in dengue.
As tomato flu is similar to chikungunya and dengue as well as hand, foot, and mouth disease, the treatment is also similar — isolation, rest, plenty of fluids, and hot water sponge for the relief of irritation and rashes.
CLICK HERE FOR FULL CURRENT AFFAIRS (Only for Course Members)